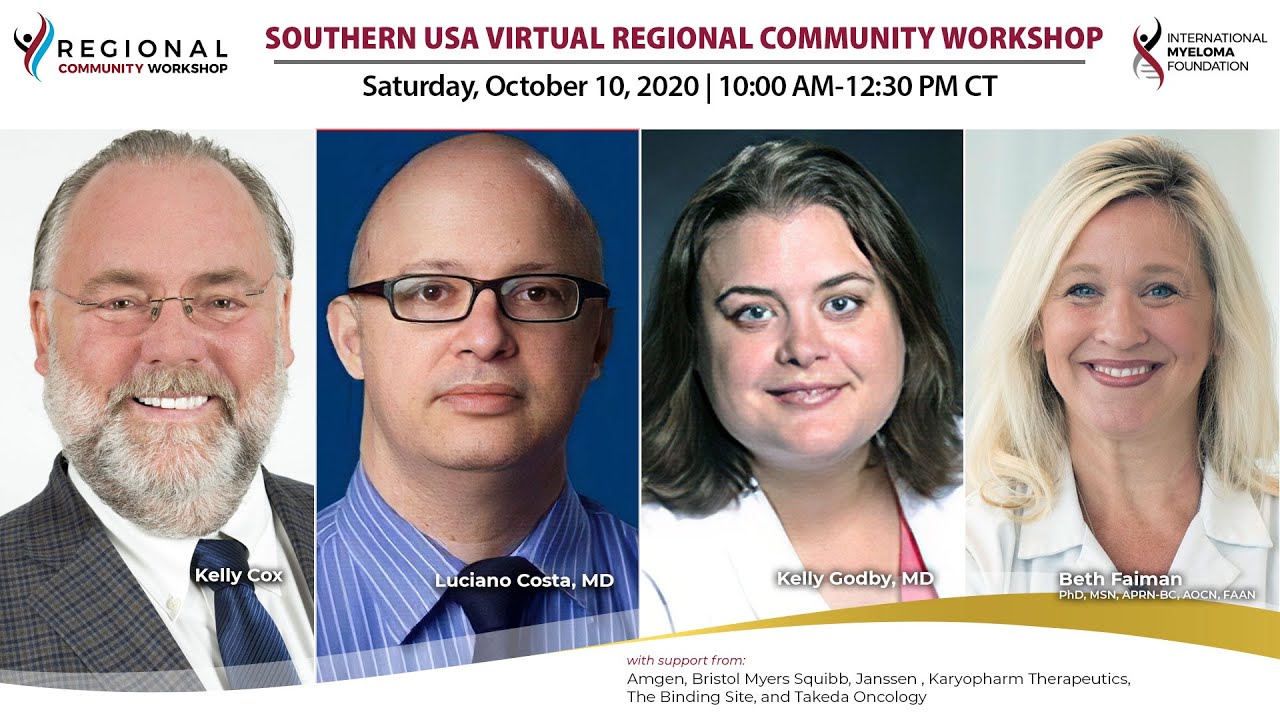 Southern USA Region Virtual Myeloma Workshop
click on the image above to view the video
Multiple Myeloma Workshop Focusing on Communities in the Southern United States
What Is Included in This Virtual Myeloma Workshop?
This IMF Virtual Regional Community Workshop brings together top myeloma professionals to discuss multiple myeloma basics, initial treatment of newly diagnosed myeloma, when patients should change their treatment regimen, and managing symptoms related to myeloma and the treatments for myeloma.
Addressing the Needs of Communities in the Southern USA
The panelists address specific questions posed by multiple myeloma patients and caregivers from support groups in the following areas: Birmingham, AL; Montgomery, AL; Atlanta, GA North; Atlanta, GA South; Columbus, GA; Charleston, SC; and Myrtle Beach, SC.
Speakers and Topics:
Kelly Godby, MD
University of Alabama Birmingham

Myeloma 101
Frontline Therapy

Luciano Costa, MD
University of Alabama Birmingham

Relapsed Therapy
Emerging Therapies and Clinical Trials

Beth Faiman, PhD, MSN, APRN-BC, AOCN, FAAN
IMF Nurse Leadership Board
Living Well with Myeloma
Workshop Topic Details:
Myeloma 101 and Frontline Therapies
Dr. Kelly Godby (University of Alabama, Birmingham) presents myeloma 101 where patients and caregivers can gain an understanding of the basics of multiple myeloma including how myeloma is defined, how patients are diagnosed, and initial testing. Dr. Godby also discusses the treatments available for newly diagnosed patients.
Management of Relapsed Myeloma
Dr. Luciano Costa (University of Alabama, Birmingham) leads this segment on treatment of and management of multiple myeloma. Dr. Costa addresses when patients should consider a change in their treatment regimen, what to consider when choosing a new regimen, and treatment goals to keep in mind.
In his presentation, Dr. Costa discusses emerging treatments from the following studies: EVOLVE, CARTITUDE-1, KarMMa 2.
Living Well With Myeloma Symptoms
In her presentation, Beth Faiman, PhD, MSN, APRN-BC, AOCN, FAAN (Taussig Cancer Institute, Cleveland Clinic - Cleveland) addresses common myeloma-related symptoms including those directly related to myeloma, and treatment-related symptoms, and how they both contribute to how you feel. Also included in this portion are ways to manage common symptoms and side-effects.
Workshop Resources:
Additional Resources:
Download the IMF's Multiple Myeloma Informational Booklets:
Workshop Sponsors:
with support from:
Amgen; Bristol-Myers Squibb; Janssen; Karyopharm Therapuetics; The Binding Site; Takeda Oncology
Please check out these multiple myeloma resources from our sponsors:
Previous Post
2020 IMF Patient & Family Webinar: Multiple Myeloma - New Treatments, Diversity, and Caregiver Support
Next Post
COVID-19 FAQ #23: As the pandemic continues, what does the future hold for myeloma patients?