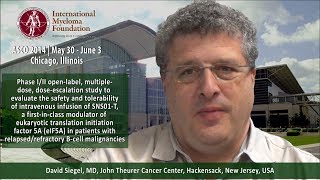 ASCO 2014: Phase 1-2 open-label, multiple-dose, dose-escalation study to evaluate SNS01-T
Post date
October 13, 2015
David Siegel, MD
John Theurer Cancer Center
Hackesack, New Jersey, USA

Phase 1-2 open-label, multiple-dose, dose-escalation study to evaluate the safety and tolerability of intravenous infusion of SNS01-T, a first-in-class modulator of eukaryotic translation initiation factor 5A (eIF5A) in patients (pts) with relapsed or refractory B-cell malignancies
Abstract No: TPS8616
Background: eIF5A has been implicated in the regulation of cell proliferation, apoptosis, and inflammation. It is the only known protein to be modified by hypusination, and is highly conserved across species and is active in plants and animals. Hypusinated eIF5A, the predominant form in normal and cancer cells, is involved in cell survival and inflammatory pathway activation. siRNAs targeting eIF5A inhibit NF-kB activation and reduce pro-inflammatory cytokine production. Accumulation of the unhypusinated lysine form of eIF5A is associated with apoptosis. Mutants of eIF5A that cannot be hypusinated (e.g. eIF5AK50R) are pro-apoptotic in vitro and have anti-tumoral activity in vivo in multiple cancer types including melanoma and lung cancer. SNS01-T is a novel therapeutic with a dual mechanism of eIF5A modulation: inducing cell death via siRNA-mediated inhibition of hypusinated eIF5A while simultaneously causing over-expression of pro-apoptotic eIF5AK50R via a DNA plasmid with a B-cell promoter to induce tumor cell death. SNS01-T significantly inhibited tumor growth and increased survival in mouse models of myeloma (MM), mantle cell and diffuse large B-cell lymphoma.
Methods: This is an open label, phase 1-2 dose escalation study in pts with refractory B-cell cancers. The study has 4 dose cohorts: 0.0125, 0.05, 0.2 and 0.375 mg/kg twice weekly IV for 6 weeks. Main inclusion criteria are: MM per IMWG criteria or lymphomas or plasma cell leukemia with histologic confirmation; measurable disease; relapsed or refractory disease after ≥2 prior regimens; life expectancy ≥3 months; not eligible for any other standard therapy known to extend life expectancy. Primary endpoints are safety and tolerability of SNS01-T. Secondary endpoints include pharmacokinetics, tumor response (M protein, % plasma cells, radiologic response) and time to relapse or progression. To date, 15 patients have been included in the study. Enrolment (n=6) at the highest dose cohort has commenced (1 pt enrolled). Cohort 4 is expected to be completed in 1H2014
Clinical trial information: NCT01435720.
Author(s): Michael Craig, William Bensinger, David Samuel DiCapua Siegel, Frits Van Rhee, Nicolas Novitzky, Andrew Mcdonald, Martin Gutierrez, Edward N. Libby, John Thompson, Alice Susannah Bexon, Charles Barranco, Catherine Taylor, Richard Dondero, Leslie J. Browne, Michael R. Kurman, John Anthony Lust; West Virginia University, Morgantown, WV; Fred Hutchinson Cancer Research Center, Seattle, WA; John Theurer Cancer Center, Hackensack, NJ; Myeloma Institute for Research and Therapy, Little Rock, AR; University of Cape Town - Medcl School, Cape Town, South Africa; Pretoria East Hospital, Pretoria, South Africa; University of Washington/Fred Hutchinson Cancer Research Center, Seattle, WA; Department of Biology, University of Waterloo, Waterloo, ON, Canada; Senesco Technologies, Inc., Bridgewater, NJ; University of Waterloo, Waterloo, ON, Canada; Senesco Technologies, Inc., New Brunswick, NJ; Kyowa Hakko Kirin Pharma, Inc., Upper Saddle River, NJ; Mayo Clinic, Rochester, MN
---
ABOUT DAVID S. SIEGEL, MD, PhD
David S. Siegel, MD, PhD, is one of the nation's foremost authorities on multiple myeloma. His research has almost exclusively focused on multiple myeloma, Waldenstrom's macroglobulinemia, and AL amyloidosis, and has been published in many leading medical journals, including Nature, New England Journal of Medicine, Blood, and Journal of Clinical Oncology. Dr. Siegel is the founding Director of the Multiple Myeloma Institute. He has also led John Theurer Cancer Center's development of a program to offer CAR T-cell therapy to patients with multiple myeloma. Visit Dr. David Siegel's full biography.
Previous Post
ASCO 2014: A phase I study of carfilzomib, lenalidomide, vorinostat, and dexamethasone in RRMM
Next Post
ASCO 2014: Safety and efficacy of daratumumab with LEN and DEX in relapsed or RRMM