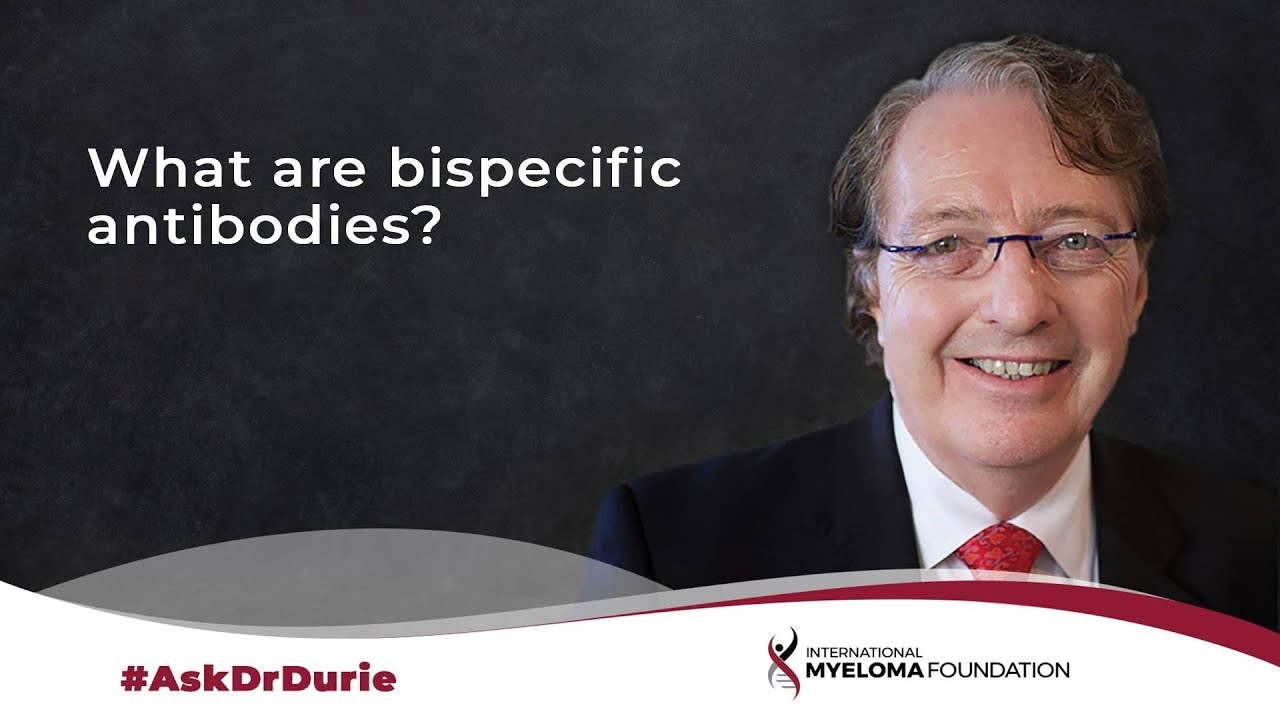 What are bispecific antibodies?
In this episode, Dr. Brian G.M. Durie discusses bispecific antibodies, how they differ from CAR T-cell therapies, and what this treatment can mean for myeloma patients.
The BOTTOM LINE: 
Several bispecific antibodies are in development. Early results from the phase I trial of the drug teclistamab show deep responses with manageable side-effects.
If you have a question that you'd like to suggest for a future episode of Ask Dr. Durie, please submit it to [email protected]. 
To reach the IMF InfoLine Coordinators, please call 800.452.2873 or email them at [email protected].  
Transcript:
This week's "Ask Dr. Durie" questioner has a very specific question. This individual, a gentleman has heard about immune therapies and has heard about CAR T cells, the engineered T-cell therapy we've had many discussions about. And then, also monoclonal antibodies, there are several types of that, daratumumab is of the best examples. But another type of treatment immune therapy is called bispecific. So, this patient wants to know, "what are bispecific therapies?"
And so, this is a particular type of monoclonal antibody that has two arms in the antibody process, one arm of the antibody attaches to the myeloma cell. And, normally, right now the most popular antigen for that is the b-cell maturation antigen, which is BCMA, which is commonly on the surface of myeloma and that's the best way to tag or to grab on to the myeloma. The other arm of the monoclonal antibody grabs on to the T-cell using a CD3 receptor. And so, this process brings the T-cells close to the myeloma and activates the T-cells to attack the myeloma in addition to the direct attack which comes from the monoclonal antibody itself. And so, this is a double hit against the myeloma. 
And so, it has been difficult to engineer these types of bispecific antibodies, but quite a number are now in development, and results are being presented. And so, a phase one trial was presented at the ASCO medical conference this year, teclistamab, this is a particular type of monoclonal antibody being developed by the Janssen Pharmaceutical Company. And, very promising, early results were presented with this bispecific antibody. There were very deep responses, and the side-effects were manageable, different combinations of reduced blood counts, and the like which we frequently expect, but in general, a manageable toxicity profile.  
And so, the advantages of this type of therapy is that it's rather safe, seems to be safe, it is "off the shelf," so this is something where they could have it in the pharmacy, not like the CAR T cells, where they send the cells off to a manufacturing facility to have the engineering done and it may take two or three weeks for the cells to come back. And so, this is off the shelf.
The disadvantage though, is that it is given by, in this case, with teclistamab subcutaneous injection with ongoing treatment. And so, this is rather inconvenient.
However, the BOTTOM LINE is that these bispecific monoclonals, and there are quite a few in development, are offering promising, deep responses against the myeloma with what will mostly be, or what seems to be, and acceptable toxicity profile. The disadvantages being the need for injection for administration, which makes it a little less convenient. However, very promising, and we really are excited to weigh the results of these ongoing trials to see what the position of this immune therapy will be versus the others, which are also very exciting and active.   
---
Dr. Brian G.M. Durie serves as Chairman of the International Myeloma Foundation and serves on its Scientific Advisory Board. Additionally, he is Chairman of the IMF's International Myeloma Working Group, a consortium of nearly 200 myeloma experts from around the world. Dr. Durie also leads the IMF's Black Swan Research Initiative®.
Previous Post
COVID-19 FAQ #22: Have the safety recommendations changed for myeloma patients?
Next Post
2020 IMF Patient & Family Webinar: Multiple Myeloma - New Treatments, Diversity, and Caregiver Support