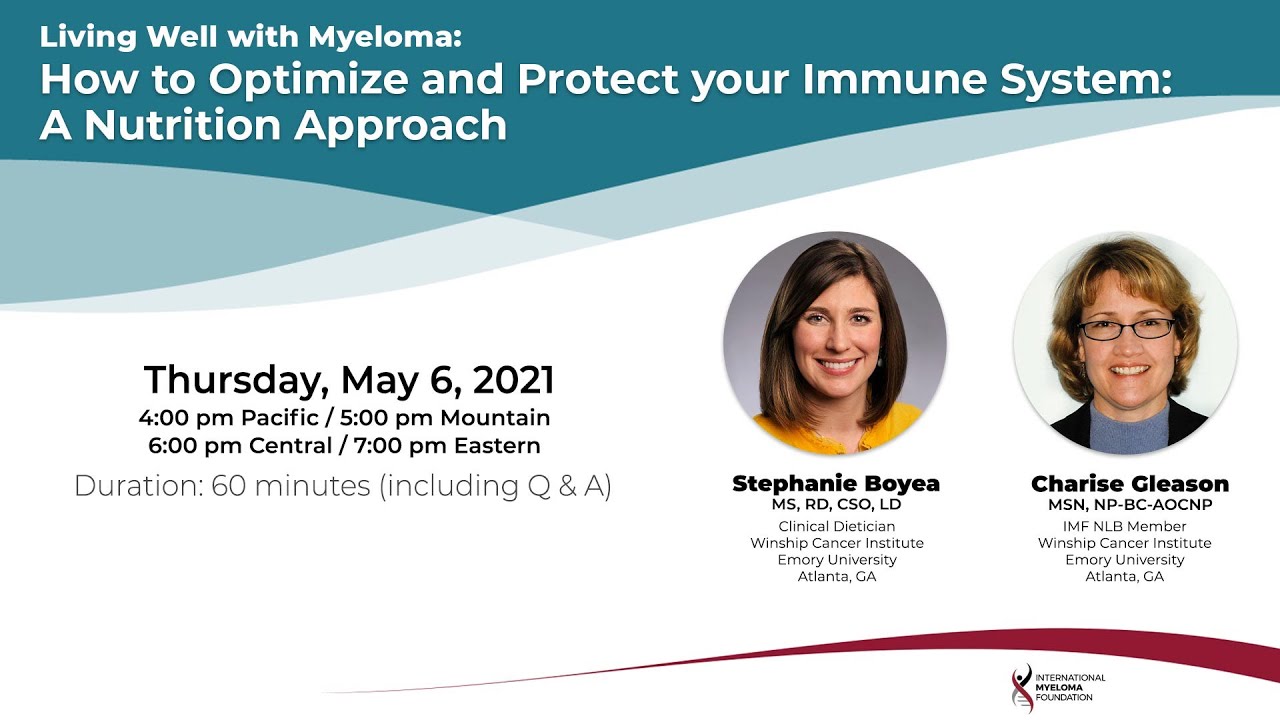 Webinar on How to Optimize and Protect your Immune System: A Nutrition Approach
A Virtual Webinar on How to Optimize and Protect Your Immune System Using a Nutrition Based Approach
Watch this webinar to understand how a healthy diet can help fortify your immune system.
We are all hearing about how critical the immune system is for our overall health. What is the immune system and how can we protect it? Can nutrition improve your immune system for better defense against diseases, bacteria, or viruses? Can supplements help? In this Living Well with Myeloma, our expert speakers answer these important questions.
Speakers:
Charise Gleason
MSN, NP-BC, AOCNP®

Charise Gleason, MSN, NP-BC, AOCNP®, is a nurse practitioner in the Multiple Myeloma program at the Winship Cancer Institute of Emory University in Atlanta. She is also adjunct faculty at the Nell Hodgson Woodruff School of Nursing at Emory University and Chief Advanced Practice Provider for Winship Cancer. Ms. Gleason is a distinguished member of the International Myeloma Foundation Nurse Leadership Board since 2008, serving to educate nurses and patients and to improve the lives of those with myeloma.

Stephanie Boyea
MS, RD, LD

Stephanie Boyea, MS, RD, LD, is an experienced oncology clinical dietitian at the Winship Cancer Institute of Emory University in Atlanta. Stephanie has been working with Emory's Multiple Myeloma program for the past ten years, assessing the nutritional status and risks of patients with myeloma and other malignant and pre-malignant blood conditions, as well as cancer survivors. She provides diet education, nutrition counseling and individualized dietary recommendations based on both patient and caregivers' needs. She has a bachelor's degree in dietetics and a master's degree in applied nutrition.
Workshop Topic Details:
In this webinar Charise Gleason MSN, NP-BC, AOCNP®, and Stephanie Boyea MS, RD, LD define the role of the immune system. They outline how a person's immune system can be either strengthened or weakened by external influencers. Together, they answer how diet influences the immune system and discuss ways to bolster the immune system through proper nutrition.
Webinar Resources:
---
Webinar Sponsors:
The IMF thanks the following event sponsors for their generous support:
Bristol Myers Squibb, Janssen, Oncopeptides Inc., and Takeda Oncology
Previous Post
Understanding Darzalex Faspro as a Subcutaneous Injection
Next Post
Are steroids always used as part of myeloma treatment?