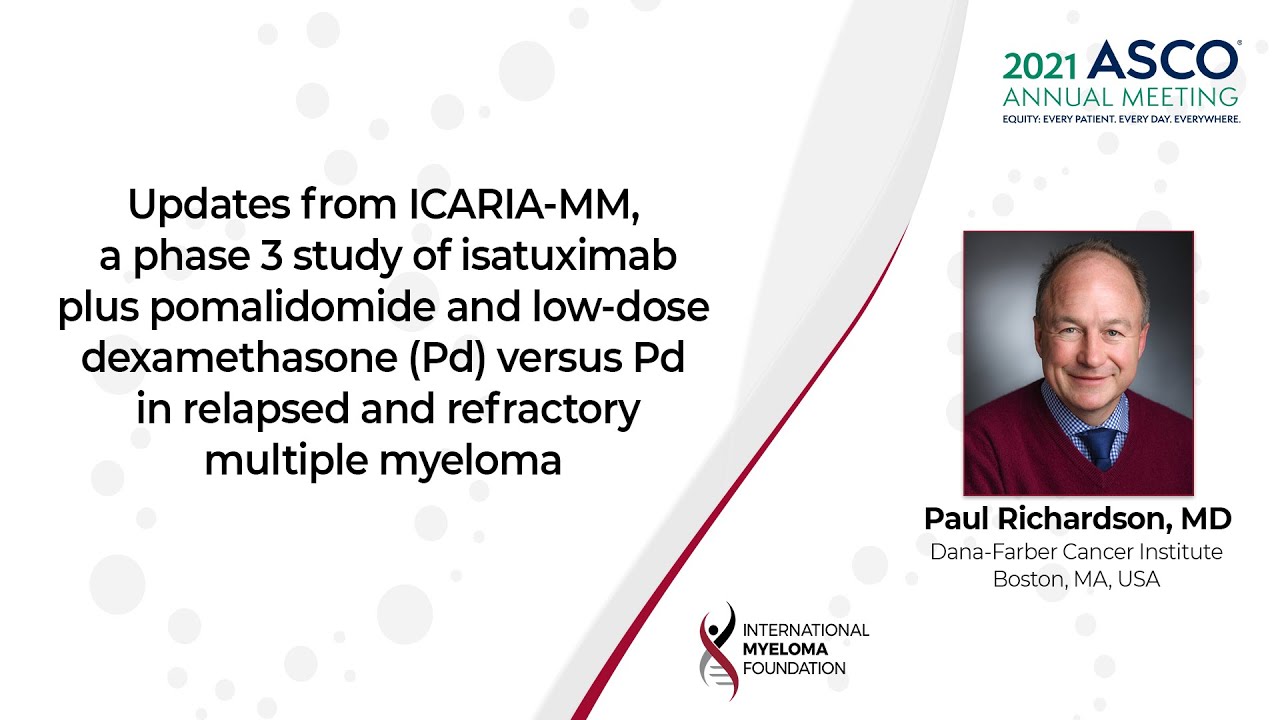 Updates from ICARIA-MM, a phase 3 study of isatuximab (Isa) plus pomalidomide and low-dose dexamethasone (Pd) versus Pd in relapsed and refractory multiple myeloma
ASCO 2021, ICARIA, pomalidomide, isatuximab
ICARIA Multiple Myeloma Phase III Study
Background of the study:
Isatuximab (Isa) is an approved monoclonal antibody that binds to a specific epitope on the CD38 receptor. The Phase 3 ICARIA-MM study (NCT02990338) demonstrated significantly improved progression-free survival (PFS) with Isa plus pomalidomide and dexamethasone (Isa-Pd) versus pomalidomide and dexamethasone alone (Pd) (P= 0.001) and a manageable safety profile (Attal M, et al. Lancet 2019;394:2096-2107). Here we report updated ICARIA results.
In this video:
Dr. Paul Richardson (Dana-Farber Cancer Institute, Boston, MA, USA) discusses the updated results from ICARIA-MM.
Conclusions:
Isa-Pd demonstrates a significant improvement in time to next treatment and PFS2 compared with Pd. A strong trend in overall survival (OS) benefit was also seen in the Isa-Pd arm, with approximately 7 months improvement in median OS. The overall safety profile remains unchanged from prior analyses. Funding: Sanofi.
Clinical trial information: NCT02990338
Previous Post
IMF Virtual Regional Community Workshop (RCW) - MN, WI, MI 2021
Next Post
Final Analysis of the Phase 3 TOURMALINE-MM1 Study Investigating Ixazomib + Lenalidomide-Dexamethasone Vs Placebo-Rd in Relapsed Refractory Multiple Myeloma