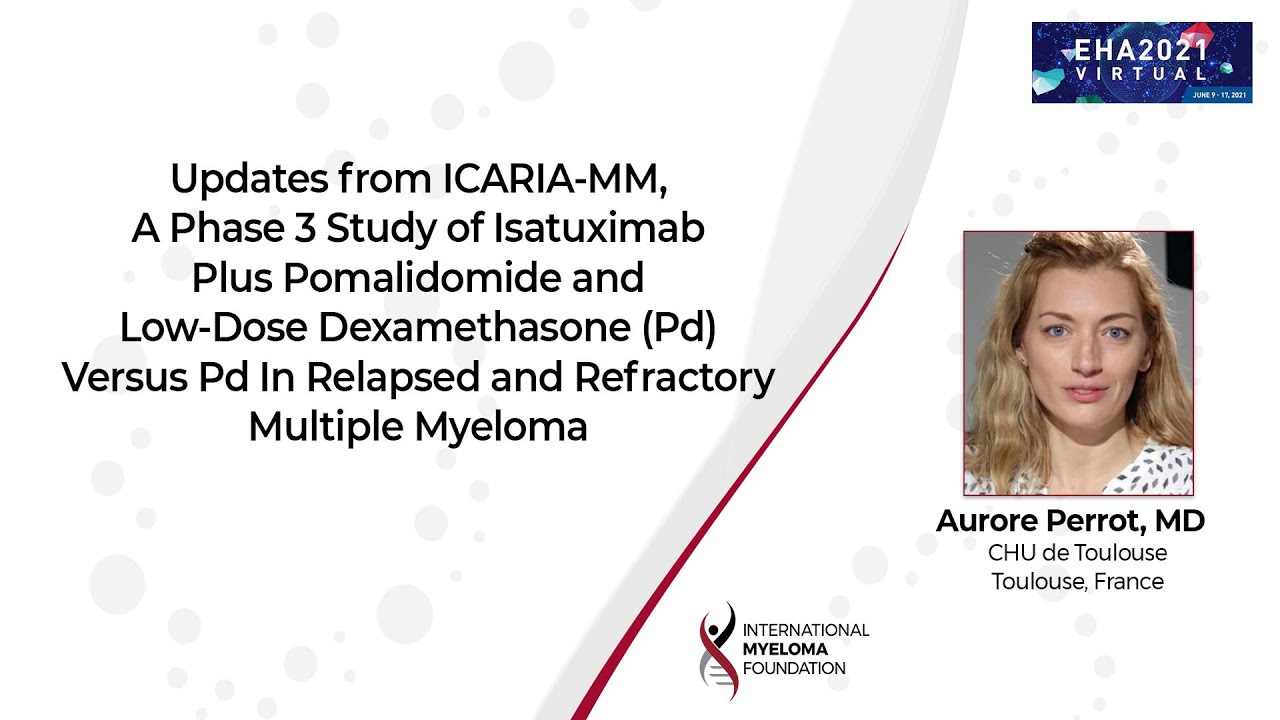 Updates from ICARIA-MM, A Phase 3 Study of Isatuximab Plus Pomalidomide and Low-Dose Dexamethasone Vs Pd In Relapsed and Refractory Multiple Myeloma
Dr. Aurore Perot on the ICARIA-MM Phase III Study
Background of the study:
Isatuximab (Isa) is an approved monoclonal antibody that binds to a specific epitope on the CD38 receptor. The Phase 3 ICARIA-MM study (NCT02990338) demonstrated significantly improved progression-free survival (PFS) with Isa with pomalidomide and dexamethasone (Isa-Pd) versus pomalidomide and dexamethasone (Pd) alone (P=0.001) and a manageable safety profile.
In this video:
Dr. Aurore Perrot, CHU de Toulouse, Toulouse, France) discusses the updated results of the ICARIA-MM study.
Conclusions:
Isa-Pd demonstrates a significant improvement in time to next therapy (TTNT) and PFS2 compared with Pd. A strong trend in overall survival (OS) benefit was also seen in the Isa-Pd arm, with approximately 7 months of improvement in median OS. The overall safety profile remains unchanged from prior analyses.
Previous Post
Relationship between corneal exam findings, best-corrected visual acuity, and ocular symptoms in patients with relapsed or refractory multiple myeloma receiving belantamab mafodotin.
Next Post
Iberdomide in Combination with Dexamethasone and Daratumumab, Bortezomib, or Carfilzomib In Patients with Relapsed Refractory Multiple Myeloma