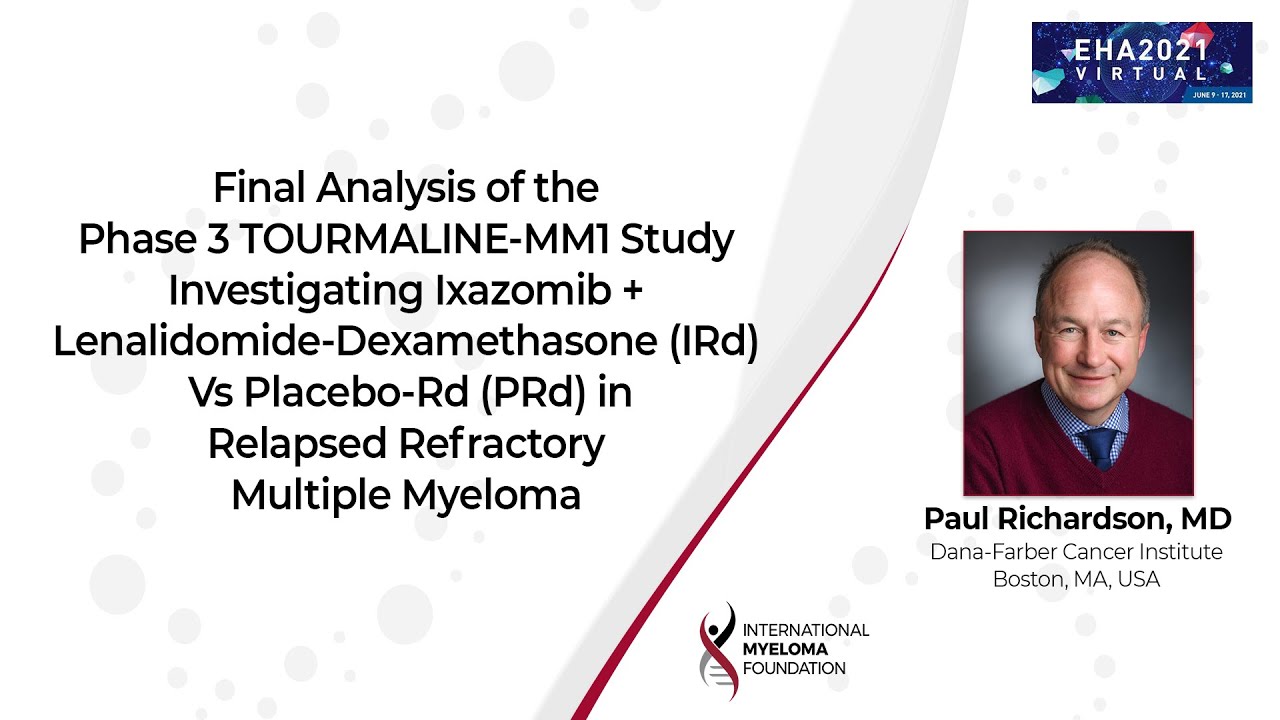 Final Analysis of the Phase 3 TOURMALINE-MM1 Study Investigating Ixazomib + Lenalidomide-Dexamethasone Vs Placebo-Rd in Relapsed Refractory Multiple Myeloma
EHA 2021, TOURMALINE, ixazomib
Phase III Tourmaline - MM1 Study
Background of the study:
Despite an increasing number of treatment options for relapse/refractory multiple myeloma, there remains a need for efficacious and tolerable therapies for patients who are refractory to treatment or continue to relapse. Proteasome inhibitors (PIs) are a backbone of therapy, but parenteral PIs may be limited by treatment burden and the need for clinic/hospital visits. The first oral PI, ixazomib, is approved in combination with Revlimid and dexamethasone (IRd) for the treatment of myeloma patients who have received ≥1 prior lines of therapy. Approval was based on the double-blind, placebo-controlled, phase III TOURMALINE‑MM1 study (Moreau NEJM 2016), which demonstrated a statistically significant improvement in progression-free survival (PFS) with IRd vs pRd (median PFS 20.6 vs 14.7 mo, HR 0.74, p=0.01). With limited additional toxicity vs pRd, all-oral IRd is an important option for RRMM pts.
In this video:
Dr. Paul Richardson (Dana-Farber Cancer Institute, Boston, MA, USA) discusses the final analysis of the phase 3 TOURMALINE-MM1 study.
Conclusion:
At this final analysis of TOURMALINE-MM1, median OS with IRd & pRd were the longest reported to date in phase 3 Rd studies in RRMM. Although OS benefit with IRd vs pRd was not statistically significant in the ITT population, greater OS benefit was seen in subgroups with adverse prognostic factors, including high-risk cytogenetics. OS interpretation was confounded by imbalances in subsequent therapies, including extensive use of PIs & novel monoclonal antibodies.
Previous Post
Updates from ICARIA-MM, a phase 3 study of isatuximab (Isa) plus pomalidomide and low-dose dexamethasone (Pd) versus Pd in relapsed and refractory multiple myeloma
Next Post
COVID-19 FAQ #34: How can myeloma patients protect themselves against the Delta variant?