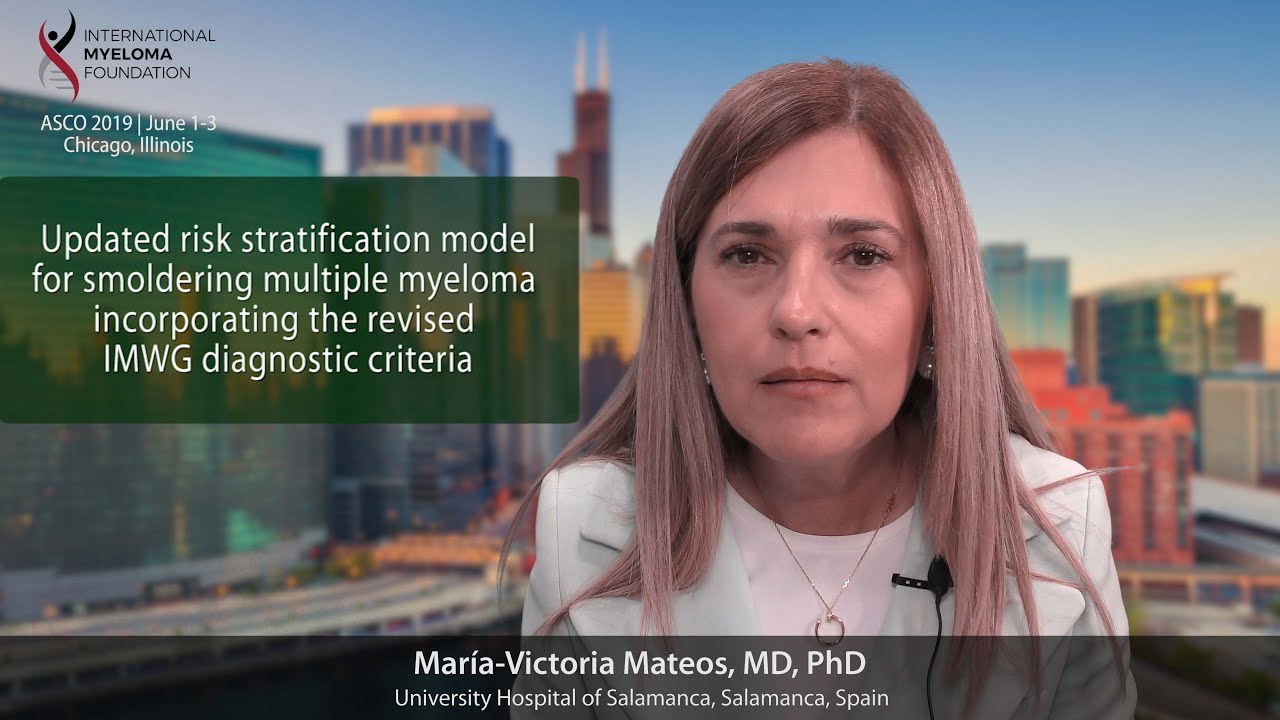 Updated risk stratification model for smoldering multiple myeloma (SMM) incorporating the revised IMWG diagnostic criteria
The diagnostic criteria for MM were revised in 2014, recategorizing ultra-high risk (i.e., 80% at two years) as active myeloma requiring therapy. The removal of patients at the highest risk of progression from the smoldering group requires reassessment
of current risk stratification models.
Conclusions:
We have developed a risk stratification model for SMM that incorporates revised cutoffs for previously used parameters (20/2/20) that can be universally applied. Additional analysis are being conducted to develop models that utilize common cytogenetic abnormalities, as well as those without FLC given lack of availability of all tests across the world.
Authors:
Jesus San Miguel, Maria-Victoria Mateos, Veronica Gonzalez, Meletios A. Dimopoulos, Efstathios Kastritis, Roman Hajek, Carlos Fernández de Larrea Rodríguez, Gareth John Morgan, Giampaolo Merlini, Silvia Mangiacavalli, Hartmut Goldschmidt, Michele Cavo, Charalampia Kyriakou, Ming Qi, Jon Ukropec, Brendan M. Weiss, Chris Cameron, S. Vincent Rajkumar, Brian G. Durie, Shaji Kumar; Clínica Universidad de Navarra-CIMA, IDISNA, CIBERONC, Pamplona, Spain; University of Salamanca Hospital/IBSAL, Salamanca, Spain; University Hospital of Salamanca, Salamanca, Spain; National and Kapodistrian University of Athens, Athens, Greece; National and Kapodistrian University of Athens School of Medicine, Athens, Greece; Masaryk University Hospital, Brno, Czech Republic; Hospital Clínic de Barcelona., Barcelona, Spain; University of Arkansas for Medical Science, London, AR; Scientific Institute Policlinico San Matteo, University of Pavia, Pavia, Italy; Fondazione IRCCS Policlinico San Matteo, Pavia, Italy; University of Heidelberg, Heidelberg, Germany; S. Orsola University Hospital, Bologna, Italy; Royal Free Hospital, Northwood, United Kingdom; Janssen Research & Development, LLC, Raritan, NJ; Janssen Research & Development, LLC, Spring House, PA; Cornerstone Research Group, Inc., Burlington, ON, Canada; Mayo Clinic, Rochester, MN; Cedars-Sinai Comprehensive Cancer Center, Los Angeles, CA
---
ASCO 2019 Abstract No: 8000
 
Citation:
J Clin Oncol 37, 2019 (suppl; abstr 8000)
---
ABOUT MARIA V. MATEOS, MD, PhD
Dr. María-Victoria Mateos, is Associate Professor of Hematology and Consultant Physician in the Haematology Department at the University of Salamanca and Director of the Myeloma Unit, where she is responsible for coordinating the Clinical Trials Unit in Salamanca University Hospital's Haematology Department. She currently serves on the European Hematology Association (EHA) as the chair of Scientific Program Committee for the 2019 congress.
Previous Post
Visión general de Mieloma múltiple Resúmenes clave Presentado en ASCO 2019
Next Post
Efficacy and safety of the randomized phase 3 study of subcutaneous versus intravenous daratumumab administration in patients with relapsed or refractory multiple myeloma: COLUMBA