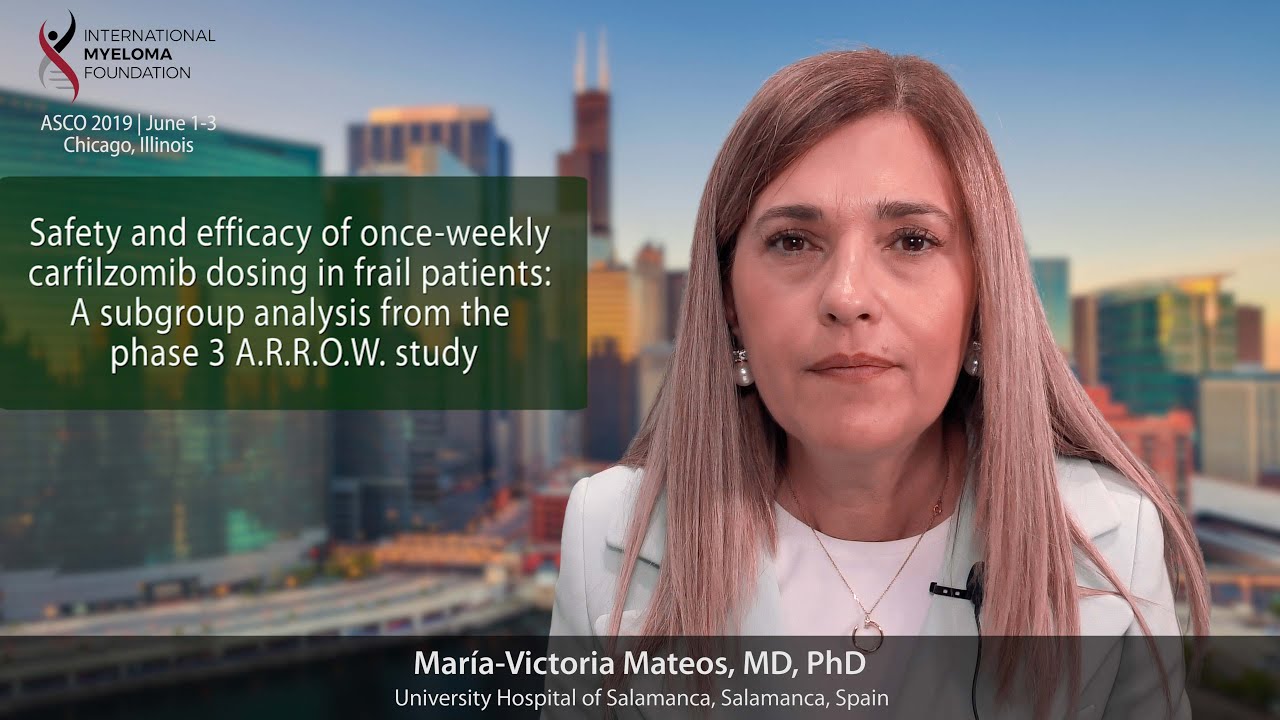 Efficacy and safety of the randomized phase 3 study of subcutaneous versus intravenous daratumumab administration in patients with relapsed or refractory multiple myeloma: COLUMBA
In a phase 1b trial, a SC formulation of DARA with recombinant human hyaluronidase PH20 (rHuPH20; ENHANZE drug delivery technology, Halozyme, Inc.) had adequate PK, low rates of infusion-related reactions (IRRs) and similar efficacy to DARA IV. This phase 3 study compared the efficacy, PK, and safety of DARA SC vs IV in pts with RRMM. 
Conclusions: 
Efficacy and PK co-primary endpoints were met, demonstrating non-inferiority of DARA SC to IV. DARA SC significantly decreased IRR rate and administration time, with a comparable safety profile to DARA IV. 
Authors:
Maria-Victoria Mateos, Hareth Nahi, Wojciech Legiec, Sebastian Grosicki, Vladimir Vorobyev, Ivan Spicka, Vania TM Hungria, Sibirina Korenkova, Nizar J. Bahlis, Max Flogegard, Joan Blade, Philippe Moreau, Martin Kaiser, Shinsuke Iida, Jacob Laubach, Tahamtan Ahmadi, Dolly A. Parasrampuria, Lixian Peng, Ming Qi, Saad Zafar Usmani; University Hospital of
Salamanca/IBSAL, Salamanca, Spain; Karolinska Institute, Department of Medicine, Division of Hematology, Karolinska University Hospital at Huddinge, Stockholm, Sweden; Department of Hemato-Oncology and Bone Marrow Transplantation, Medical University of Lublin, Lublin, Poland; Department of Hematology and Cancer Prevention, School of Public Health, Silesiam Medical University, Katowice, Poland; S.P.Botkin City Clinical Hospital, Moscow, Russian Federation; General Faculty Hospital, Prague, Czech Republic; Clinica São Germano, São Paulo, Brazil; Kiev Center for Bone Marrow Transplantation, Kiev, Ukraine; Tom Baker Cancer Center, University of Calgary, Calgary, AB, Canada; Department of Internal Medicine, Falun General Hospital, Falun, Sweden; IDIBAPS, Hospital Clinic de Barcelona, Barcelona, Spain; University Hospital of Nantes, Nantes, France; Division of Molecular Pathology, Institute of Cancer Research, Sutton, United Kingdom; Department of Hematology and Oncology, Nagoya City University Graduate School of Medical Sciences, Nagoya, Japan; Department of Hematology and Oncology, Dana-Farber Cancer Institute, Harvard Medical School, Boston, MA; Genmab US, Inc., Princeton, NJ; Janssen Research & Development, LLC, Spring House, PA; Janssen Research & Development, LLC, Raritan, NJ; Levine Cancer Institute/Atrium Health, Charlotte, NC
---
Clinical trial information: NCT03277105
ASCO Abstract No: 8005
Citation: 
J Clin Oncol 37, 2019 (suppl; abstr 8005)
---
ABOUT MARIA V. MATEOS, MD, PhD
Dr. María-Victoria Mateos, is Associate Professor of Hematology and Consultant Physician in the Haematology Department at the University of Salamanca and Director of the Myeloma Unit, where she is responsible for coordinating the Clinical Trials Unit in Salamanca University Hospital's Haematology Department. She currently serves on the European Hematology Association (EHA) as the chair of Scientific Program Committee for the 2019 congress.
Previous Post
Updated risk stratification model for smoldering multiple myeloma (SMM) incorporating the revised IMWG diagnostic criteria
Next Post
Efficacia della KRD con o senza trapianto nel mieloma di nuova diagnosi: FORTE