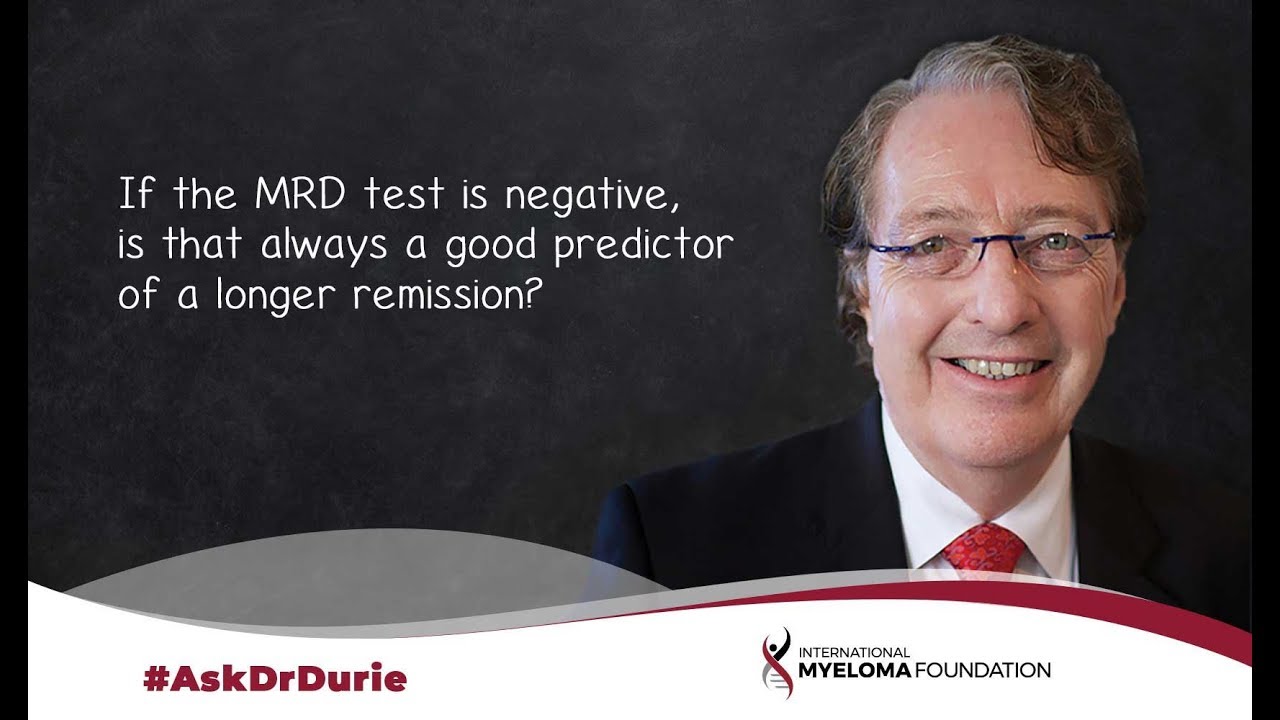 If the MRD test is negative, is that always a good predictor of a longer remission?
In this week's video, Dr. Brian G.M. Durie discusses how the MRD test can be used to predict long-term remission.
BOTTOM LINE:
Discuss with your doctor the sensitivity of the MRD test, and where you are in your course of treatment. Repeat tests to ensure there is sustained MRD negativity.
If you have a question that you'd like to suggest for a future episode of Ask Dr. Durie, please submit it to [email protected]. 
To reach the IMF InfoLine Coordinators, please call 800.452.2873 or email them at [email protected].  
Transcipt:
This weeks' 'Ask Dr. Durie' comes from a patient concerned with the value of testing for minimal residual disease. The specific question is: "If the MRD test is negative, is that always a predictor of a long remission?" And so, this is obviously a very very important question, and there are several parts to the answer.
First of all, when you are testing for MRD, minimal residual disease, the type of testing is important and also the sensitivity. And so, that we know the greatest reliability comes if the test is sensitive at the 10-6, the zero out of one million cells, so if the test is negative out of a million cells then to achieve that you actually need to test closer to 10 million cells. So, if this test is negative, that is a good predictor of a longer remission.
However, that is not carte blanche across the board. One needs to consider what kind of a patient is this and what kind of treatment has been given. And so, one needs to consider, is this in the setting of a bone marrow transplant, a stem cell transplant, or no transplant? Is this in the setting of a patient who might have standard-risk myeloma versus high-risk myeloma? One needs to take a number of these factors into account.
And in general, what we are looking for is possibly a follow-up test if feasible. So, if for example a test is done at six months, nine months or maybe a year, and is negative, we want to be sure, is that MRD-negative sustained at 18 months or at two years? And so, sustained MRD negativity is really the best predictor of long-term benefit and could ultimately become a predictor of a potential cure. But one needs to have a sensitive test, 10-6 level, sustained MRD-negative at hopefully one year, then maybe three years or even five years, which then would lead you to a definite probability of much longer-term benefit.
And so, the BOTTOM LINE, in this case, is that having a single MRD-negative test is not a panacea. This is something that needs to be discussed carefully with your doctor in terms of the sensitivity of the test, your own particular disease setting, the timing of the test, and with a plan to probably repeat that test over a period of time to make sure that it is sustained and then have a situation where the benefit is much more predictable.
---
Dr. Brian G.M. Durie serves as Chairman of the International Myeloma Foundation and serves on its Scientific Advisory Board. Additionally, he is Chairman of the IMF's International Myeloma Working Group, a consortium of nearly 200 myeloma experts from around the world. Dr. Durie also leads the IMF's Black Swan Research Initiative®.
Previous Post
How important is it to keep dexamethasone in the myeloma treatment regimen?
Next Post
An Overview of Multiple Myeloma Key Abstracts at ASCO 2019