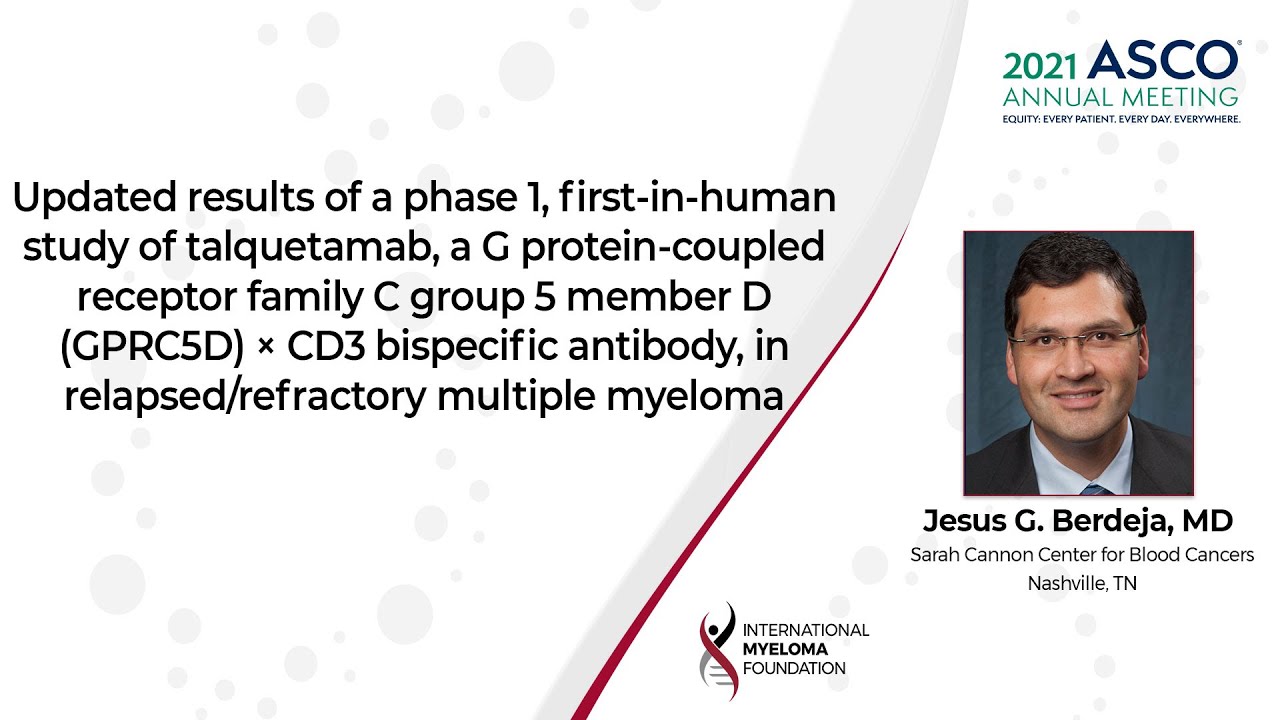 Updated results of a phase 1, first-in-human study of talquetamab in relapsed refractory multiple myeloma
What is the background of this study?
New immunotherapy targets in multiple myeloma are needed as patients continue to relapse. The orphan receptor GPRC5D is expressed on malignant plasma cells in myeloma. Talquetamab (JNJ-64407564) is a bispecific IgG4 antibody that redirects T-cell killing to multiple myeloma cells by binding to the novel target, GPRC5D, and CD3.
In this video:
Dr. Jesus Berdeja (Sarah Cannon Center for Blood Cancers, Nashville, TN, USA) explains that this study presents updated results of patients treated at the recommended phase II dose in the first-in-human phase I study of teclistamab. Eligible patients had multiple myeloma and were relapsed, refractory or intolerant to established therapies. This study sought to identify the phase II dose (part 1) and characterize safety and tolerability of teclistamab at the phase II dose (part 2)
Conclusions:
Teclistamab at the phase II dose (weekly 1500 µg/kg subcutaneous) was well-tolerated and showed encouraging efficacy with durable, deepening responses, supporting further investigation as monotherapy and in combination with other agents. With the extended exposure profile at the phase II dose and delayed and low-grade cytokine release syndrome observed with subcutaneous (SC) administration, alternative SC dosing strategies are being explored.
Clinical Trial Information: NCT03399799
Previous Post
Melflufen plus dexamethasone in patients with relapsed refractory multiple myeloma exposed refractory to prior alkylators: A pooled analysis of the O-12-M1 and HORIZON studies
Next Post
Isatuximab plus carfilzomib and dexamethasone in patients with relapsed multiple myeloma according to prior lines of treatment and refractory status: IKEMA subgroup analysis