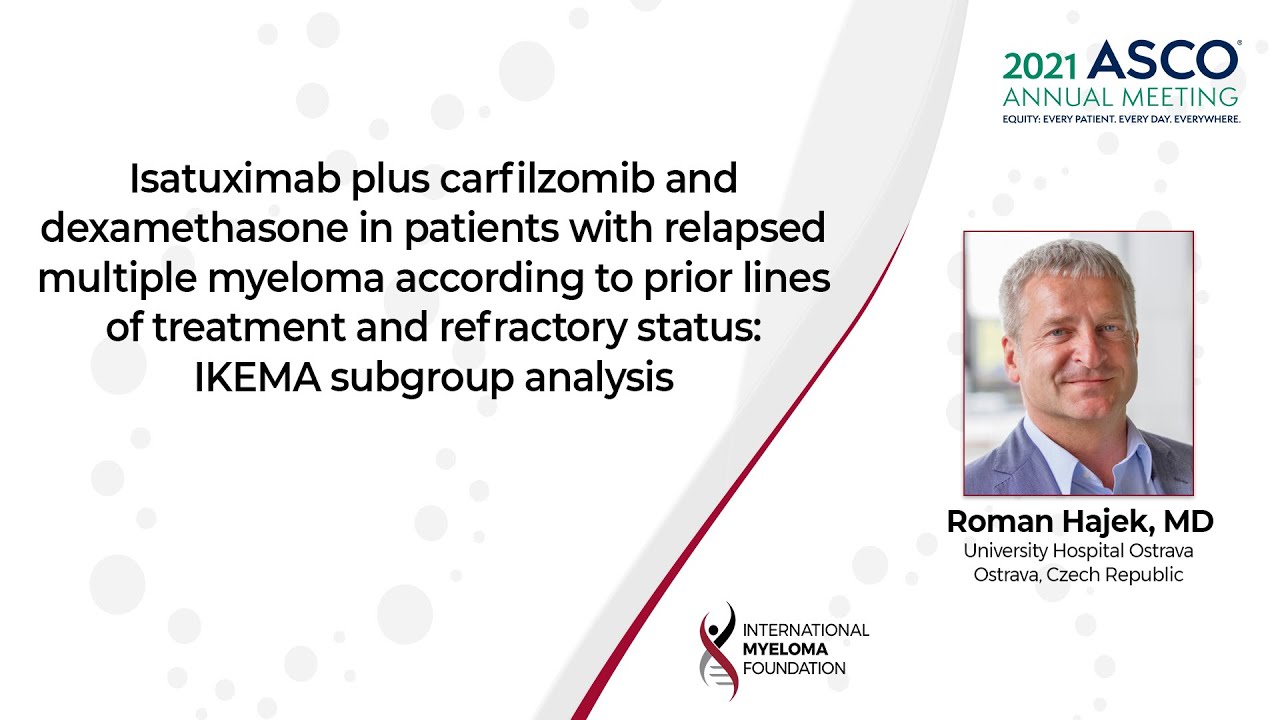 Isatuximab plus carfilzomib and dexamethasone in patients with relapsed multiple myeloma according to prior lines of treatment and refractory status: IKEMA subgroup analysis
Dr. Roman Hajek Discusses the IKEMA Subgroup Analysis
What is the background of this study?
Patients (pts) with multiple myeloma (MM) often relapse and become refractory to successive lines of therapy, warranting better treatment options. The Phase 3 IKEMA study (NCT03275285) demonstrated that isatuximab (Isa) plus carfilzomib and dexamethasone (Kd) significantly improved progression-free survival (PFS) compared with Kd in pts with relapsed MM (RMM) (HR 0.53; 99% CI 0.32–0.89; P= 0.0007). We evaluated the efficacy and/or safety of Isa-Kd by number of prior lines of therapy and refractoriness to lenalidomide (Len) or bortezomib (Bor).
In this video:
Dr. Roman Hajek (University Hospital Ostrava, Ostrava, Czech Republic) discusses the IKEMA subgroup analysis.
Conclusions:
The addition of Isa to Kd improved PFS and depth of response, irrespective of prior lines of therapy or refractory status, consistent with the benefit observed in the overall IKEMA study population. Isa-Kd had a manageable safety profile regardless of number of prior lines. Isa-Kd is a potential new treatment option for pretreated pts with RMM.
Clinical trial information: NCT03275285
Previous Post
Updated results of a phase 1, first-in-human study of talquetamab in relapsed refractory multiple myeloma
Next Post
Subcutaneous daratumumab plus bortezomib, cyclophosphamide, and dexamethasone in patients with newly diagnosed light chain amyloidosis: Updated results from the phase 3 ANDROMEDA study