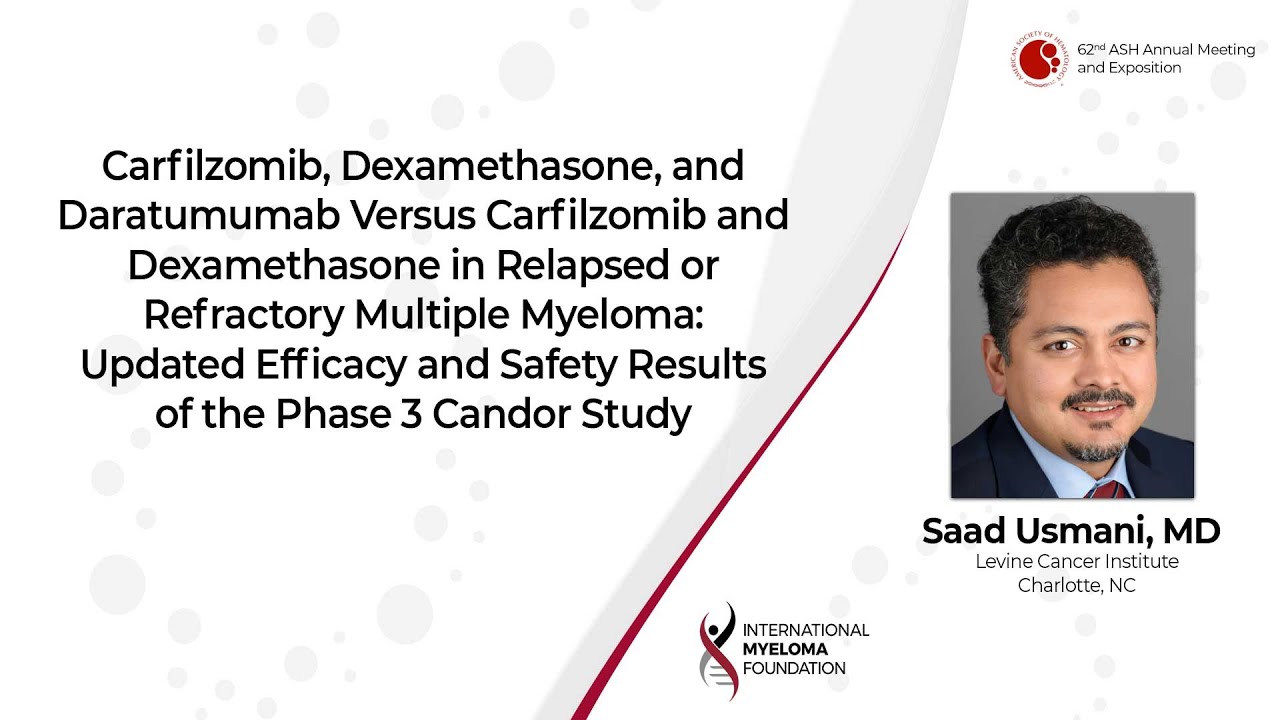 Updated Efficacy and Safety Results of the Phase 3 CANDOR study
What is the purpose of this study?
The randomized, open-label, multicenter, phase 3 CANDOR study compared carfilzomib, dexamethasone, and daratumumab (KdD) to carfilzomib and dexamethasone (Kd) in patients with multiple myeloma who have relapsed after 1–3 prior lines of therapy.
In this video:
Dr. Saad Usmani reports on the updated efficacy and safety outcomes from the CANDOR study.
Results:
With approximately 11 months of additional follow-up, a 13.4-month improvement in median PFS was observed in patients treated with KdD versus patients treated with Kd. Results from subgroup analyses, including those by prior treatments, were consistent with the PFS benefit of KdD in the overall CANDOR population.
Conclusion:
Safety was consistent with previously reported results. KdD continues to show a favorable benefit-risk profile and represents an efficacious treatment option for patients with RRMM.
ASH 2020: Abstract 2325
---
SAAD USMANI, MD
Dr. Saad Usmani is Chief of Plasma Cell Disorders and Director of Clinical Research in Hematologic Malignancies at the Levine Cancer Institute Hematologic Oncology and Blood Disorders and Carolinas HealthCare System.
Next Post
Results of Newly Diagnosed Transplant-Eligible Multiple Myeloma Patients Enrolled in the Forte Trial