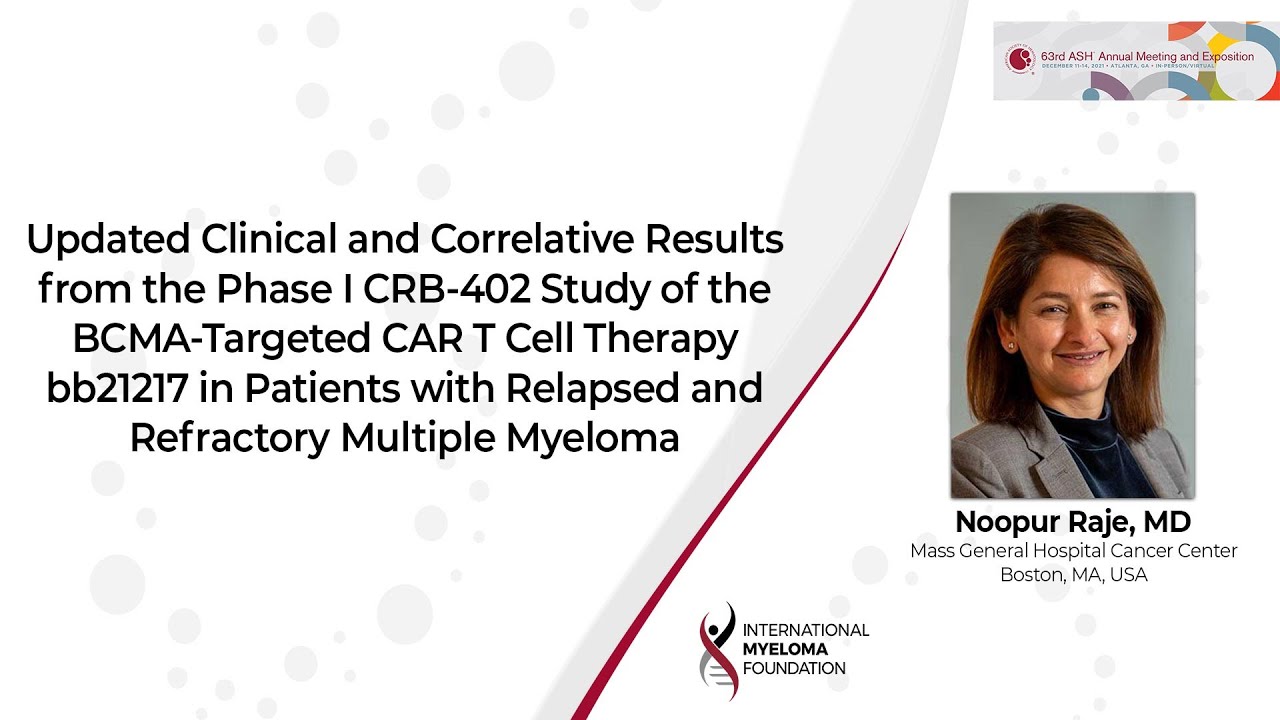 Updated Clinical and Correlative Results from the Phase I CRB-402 Study of the BCMA-Targeted CAR T Cell Therapy bb21217 in Patients with Relapsed and Refractory Multiple Myeloma
Idecabtagene vicleucel (ide-cel, bb2121) is the first chimeric antigen receptor (CAR) T cell therapy approved for the treatment of relapsed or refractory multiple myeloma after four or more prior lines of therapy, including an immunomodulatory agent, a proteasome inhibitor, and an anti-CD38 monoclonal antibody. bb21217 is a B-cell maturation antigen (BCMA) directed CAR T cell therapy which uses the same CAR molecule as ide-cel, with the addition of a PI3K inhibitor (bb007) during ex vivo culture to enrich the drug product (DP) for memory-like T cells and decrease the proportion of highly differentiated or senescent T cells. We hypothesize that DPs enriched for memory like CAR T cells will persist and function longer than non-enriched DPs and this increased persistence will positively influence duration of response (DOR). We previously demonstrated patients with sustained response are more likely to have drug product enriched for naïve gene signatures and depleted of effector gene signatures compared to patients without a sustained response.
Conclusions
Adverse events are consistent with known toxicities of CAR T cell therapies. Efficacy results are encouraging with a median DOR estimate of 17M, CR rate continues to mature. Patients with higher levels of proliferative, less differentiated memory like CAR+ T cells at peak expansion are more likely to experience prolonged DOR, continuing to support the hypothesis that the memory like T cell phenotype associated with bb21217 results in prolonged DOR.
ASH 2021: Abstract 548
Next Post
Dara+IRD As Extended Induction and Consolidation Followed By Lenalidomide Maintenance