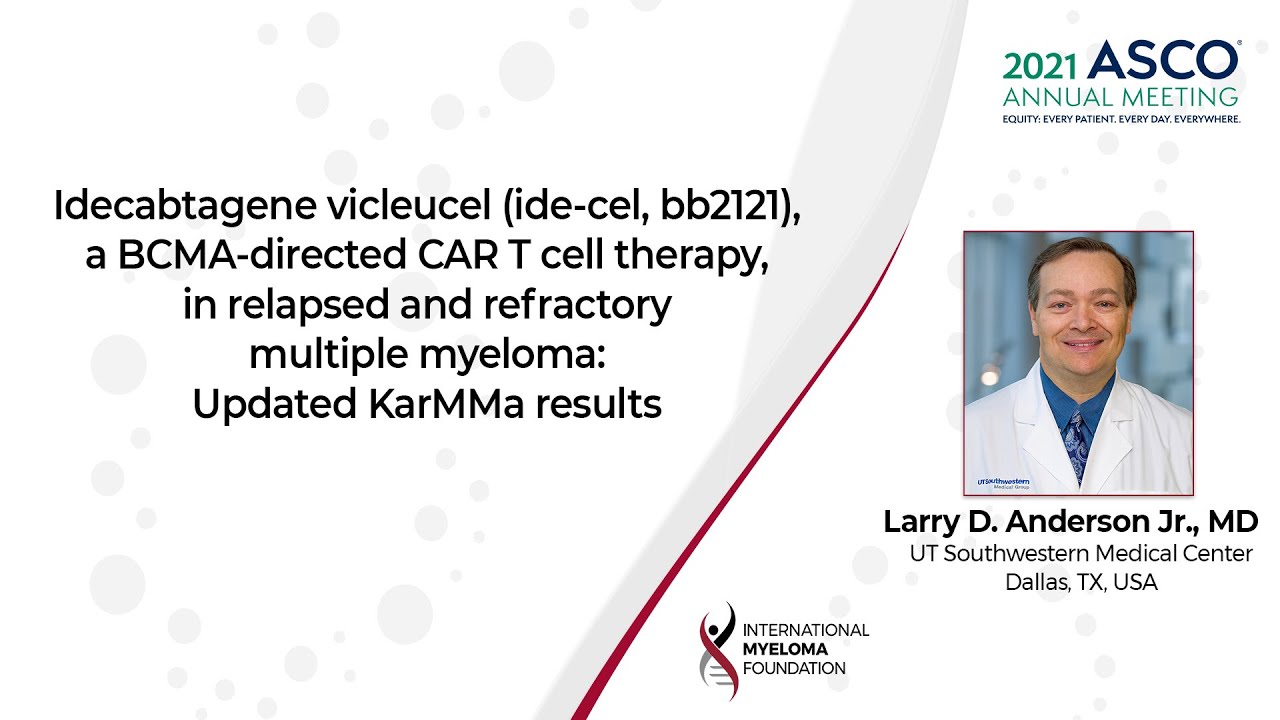 Idecabtagene vicleucel (ide-cel, bb2121), a BCMA-directed CAR T cell therapy, in relapsed and refractory multiple myeloma: Updated KarMMa results
Dr. Larry D. Anderson Jr. on the KarMMa Trial
What is the background of this study?
Patients (pts) with relapsed refractory mutiple myeloma (RRMM) previously exposed to immunomodulatory agents, proteasome inhibitors (PIs), and CD38 antibodies (mAbs) have poor outcomes with subsequent treatments. Ide-cel, a BCMA-directed CAR T cell therapy, showed frequent, deep, and durable responses in heavily pretreated patients with RRMM in the pivotal KarMMa trial (Munshi NC, et al. J Clin Oncol 2020;38[suppl 15]. Abstract 8503).
In this video:
Dr. Larry D. Anderson Jr. (UT Southwestern Medical Center -- Dallas) presents the updated data from the KarMMa trial.
Conclusions:
Updated results from the KarMMa trial continue to demonstrate deep, durable responses with ide-cel in heavily pretreated patients with RRMM. Efficacy and safety reflect prior reports and support a favorable clinical benefit-risk profile for ide-cel across the target dose range.
Clinical trial information: NCT03361748

Previous Post
What is the best diet for myeloma patients to build a strong immune system?
Next Post
ANCHOR (OP-104): Melflufen plus dexamethasone and bortezomib in relapsed/refractory multiple myeloma—Optimal dose, updated efficacy and safety results