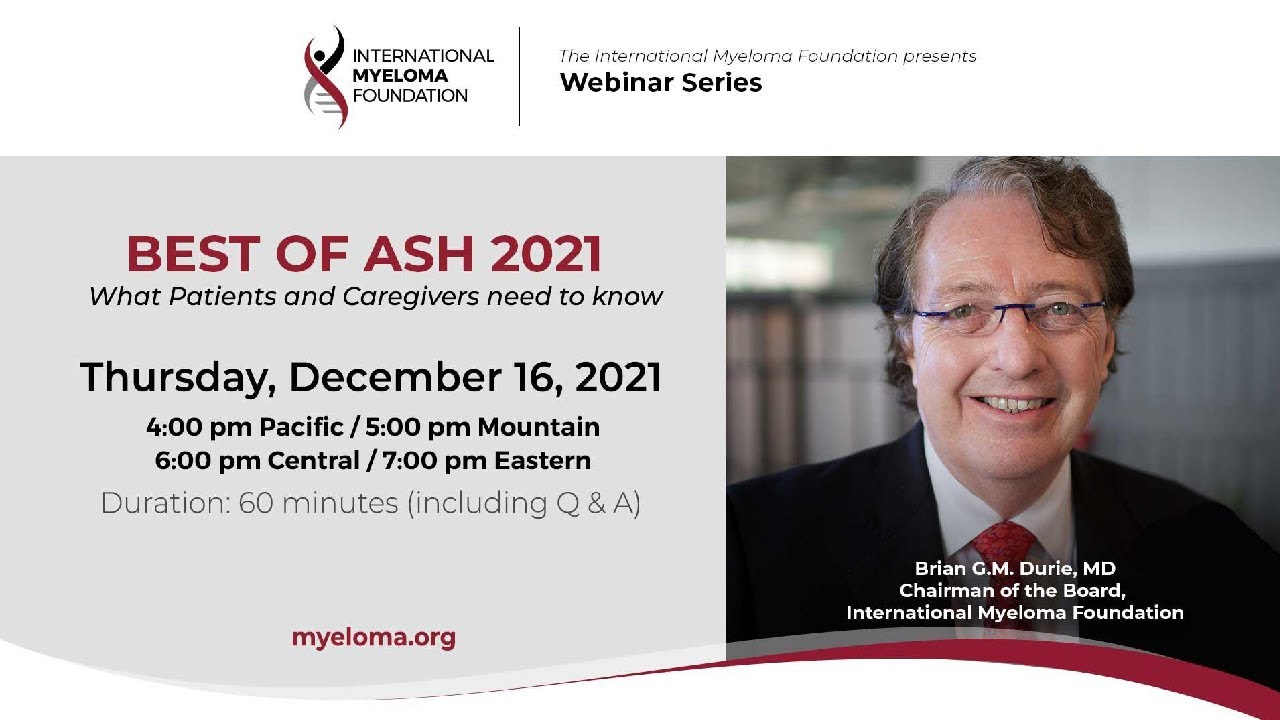 Dr. Brian G.M. Durie discusses important takeaways relating to multiple myeloma from the annual American Society of Hematology (ASH) conference
Of the 4,140 abstracts presented at the 2021 ASH meeting, 879 were multiple myeloma-related. In this "Best of ASH 2021" webinar, IMF Chairman of the Board Dr. Brian G.M. Durie highlights the top myeloma abstracts presented during the annual conference that discuss the following topics:
A new look at early disease: MGUS & SMM
Minimal residual disease monitoring
Frontline therapy with four drug combinations
Immune therapies, including CAR T-cell therapies and bispecifics
Emerging new treatments
Dr. Durie explains this data in approachable terms that patients and caregivers can use in their everyday care decision-making. You won't want to miss this key webinar. 
---
With Support from:
Amgen, Bristol-Myers Squibb, Janssen Oncology, Karyopharm Therapeutics, Oncopeptides, Takeda Oncology
Previous Post
Dara-KRd, Autologous Transplantation and MRD Response-Adapted Consolidation and Treatment Cessation. Final Primary Endpoint Analysis of the MASTER Trial
Next Post
Updated Clinical and Correlative Results from the Phase I CRB-402 Study of the BCMA-Targeted CAR T Cell Therapy bb21217 in Patients with Relapsed and Refractory Multiple Myeloma