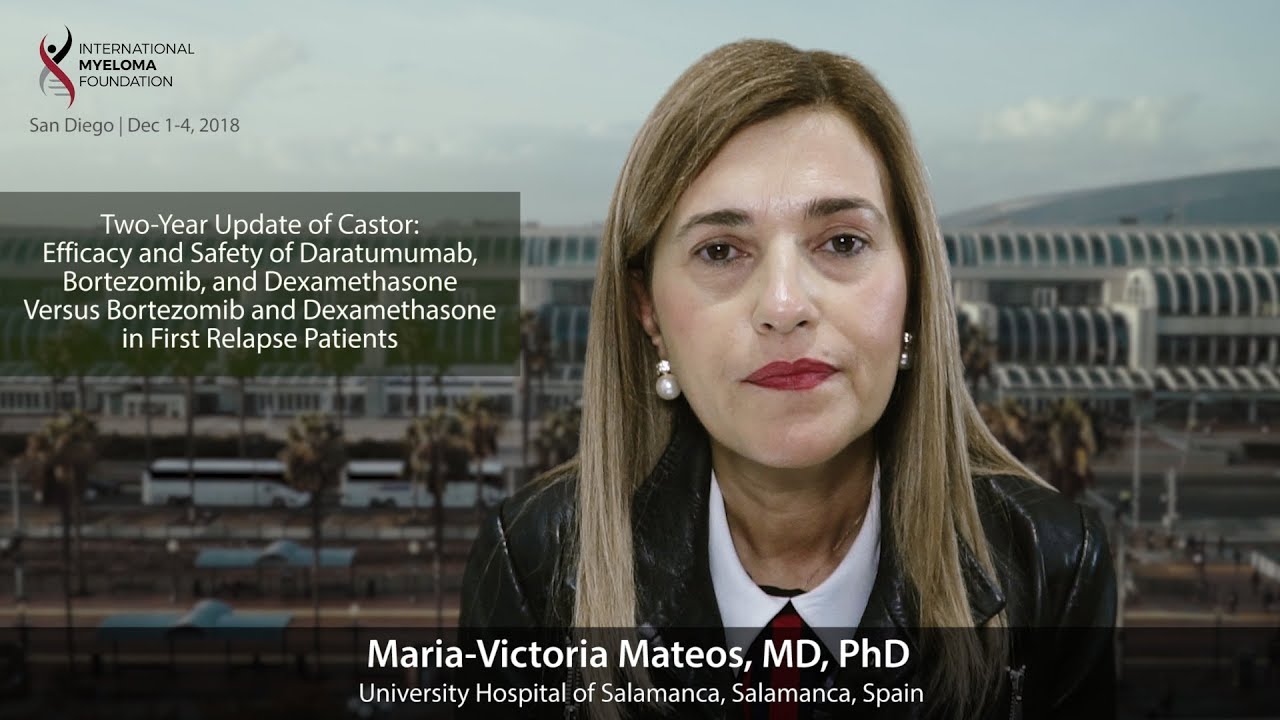 Two-Year Update of Castor: Efficacy and Safety of Daratumumab, Bortezomib, and Dexamethasone Versus Bortezomib and Dexamethasone in First Relapse Patients
Daratumumab (DARA) is a human, CD38-targeted, IgGκ monoclonal antibody. In the CASTOR study, D-Vd reduced the risk of disease progression or death by 68% and induced higher rates of deeper responses vs Vd in relapsed/refractory (RR) MM pts (Spencer, A. ASH 2017. Abs. 3145). Overall, in phase 3 studies in RRMM and newly diagnosed MM, DARA-based regimens reduced disease progression or death risk by ≥50%, doubled complete response (CR) rates, and tripled minimal residual disease (MRD)-negative rates. While progression-free survival (PFS) benefits of D-Vd vs Vd were observed regardless of the number of prior lines (PLs) of therapy, the benefit was most pronounced in pts receiving 1 PL of therapy. Here, we examine updated (2 y after interim analysis) efficacy and safety of D-Vd vs Vd in CASTOR, with a primary focus on pts with 1 PL of therapy. 
In this 2-y update, D-Vd maintains significant PFS and ORR benefits in RRMM pts, with greater benefit in 1 PL pts. Addition of DARA to Vd allows for sustained MRD negativity. The safety profile of D-Vd remains consistent after 2 y. The data suggest that administration of D-Vd to RRMM pts after first relapse may provide the greatest clinical benefit.
Authors:
Maria-Victoria Mateos, MD, PhD, Pieter Sonneveld, Vania T. M. Hungria, MD, PhD, Ajay K Nooka, MD, MPH, Jane Estell, FRACP, Wolney G Barreto, Paolo Corradini, MD, Chang-Ki Min, MD, Eva Medvedova, MD, Katja Weisel, MD, Christopher Chiu, PhD, Jordan M. Schecter, Himal Amin, Xiang Qin, Ming Qi and Andrew Spencer, MBBS, FRACP, FRCPA, DM
---
3270 Efficacy and Safety of Daratumumab, Bortezomib, and Dexamethasone (D-Vd) Versus Bortezomib and Dexamethasone (Vd) in First Relapse Patients: Two-Year Update of Castor
---
ABOUT MARIA V. MATEOS, MD, PhD
Dr. María-Victoria Mateos is an Associate Professor of Hematology and Consultant Physician in the Haematology Department at the University of Salamanca and Director of the Myeloma Unit, where she is responsible for coordinating the Clinical Trials Unit in Salamanca University Hospital's Hematology Department. She currently serves on the European Hematology Association (EHA) as the Chair of the Scientific Program Committee for the 2019 Congress.
Next Post
Las células NK primarias transducidas con NKG2D-CAR apuntan eficientemente a las células MM