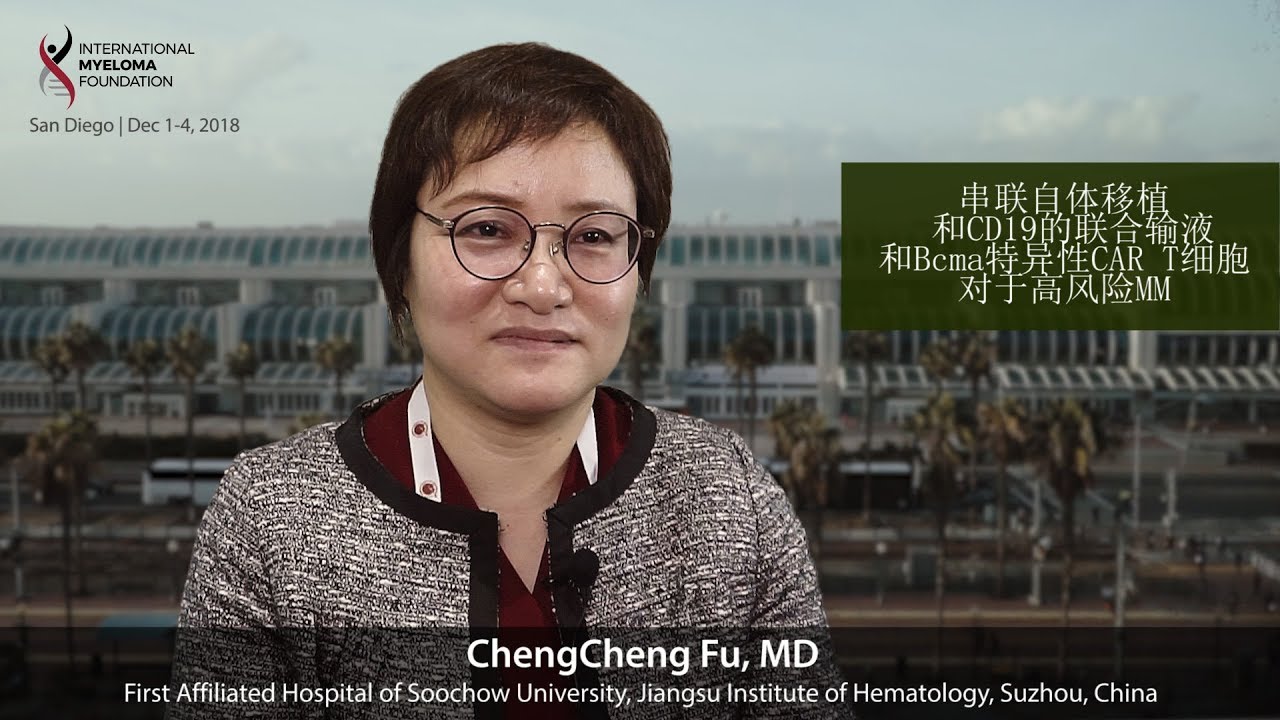 串联自体移植 和CD19的联合输液 和Bcma特异性CAR T细胞 对于高风险MM
Multiple myeloma (MM) is an incurable plasma cell malignancies despite the advent of numerously new drugs. Survival was poor particularly for high risk patients such as R-ISS stage III. The preliminary data from our center showed that the median PFS after auto-HSCT was 24 months for patients with R-ISS III stage, while 17 months for patients that achieved PR or less after induction. Chimeric antigen receptor (CAR)-transduced T cells is a promising strategy for cancer immunotherapy. Our previous study showed good response for RRMM patients after CD19 and BCMA-specific CART therapy without severe CRS and other deadly side effects. To improve the survival of high risk patients,this study was designed to observe the safety and efficacy of combined infusion of CD19 and BCMA-specific CART cells after autologous transplantation (SZ-MM-CART02 study, NCT 03455972). 
Tandom autologous transplantation and combined infusion of CART-19 and CART-BCMA cells could be another choice of consolidation treatment for high risk MM patients. Toxicities to date including CRS and organ function impairment seemed to be mild and reversable. It is worthy of further study to compare DFS, OS between single autologous transplantation and tandom transplantation with CART therapy. Immune environment in high risk patients with multiple myelomaI remodelled by auto-HSCT may contribute to more rapid expansion of CART cells than that in RRMM patients, suggesting that the extent of CART expansion depends more than tumor burden.
Previous Post
One-Year Update of Alcyone: Phase 3 Randomized Study of D-VMP Versus VMP in Patients with Transplant-Ineligible Newly Diagnosed Multiple Myeloma
Next Post
Two-Year Update of Castor: Efficacy and Safety of Daratumumab, Bortezomib, and Dexamethasone Versus Bortezomib and Dexamethasone in First Relapse Patients