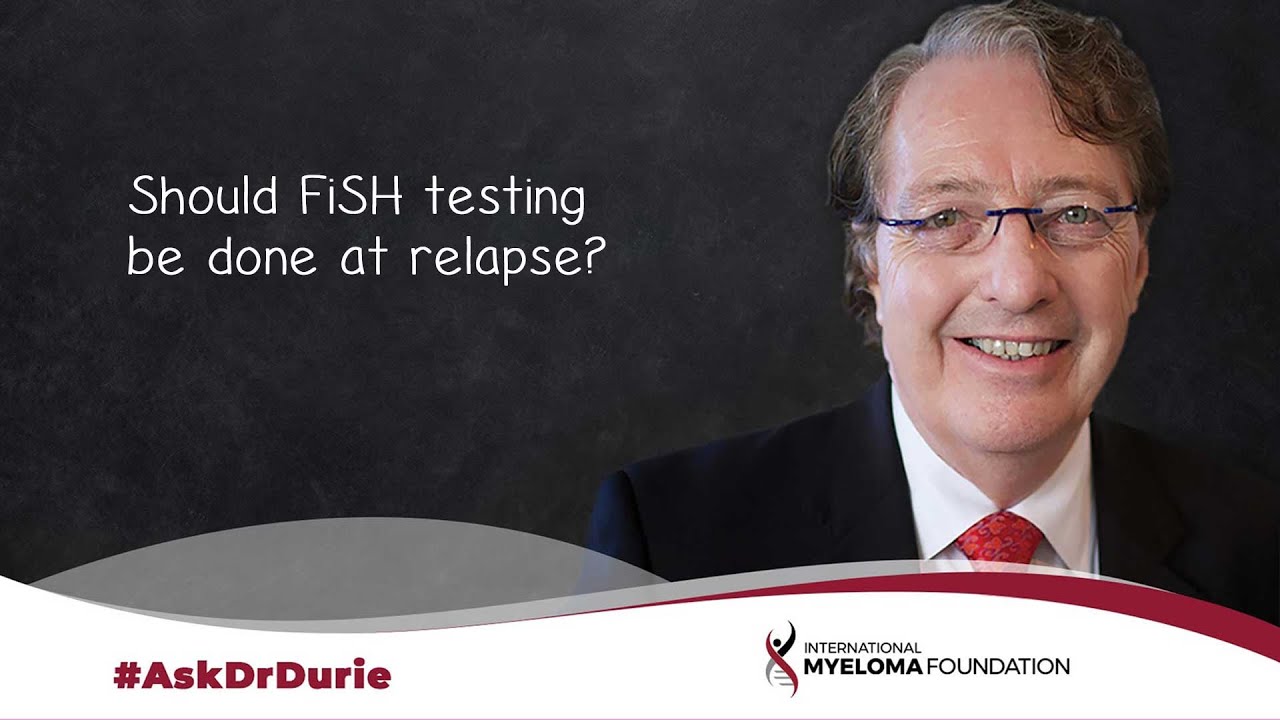 Should FiSH testing be done at relapse?
In this week's video, Dr. Durie discusses if Fluorescence in Situ Hybridization (FiSH) testing should be done at relapse. 
BOTTOM LINE:
Yes, FiSH testing should be performed at relapse. 
If you have a question that you'd like to suggest for a future episode of Ask Dr. Durie, please submit it to [email protected]. 
To reach the IMF InfoLine Coordinators, please call 800.452.2873 or email them at [email protected].  
Transcript:
This week's "Ask Dr. Durie" is from a patient asking a question about FiSH testing, specifically, FiSH testing at the time of relapse.
 
So, "FiSH testing" is a test called Fluorescence in Situ Hybridization, a lot of big words there. And, it means that there is color painting of the chromosomes so that you can see in a bone marrow sample if the chromosomes are abnormal.
 
And so, the answer to this question is, yes. And, the main reason for that, is that there are changes that can occur at the point of relapse in the bone marrow so that the chromosomes that are damaged in the myeloma cells may be different than the changes that were observed at the time of initial diagnosis. And so, the simple answer is, yes, that this really is something important to be considered.
 
And, the main reason for that is that it can influence the choice of treatment. And so, based upon the details of the results, then there can be some options that should be or could be considered.
 
So, for example, one of the important translocations called t(11;14), translocations involving chromosomes 11, and 14, is something that occurs in patients who have been considered to be quite good-risk patients. Patients in whom a new treatment called venetoclax, which works specifically against one of the factors increased in the myeloma cells, in this case, BCL-2, where this treatment can be considered and can be especially active based upon results of a recent trial, called the BELLINI trial, and so this is one example of a treatment choice.
 
Another one is if the translocation involving chromosome 4 and 14, t(4;14), is observed, particularly in combination with another chromosome change, an increase in the bottom part of chromosome 1, called "1q+". This combination is a particularly high-risk type of myeloma where we should strongly consider a combination which includes a proteasome inhibitor, such as a drug called Velcade®, or carfilzomib.
 
And so, with these examples, you can see that it is important, there could be new changes, and there could be some options for treatment. 
 
And so, BOTTOM LINE, although it is uncomfortable to go through that additional bone marrow test, the results could be different. And, they could give important new information. 
 
---
Dr. Brian G.M. Durie serves as Chairman of the International Myeloma Foundation and serves on its Scientific Advisory Board. Additionally, he is Chairman of the IMF's International Myeloma Working Group, a consortium of nearly 200 myeloma experts from around the world. Dr. Durie also leads the IMF's Black Swan Research Initiative®.
Next Post
What is isatuximab? And how does it compare with daratumumab?