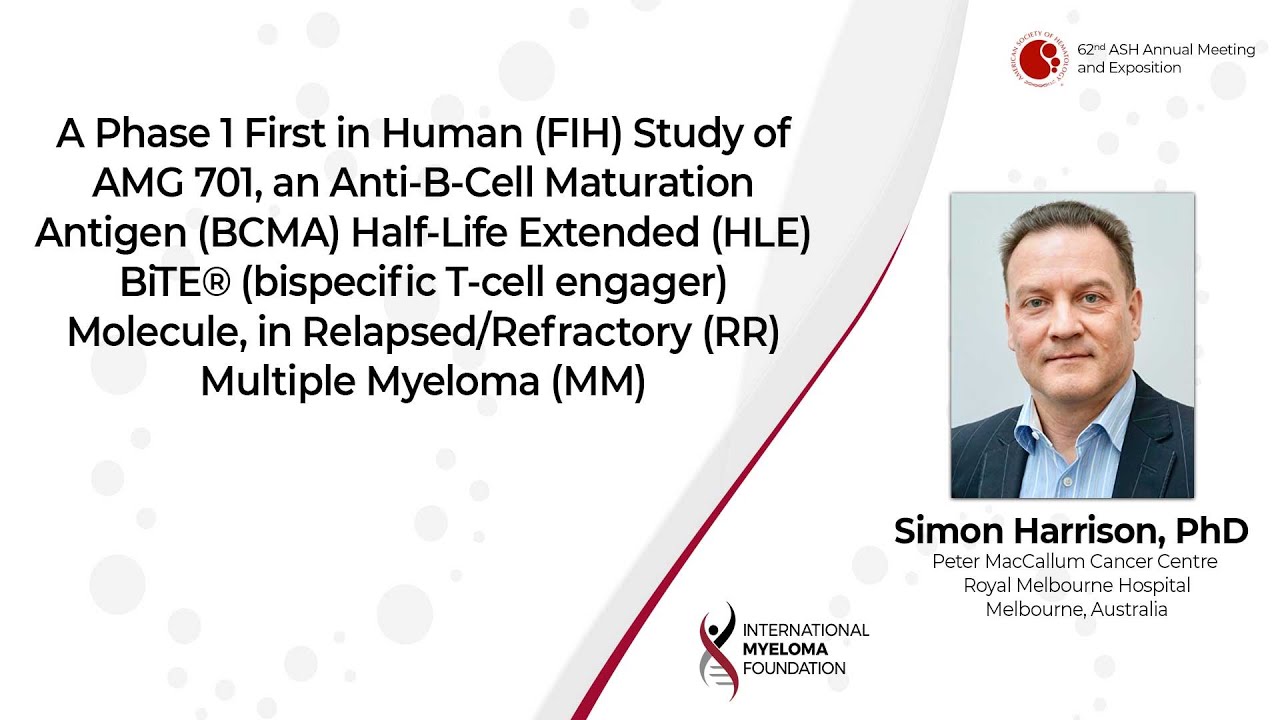 A Phase 1 Study of AMG 701 in Subjects With Relapsed/Refractory Multiple Myeloma
What is the purpose of this study?
The aim of the study is to evaluate AMG 701, a BiTE® molecule binding BCMA on MM cells and CD3 on T cells, in RR MM (Amgen, NCT03287908); primary objective was to evaluate safety and tolerability and estimate a biologically active dose; secondary objectives were to characterize pharmacokinetics (PK), anti-myeloma activity per IMWG criteria, and response duration.
In this video:
Prof. Simon Harrison presented the first in human study of AM 701, a BCMA-targeting half-life extended BiTE.
Results:
There was an 83% overall response rate in the most recent evaluable group and an overall 26% response rate for all combined dose levels. Interestingly, one patient on the study relapsing after 13 lines of therapy including a stem transplant as bridging therapy to this study responded with a stringent complete response for over 26 months. Six out of seven patients tested for MRD were MRD negative.
Conclusion:
In this FIH study with ongoing dose escalation, AMG 701, an anti‑BCMA BiTE® molecule, demonstrated a manageable safety profile, encouraging activity, and a favorable PK profile in patients with heavily pre‑treated RR MM, supporting further evaluation of AMG 701.
ASH 2020: Abstract 181
---
Simon Harrison, PhD, MBBS, MRCP (UK), FRCPath (UK), FRACP
A/Prof Simon Harrison is the Director of the Centre of Excellence in Cellular Immunotherapy at the Peter MacCallum Cancer Centre. He is also the lead Haematologist for Myeloma and Director of Clinical Apheresis, and a clinician scientist in the Sir Peter MacCallum department of Oncology in Melbourne University.
Previous Post
Results of Newly Diagnosed Transplant-Eligible Multiple Myeloma Patients Enrolled in the Forte Trial