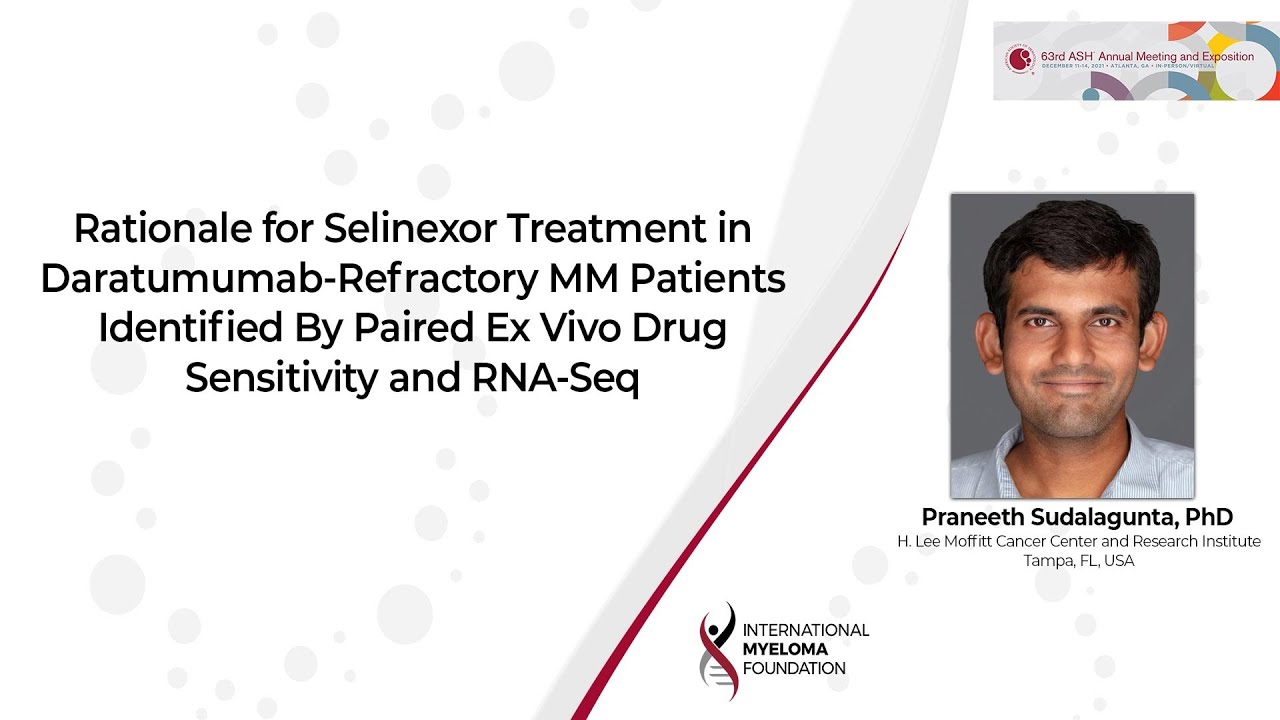 Rationale for Selinexor Treatment in Daratumumab-Refractory MM Patients Identified By Paired Ex Vivo Drug Sensitivity and RNA-Seq
Multiple myeloma (MM) remains an all but incurable plasma cell malignancy. Patients with relapsed MM are treated with a growing list of multi-drug regimens that typically result in transient responses followed by subsequent lines of therapy, ultimately leading to multidrug resistance. Accordingly, improved understanding of how the evolution of resistance to one class of drugs affects response to other classes is needed to inform optimal sequencing therapy for patients. We employed RNA-seq profiling paired with ex vivo drug sensitivity as well as associated clinical studies to examine rational sequencing of the nuclear export inhibitor, Selinexor (SEL). Our data indicate that the biology associated with resistance to the monoclonal antibody Daratumumab (DARA) is associated with sensitivity to SEL.
Conclusions
Ex vivo SEL sensitivity was increased and clinical response to SEL was more favorable for patients immediately after DARA, demonstrating direct clinical correlation of our ex vivo methods. Further, these data introduce a biologic rationale for how DARA-resistant MM cells are more sensitive to SEL and implicate sequential use of SEL-containing regimes for patients immediately after acquired resistance to DARA.
ASH 2021: Abstract  893
Previous Post
Monoclonal Gammopathy of Undetermined Significance and COVID-19: Results from iStopMM
Next Post
Daratumumab Plus RVd in Patients with Transplant-Eligible Newly Diagnosed Multiple Myeloma: Updated Analysis of Griffin after 24 Months of Maintenance