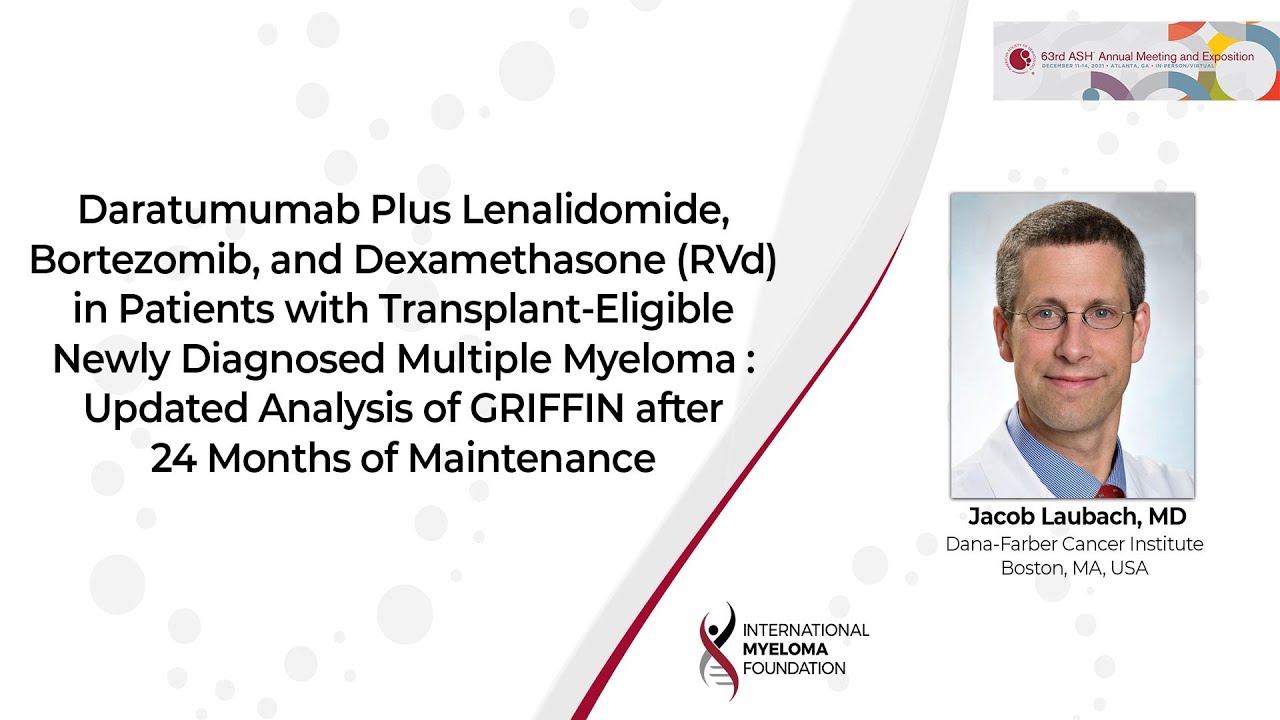 Daratumumab Plus RVd in Patients with Transplant-Eligible Newly Diagnosed Multiple Myeloma: Updated Analysis of Griffin after 24 Months of Maintenance
DARA is approved for NDMM and previously treated MM. In the primary analysis of the phase 2 GRIFFIN trial (NCT02874742) in autologous stem cell transplant (ASCT)-eligible NDMM pts (median follow-up, 13.5 mo), DARA plus RVd (D-RVd) improved the rate of stringent complete response (sCR) by the end of post-ASCT consolidation versus RVd (42.4% vs 32.0%, 1-sided P=0.068) (Voorhees PM, et al. Blood. 2020). With longer follow-up (median, 27.4 mo), responses deepened and were improved for D-RVd versus RVd (sCR rate: 63.6% vs 47.4%, 2-sided P=0.0253), as did the MRD-negativity (10–5) rate (62.5% vs 27.2%, P<0.0001) (Kaufman JL, et al. Blood. 2020). Here, we present updated efficacy and safety results after 24 months of maintenance therapy or treatment discontinuation (median follow-up, 38.6 mo).
Conclusion
After 24 months of maintenance therapy, the addition of DARA to RVd induction and consolidation in conjunction with ASCT, followed by DARA plus R maintenance, continued to demonstrate deep and durable responses in pts with transplant-eligible NDMM, including sCR and MRD-negativity (10–5 and 10–6) rates. While this study was not powered for PFS, there is a positive trend towards improved PFS in the D-RVd group. No new safety concerns were observed with longer follow-up. These results support the use of D-RVd induction/consolidation and D-R maintenance in transplant-eligible NDMM pts.
ASH 2021: Abstract 79
Previous Post
Rationale for Selinexor Treatment in Daratumumab-Refractory MM Patients Identified By Paired Ex Vivo Drug Sensitivity and RNA-Seq
Next Post
Safety and Efficacy of Fully Human BCMA CAR T Cells in Combination with a Gamma Secretase Inhibitor