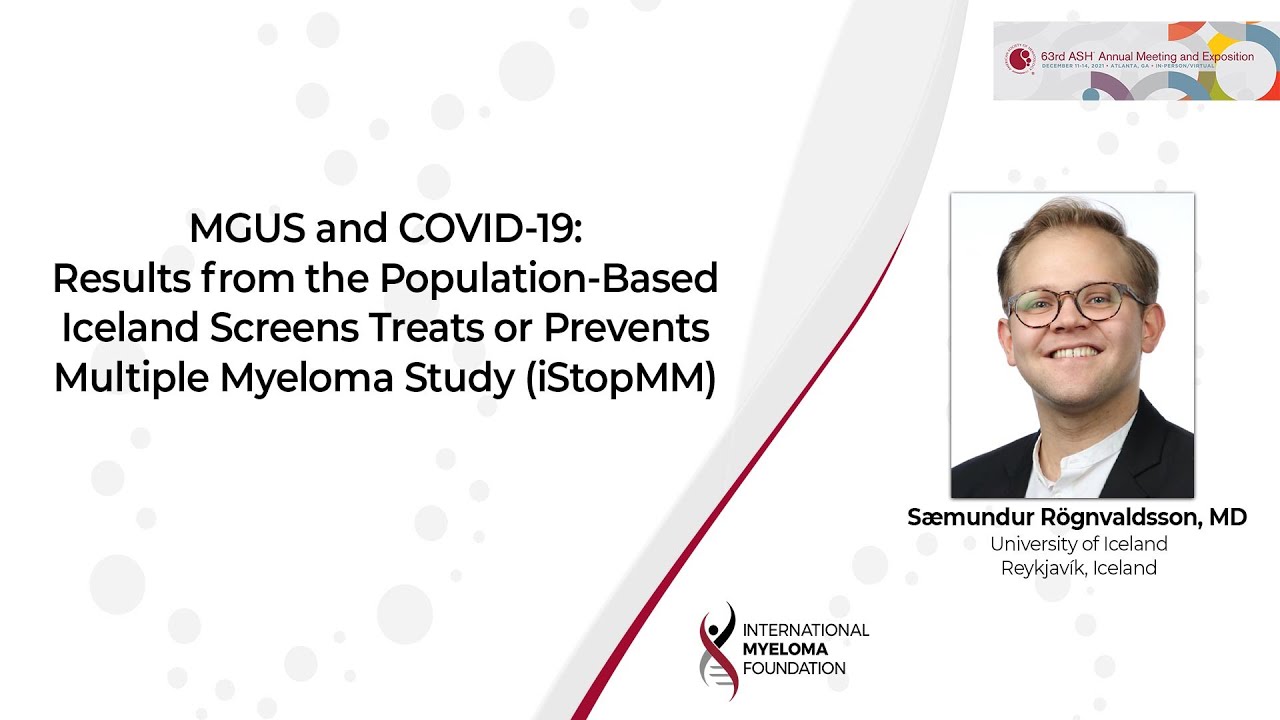 Monoclonal Gammopathy of Undetermined Significance and COVID-19: Results from iStopMM
Multiple myeloma (MM) patients have an increased risk of severe coronavirus disease 2019 (COVID-19) when infected with severe acute respiratory syndrome coronavirus 2 (SARS-CoV-2). Monoclonal gammopathy of undetermined significance (MGUS) precedes MM and related disorders and affects 4.2% of the general population over the age of 50 years. MM and MGUS are associated with immune dysfunction that is believed to contribute to the development of severe COVID-19. Currently, no systematic data on MGUS and COVID-19 have been published. We conducted a large population-based cohort study to evaluate whether MGUS was associated with SARS-CoV-2 infection and the development of severe COVID-19.
Conclusions
In this large population-based study that included 75,422 individuals screened for MGUS, we did not find MGUS to be associated with SARS-CoV-2 susceptibility or COVID-19 severity. This is contrary to MM which is preceded by MGUS. These findings suggest that immunosuppression in MGUS differs significantly from that of MM and are important since they can inform management and recommendations for individuals with MGUS.
ASH 2021: Abstract 154
Previous Post
IRd Vs Rd Maintenance after Autologous Stem Cell Transplant in Newly Diagnosed Multiple Myeloma Pts: Results of the Spanish GEM2014MAIN Trial
Next Post
Rationale for Selinexor Treatment in Daratumumab-Refractory MM Patients Identified By Paired Ex Vivo Drug Sensitivity and RNA-Seq