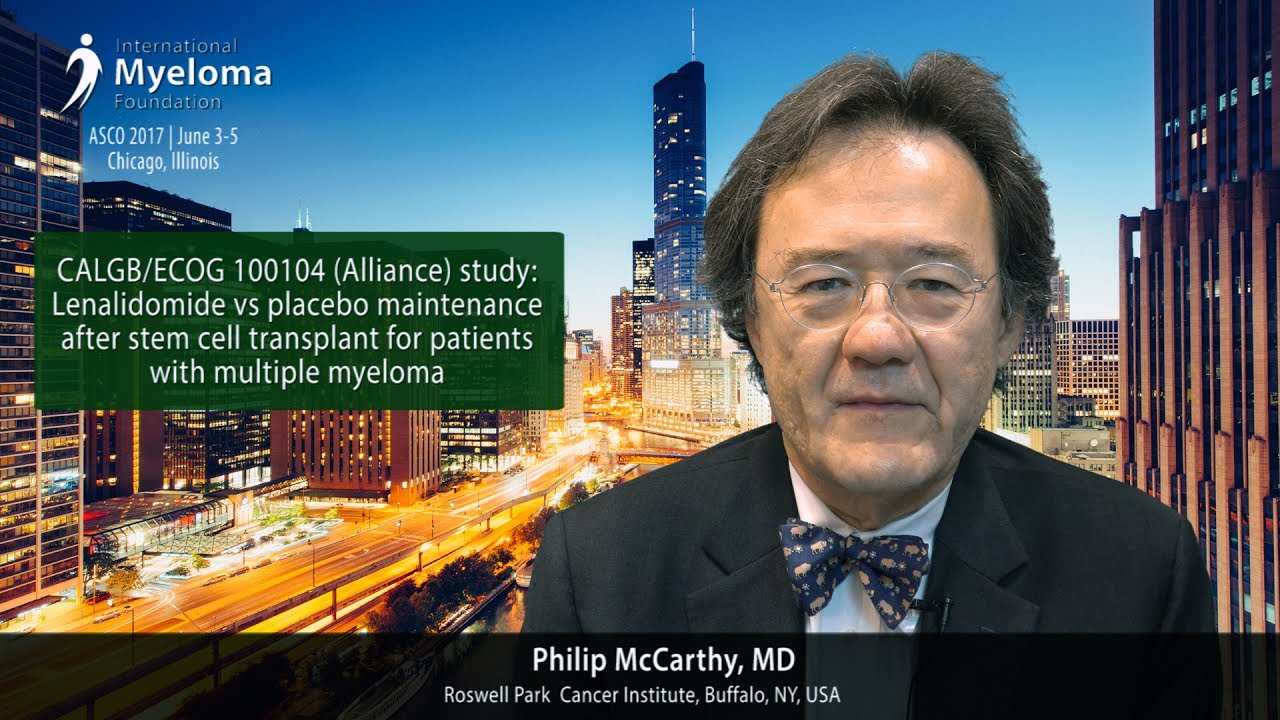 CALGB/ECOG 100104 (Alliance) study: Lenalidomide vs placebo maintenance after stem cell transplant

Philip McCarthy, MD
Roswell Park Cancer Institute
Buffalo, NY, USA
Background: At a prespecified interim analysis (Dec 2009), the phase 3 CALGB study results surpassed the prespecified superiority boundary (significantly improved PFS for LEN maint vs PBO after SCT) and the majority of PBO arm pts without progressive disease (PD) crossed over to LEN maint. An updated analysis (cutoff Mar 2015), showed significantly longer OS with LEN maint (HR, 0.56; 95% CI, 0.42-0.76). We examined the effect of LEN vs PBO on OS and PFS from randomization, adjusting for XO effects.
Author(s): Philip L. McCarthy, Sarah A. Holstein, Sin-Ho Jung, Miranda Cooper, Craig J Gibson, Edward Allen Stadtmauer, Benjamin Winograd, Paul G. Richardson; Roswell Park Cancer Institute, Buffalo, NY; Duke University School of Medicine, Durham, NC; BresMed, Sheffield, United Kingdom; Celgene Corporation, Summit, NJ; Abramson Cancer Center, Philadelphia, PA; Dana-Farber Cancer Institute, Boston, MA
Clinical trial information: NCT00114101
---
ABOUT PHILIP MCCARTHY, MD
Dr. Philip McCarthy is a Professor of Oncology and Internal Medicine and the Director of the Transplant and Cellular Therapy Center at the Roswell Comprehensive Cancer Center in Roswell Park, New York. He also holds the position of Professor of Oncology and Internal Medicine at the Chief of Plasma Cell Disorders and Director of Clinical Research in Jacobs School of Medicine and Biomedical Sciences at the University at Buffalo in Buffalo, New York. View Dr. Philip MCarthy's full biography here.
Previous Post
A phase Ib study of isatuximab in combination with pomalidomide and dexamethasone in RRMM
Next Post
Safety and efficacy of daratumumab-based regimens in elderly (≥75 y) patients with relapsed or refractory multiple myeloma: Subgroup analysis of POLLUX and CASTOR