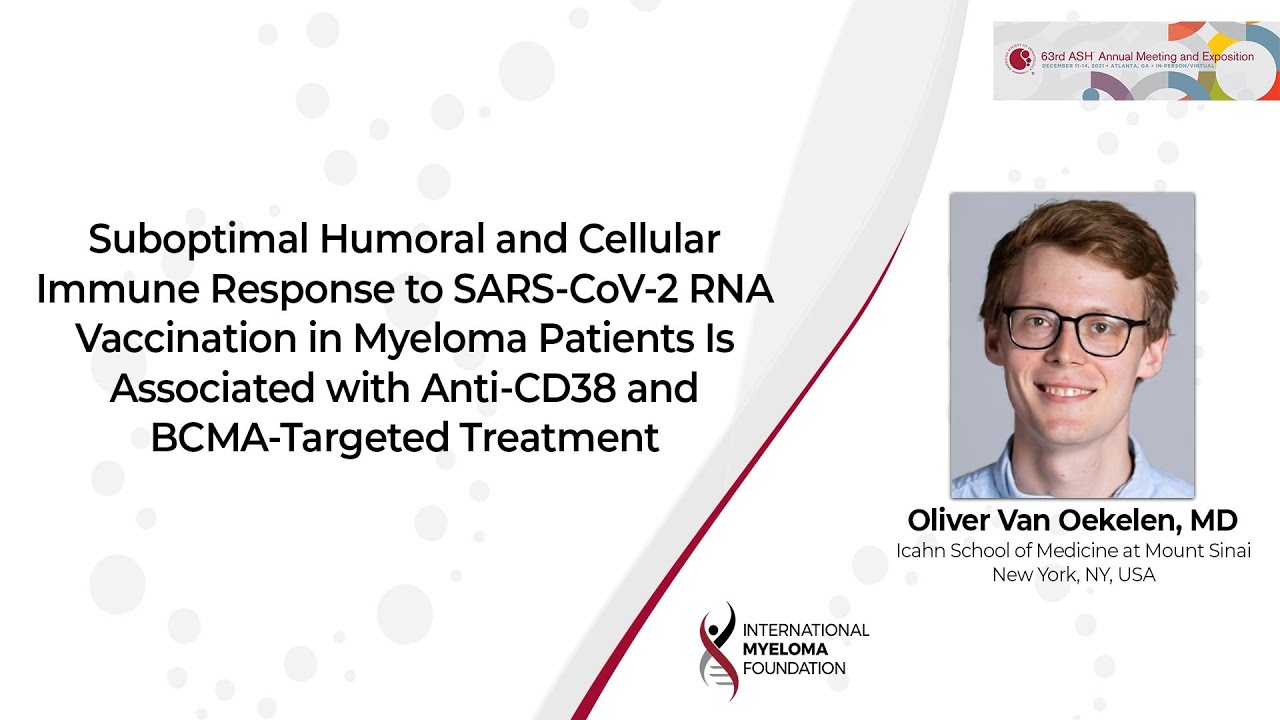 Suboptimal Humoral and Cellular Immune Response to SARS-CoV-2 RNA Vaccination in Myeloma Patients Is Associated with Anti-CD38 and BCMA-Targeted Treatment
Multiple myeloma (MM) patients are immunocompromised due to defects in humoral/cellular immunity and immunosuppressive therapy. Reports indicate that the antibody (Ab) response in MM after 1 dose of SARS-CoV-2 RNA vaccine is attenuated. The impact of treatment on cellular immunity after vaccination remains unknown.
Conclusion 
MM patients mount a suboptimal IgG response after SARS-CoV-2 vaccination, with 15.8% of patients without detectable anti-S IgG. Ongoing analyses will highlight durability of serological protection against COVID-19. Additional data on T cell responses and immunophenotyping in the context of vaccination will be updated at the meeting. Implications are continuation of non-pharmacological interventions, e.g. masking/social distancing, for vulnerable patients. The findings underscore a need for serological monitoring of MM patients after vaccination and for trials assessing use of prophylactic strategies or studies exploring additional immunization strategies.
ASH 2021: Abstract 822
Previous Post
Estimating Selection Bias in Previous MGUS Research – the Importance of Screening: Results from the Population-Based Screening Study iStopMM
Next Post
IRd Vs Rd Maintenance after Autologous Stem Cell Transplant in Newly Diagnosed Multiple Myeloma Pts: Results of the Spanish GEM2014MAIN Trial