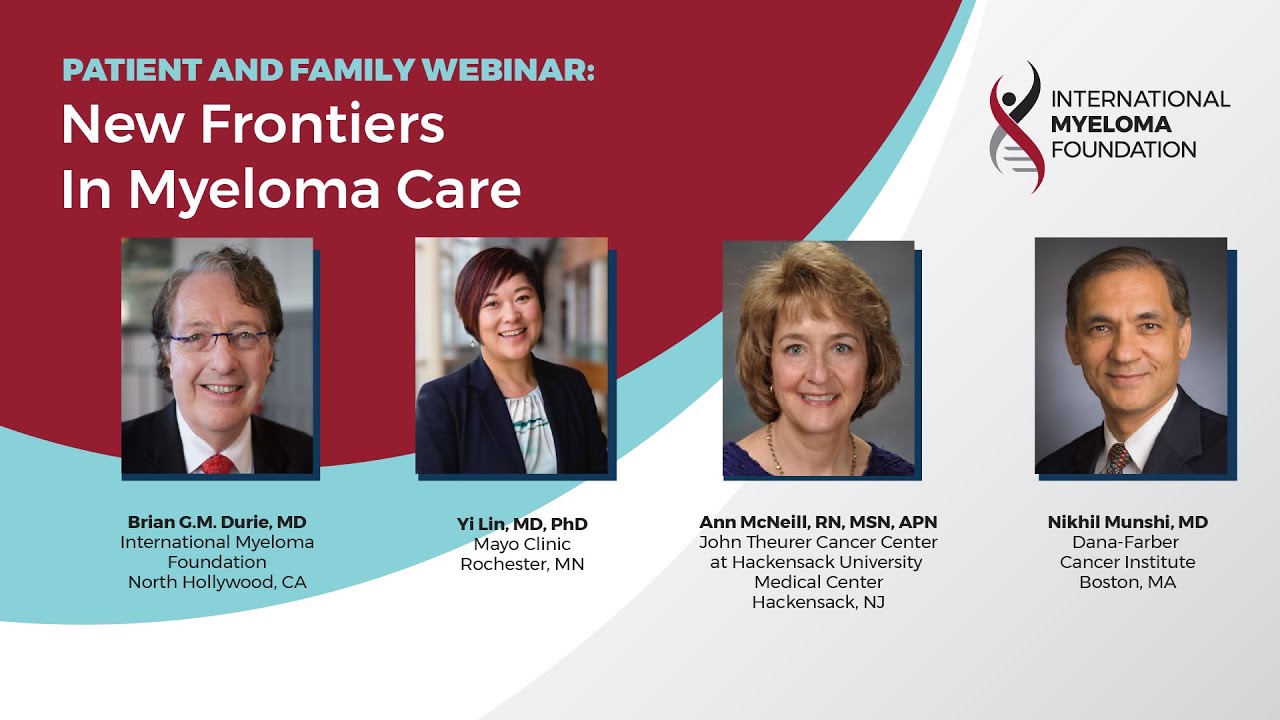 IMF Patient & Family Webinar - New Frontiers In Myeloma Care
IMF Patient and Family Webinar 
The IMF Patient and Family Webinar will focus on "New Frontiers in Myeloma Care." IMF Chairman Dr. Brian G.M. Durie will moderate presentations with the following myeloma experts:
Yi Lin, MD, PhD (Mayo Clinic — Rochester — MN)
Ann McNeill RN, MSN, APN (The John Theurer Cancer Center, Hackensack Meridian Hospital — Hackensack, NJ, IMF Nurse Leadership Board Member)
Nikhil Munshi, MD (Dana-Farber Cancer Institute — Boston, MA)
What to Expect
Dr. Durie will kick off the webinar with a review of Myeloma 101. He will discuss MGUS, smoldering myeloma, and active myeloma, and address when patients may consider beginning treatment. He will also cover tests for diagnosis and monitoring, as well as how the disease is staged, and more.
Next, IMF Nurse Leadership Board Member Ann McNeill RN, MSN, APN (The John Theurer Cancer Center, Hackensack Meridian Hospital — Hackensack, NJ) will discuss Side Effects and Symptom Management — how patients can best manage myeloma-related symptoms and side effects along with side effects brought on by treatment. She will also outline the most common side effects for each myeloma drug category, and more.
In his segment, Diagnosis, Monitoring & Early Disease Management, Dr. Durie will discuss if screening for monoclonal gammopathy of undetermined significance (MGUS) and smoldering multiple myeloma (SMM) can become a new standard of care and how early intervention for high-risk smoldering multiple myeloma (HR SMM) can lead to best outcomes, even a cure.
A panel discussion will follow this session before the short break. 
In this presentation on the Latest Advances in Immune Therapies: A Focus on CAR T-cell Therapies, Dr. Yi Lin will discuss the recent FDA approval of the new CAR T product from Janssen CARVYKTI which, along with previously approved ABECMA [BMS] provide a huge opportunity for patients to achieve excellent outcomes in the relapsed/refractory multiple myeloma (RRMM) setting.
In the next segment, Dr. Nikhil Munshi will discuss Approaches to Relapsed Myeloma: What Are the Current Bispecifics & Novel Agents? where the whole range of emerging therapies will be discussed, including the very exciting new CelMods.
The webinar will conclude with a summary panel discussion, a webinar survey, and closing remarks.
You won't want to miss this lively webinar. At the end of the presentations, participants will have time to ask questions.
If you miss the webinar, a replay will be available afterwards, with participants' questions at the end.
Additional Resources:
Acquaint yourselves with the following resources on the IMF website to better understand the discussions.
Essential Tests for Diagnosis and Monitoring
*Of note, Venetoclax has already been approved to treat acute myeloid leukemia, chronic lymphocytic leukemia (CLL) or small lymphocytic lymphoma (SLL) in adults and is now being evaluated to treat other types of cancers, including multiple myeloma. It is part of a class of medications called B-cell lymphoma-2 (BCL-2) inhibitors that work by blocking the action of BCL-2 (a protein in the body that regulates cell death). Trials using Venetoclax were discussed in this webinar. You can learn about these three trials at the following links:
Myeloma Acronyms & Abbreviations
Watch Ask Dr. Durie Videos:
"Myeloma 101: What does a newly diagnosed patient need to know?"
"What imaging studies, or scans, should myeloma patients undergo?"
Download the IMF's Multiple Myeloma Informational Booklets:
---
Patient and Family Webinar Sponsors:
with support from:
Amgen, The Binding Site, Bristol Myers Squibb, Genentech/Roche, GSK, Janssen, Karyopharm, and Takeda Oncology
Please check out these multiple myeloma resources from our sponsors:
(All the sponsor links below are external links and you acknowledge that you are leaving the IMF website. The IMF is not responsible for content provided by the links below and you may be subject to the Privacy Policy and Terms & Conditions of the destination site(s).)
Even The Odds
Virtual Patient Booth

Revlimid Treatment Overview brochure

Pomalyst Transition Treatment brochure

DARZALEX FASPRO™ Patient Brochure

Learn About Our Mechanism of Aging