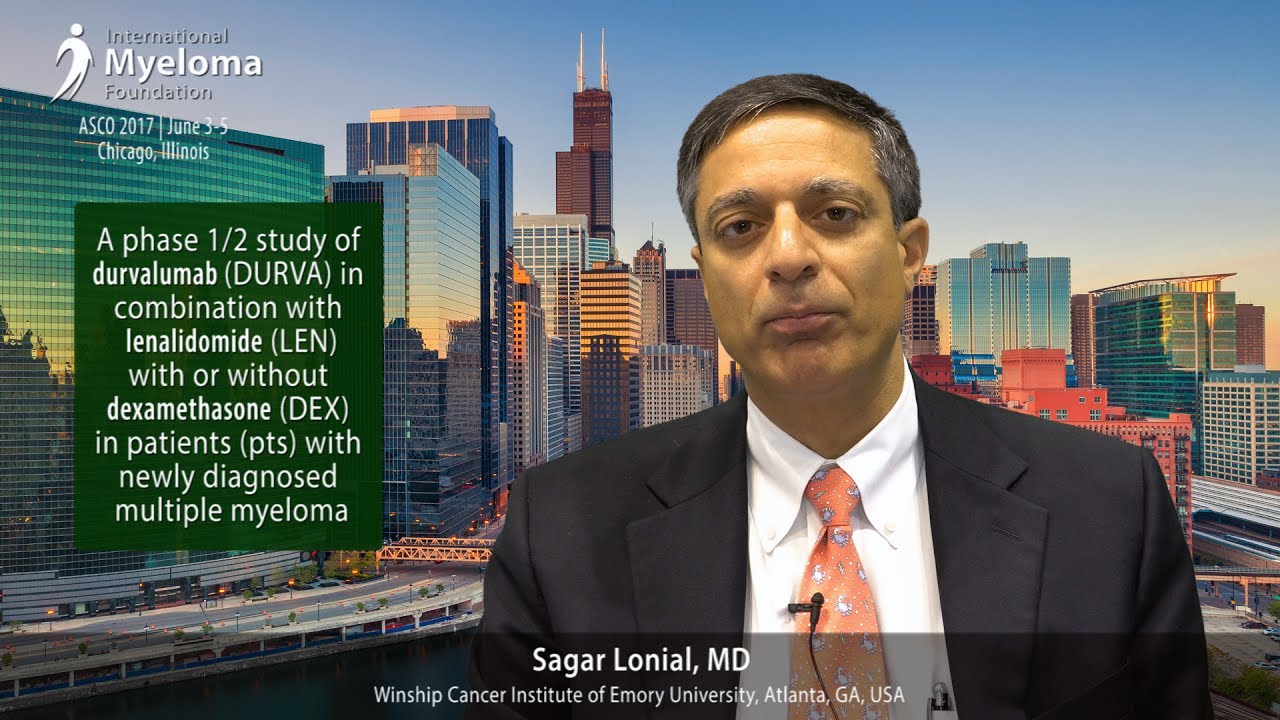 A phase 1/2 study of durvalumab in combination with len with or without dex in patients with newly diagnosed multiple myeloma
Dr. Sagar Lonial on a Phase 1/2 Study of a Durvalumab Combination Therapy

Background: Lenalidomide (LEN) and dexamethasone (d) or (Rd) is approved for patients with newly diagnosed MM, including those who are transplant non-eligible (TNE). Durvalumab (DURVA) is a monoclonal antibody to programmed death ligand 1 (PD-L1) that blocks PD-L1 binding to programmed death-1 (PD-1). Preclinical studies showed anti-MM immune responses with PD-1/PD-L1 blockade that were enhanced with LEN (Görgün et al, 2015). Here, we present a phase 1/2, multicenter, open-label trial in progress (MEDI4736-MM-002) designed to evaluate DURVA in combination with LEN ± DEX in a target population of patients who are TNE and/or with high-risk newly diagnosed multiple myeloma.
Author(s): Sagar Lonial, Albert Oriol, Maria-Victoria Mateos, Paula Rodriguez-Otero, Nizar J. Bahlis, William Bensinger, Kimmo Porkka, Niels Van De Donk, Wai Yiu, Carl Di Casoli, Annette L. Ervin-Haynes, Mohamed H. Zaki, Annette Vangsted; Winship Cancer Institute, Atlanta, GA; Institut Català d'Oncologia, Hospital Germans Trias i Pujol, Barcelona, Spain; University of Salamanca Hospital, Salamanca, Spain; Clinica Universidad de Navarra, Pamplona, Spain; Tom Baker Cancer Centre, Calgary, AB, Canada; Fred Huchinson Cancer Research Center, Seattle, WA; HUCH Cancer Center, Department of Hematology, Helsinki, Finland; VU University Medical Center, Amsterdam, Netherlands; Celgene Corporation, Summit, NJ; Copenhagen University Hospital, Copenhagen, Denmark
Clinical trial information: NCT02685826
---
ABOUT SAGAR LONIAL, MD, FACP
Dr. Sagar Lonial is Chief Medical Officer at the Winship Cancer Institute at Emory University in Atlanta. He is board certified in hematology and medical oncology.  His research focus is "with combinations of novel agents as therapy for myeloma and lymphoma, particularly evaluating combinations that may result in synergistic inhibition of the PI3-K/Akt pathway." Visit Dr. Sagar Lonial's full biography. 
Previous Post
CheckMate 602: A phase 3 trial of combinations of nivo, elo, pom and dex in RRMM
Next Post
ASCO 2017: What's New and Promising in Multiple Myeloma Research