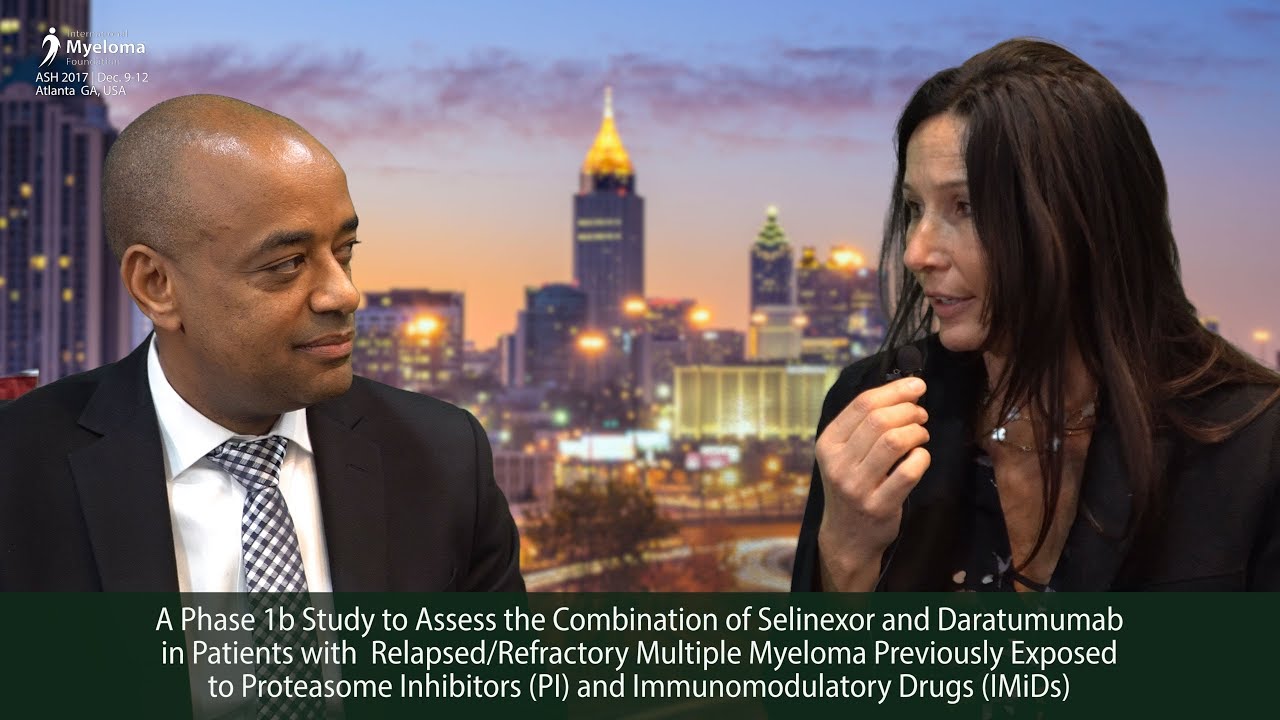 A Phase 1b Study to Assess the Combination of Selinexor and Daratumumab in Patients with Relapsed / Refractory Multiple Myeloma
Cristina J. Gasparetto, MD
Duke University Cancer Center, 
Durham, NC, USA
Introduction: Selinexor is a first-in-class Selective Inhibitor of Nuclear Export (SINE) compound that binds and inactivates Exportin 1 (XPO1). Selinexor, as a single agent, or in combination with PIs or IMiDs, has shown anti-MM activity in patients (pts) with relapsed or refractory multiple myeloma (RRMM). Daratumumab, an anti-CD38 monoclonal antibody, is approved for the treatment of RRMM. In this study, we aim to explore the safety and efficacy of selinexor in combination with daratumumab and low dose dexamethasone (SDd) in pts with RRMM.
Conclusions: Selinexor 100 mg QW, can be combined safely with daratumumab and dex. The activity observed in the first 3 pts is promising with all 3 pts responding to therapy. Enrollment is ongoing and updated data from 100 mg QW cohort, 100 mg QW expansion, and full phase 1 will be updated and presented.
Authors:  Cristina J. Gasparetto, MD, Suzanne Lentzsch, MD, PhD, Gary J Schiller, MD, William Bensinger, MD, Nizar J. Bahlis, MD, Heather J. Sutherland, MD, PhD, FRCPC, Darrell J White, MD, Michael Sebag, MD, PhD, Rami Kotb, MD, Christopher P. Venner, MD, Richard Leblanc, MD, FRCPC, Christine I Chen, MD, Aldo Del Col, BSPharm, MBA, Michael G. Kauffman, MD, PhD, Sharon Shacham, PhD, MBA, Jacqueline Jeha, Jean-Richard Saint-Martin, Jatin Shah, MD and Brea C. Lipe, MD
---
ABOUT CRISTINA J. GASPARETTO, MD
Dr. Gasparetto performs both laboratory and clinical research in the field of multiple myeloma. Her research interests include developing immunotherapy approaches to treating multiple myeloma particularly in conjunction with hematopoietic stem cell transplantation. Dr. Gasparetto is also an investigator on several other clinical trials for myeloma including non-myeloablative allogeneic transplantation, high dose sequential chemotherapy and autologous peripheral blood stem cell transplantation and transplantation of partially HLA matched unrelated cord blood. Visit Dr. Cristina Gasparetto's full biography.
Previous Post
Development of a Prognostic Model That Predicts 3- and 5-Year Overall Survival in Multiple Myeloma Using the Connect® MM Patient Registry
Next Post
Daratumumab Plus Bortezomib, Melphalan, and Prednisone (D-VMP) Vs VMP in NDMM Pts Ineligible for Transplant (ALCYONE)