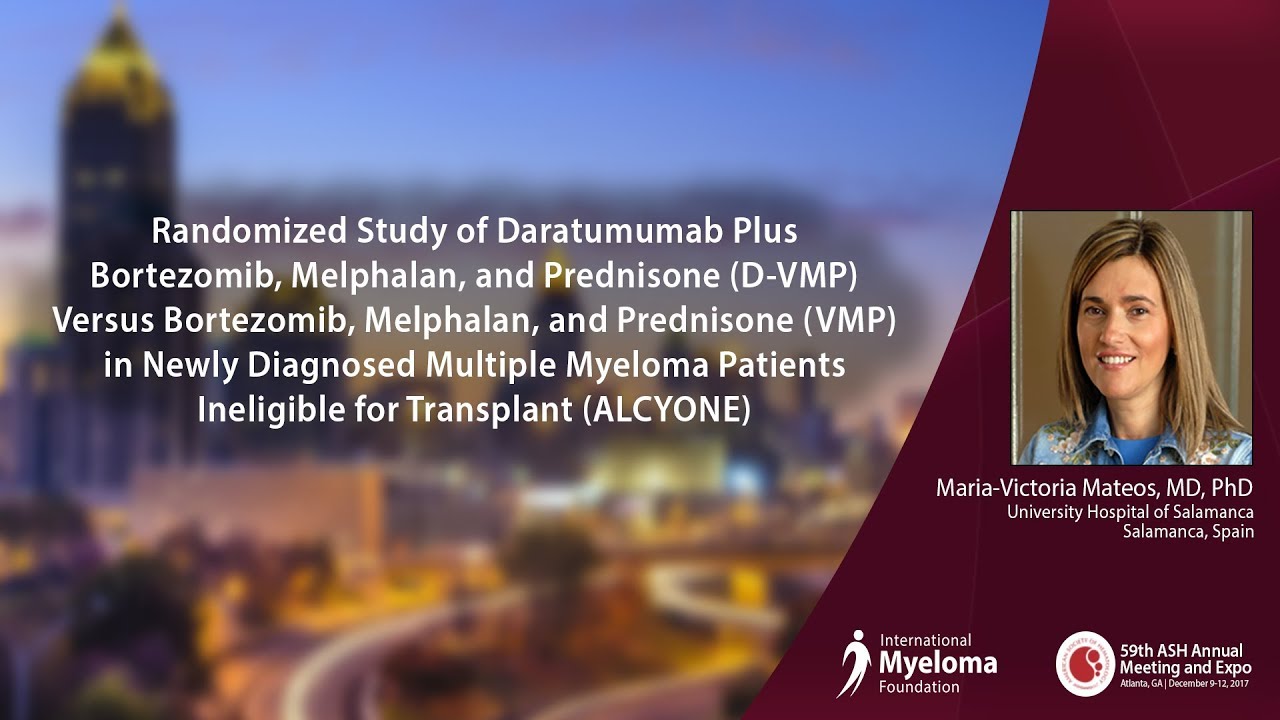 Daratumumab Plus Bortezomib, Melphalan, and Prednisone (D-VMP) Vs VMP in NDMM Pts Ineligible for Transplant (ALCYONE)
Maria-Victoria Mateos, MD, PhD
University Hospital of Salamanca
Salamanca, Spain
Introduction: VMP is a standard of care (SOC) for transplant ineligible NDMM. Daratumumab (D), a human IgGκ anti-CD38 monoclonal antibody with a direct on-tumor and multifaceted immunomodulatory mechanism of action significantly improves PFS and depth of response in combination with SOC in relapsed MM. Treatment-naïve pts may benefit greatly with the addition of D to SOC regimens. Here we report the results from the ALCYONE study, where D is added to VMP in transplant ineligible NDMM.
Conclusion: The combination of D with VMP in transplant ineligible NDMM pts doubled the PFS (HR 0.50), which was driven by more pts achieving deep responses, including significantly higher ≥CR rate and tripling of the MRD-negativity rate. No new safety signals were observed when combining D with VMP. Three phase 3 studies have now demonstrated a consistent doubling of PFS and more than threefold increase in MRD-negativity rate when combining D with SOC regimens. These results support the use of a D-based combination, D-VMP, in transplant ineligible NDMM.
Authors:  Maria-Victoria Mateos, MD, PhD, Meletios A. Dimopoulos, Michele Cavo, MD, Kenshi Suzuki, Andrzej J. Jakubowiak, MD, Stefan Knop, MD, Chantal Doyen, MD, Paulo Lucio, Zsolt Nagy, MD, PhD, Polina Kaplan, Ludek Pour, Doc, MD, PhD, Mark Cook, MBChB, PhD, Sebastian Grosicki, MD, PhD, Andre H Crepaldi, MD, Anna Marina Liberati, Philip Campbell, MBBS, FRACP, FRCPA, Tatiana Shelekhova, Sung-Soo Yoon, MD, PhD, Genadi Iosava, Tomoaki Fujisaki, MD, Mamta Garg, MD, Christopher Chiu, PhD, Jianping Wang, Robin Carson, MD, BA, Wendy Crist, BA, William Deraedt, Marie Nguyen, Ming Qi and Jesus F. San-Miguel, MD
---
ABOUT MARIA V. MATEOS, MD, PhD
Dr. María-Victoria Mateos is an Associate Professor of Hematology and Consultant Physician in the Haematology Department at the University of Salamanca and Director of the Myeloma Unit, where she is responsible for coordinating the Clinical Trials Unit in Salamanca University Hospital's Hematology Department. She currently serves on the European Hematology Association (EHA) as the Chair of the Scientific Program Committee for the 2019 Congress.
Previous Post
A Phase 1b Study to Assess the Combination of Selinexor and Daratumumab in Patients with Relapsed / Refractory Multiple Myeloma
Next Post
Curative Strategy for High-Risk Smoldering Myeloma (GEM-CESAR)