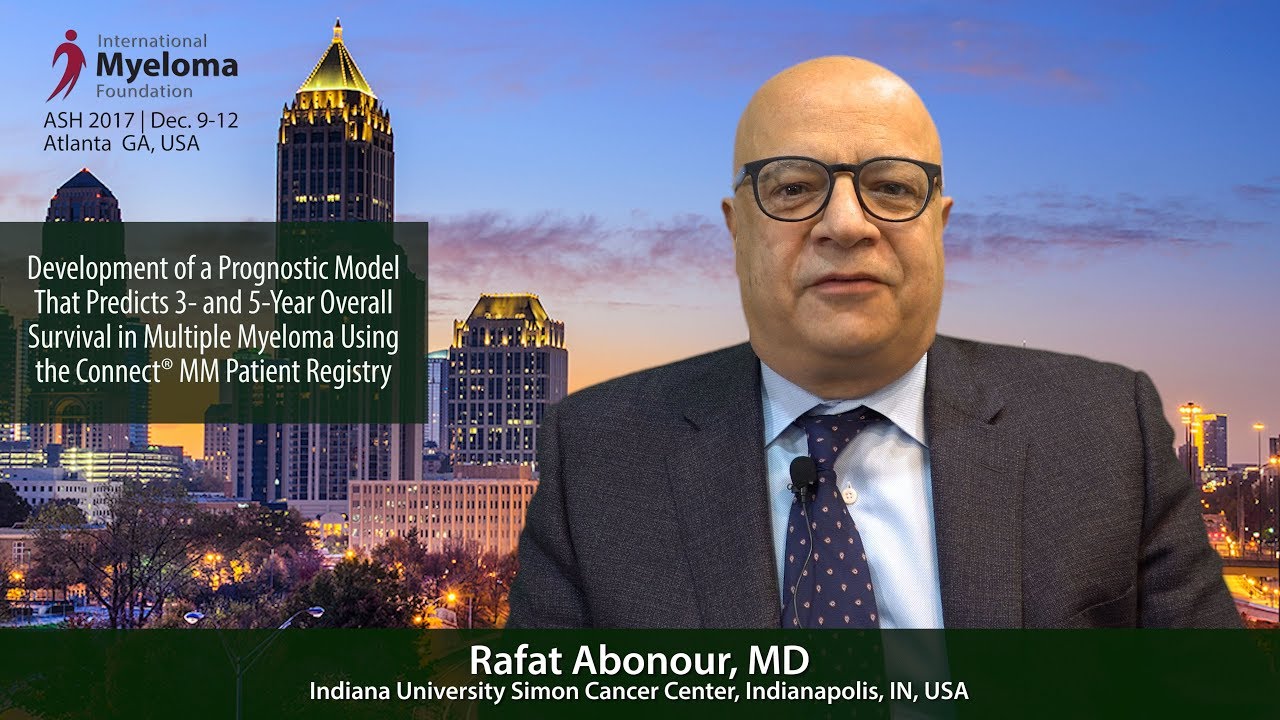 Development of a Prognostic Model That Predicts 3- and 5-Year Overall Survival in Multiple Myeloma Using the Connect® MM Patient Registry
Rafat Abonour, MD
Simon Cancer Center
Indiana University School of Medicine
Indianapolis, IN, USA
Introduction: Novel therapies have improved the median overall survival (OS) for newly diagnosed multiple myeloma (NDMM). In an unselected population of NDMM patients, the estimated rates of 5-year OS were 77%, 53%, and 19% for revised international staging system (R-ISS) Stage I, II, and III, respectively (Kastritis, 2017). However, the improvements have not been uniform, and prognosis varies considerably based on several baseline characteristics. Because of this clinical heterogeneity it is helpful to have a clear idea of risk factors involved in OS of patients with NDMM. Connect MM is the first and largest US-based, multicenter, prospective observational registry of patients with NDMM. Using data from the Connect MM registry, an unselected patient population reflective of the heterogeneity seen in routine clinical practice, we developed a prognostic tool to identify factors predictive of 3- and 5-year OS.
Conclusions: This is the first assessment of long-term survival using data from the Connect MM patient registry. Our study highlighted factors known to impact OS, including, mobility, del(17p) and ISS stage. We have developed a model that allows for robust prediction of long-term survival in patients with NDMM based on a variety of baseline characteristics. For clinicians, identifying patients with an increased likelihood of longer survival may be a useful tool to identify patient specific risk factors to better inform treatment decisions.
Authors:  Howard R. Terebelo, DO, Rafat Abonour, MD, Cristina J. Gasparetto, MD, Kathleen Toomey, MD, Brian G. M. Durie, MD, James W. Hardin, PhD, Sundar Jagannath, MD, Lynne Wagner, PhD, Mohit Narang, MD, Shankar Srinivasan, PhD, Lihua Yue, PhD, Faiza Zafar, MPAS, Amani Kitali, MBA, MPH, Amit Agarwal, MD, PhD and Robert M Rifkin, MD
---
ABOUT RAFAT ABONOUR, MD
Dr. Rafat Abonour holds the title of Professor of Medicine; Professor of Pathology & Laboratory Medicine; Medical Director, Bone Marrow Transplant Program; and Medical Director, Stem Cell Laboratory at the Simon Cancer Center at Indiana University in Indianapolis. His work has been published in the medical journal Nature and New England Journal of Medicine, among others. He focuses on changing research using immunomodulatory drugs (IMiDs) and proteasome inhibitors for the treatment of multiple myeloma. He is active with the International Myeloma Foundation and the American Society of Hematology (ASH). Visit Dr. Rafat Abonour's full biography.
Previous Post
Daratumumab in Combination with Carfilzomib, Lenalidomide, and Dexamethasone (KRd) in Patients with Newly Diagnosed Multiple Myeloma (MMY1001)
Next Post
A Phase 1b Study to Assess the Combination of Selinexor and Daratumumab in Patients with Relapsed / Refractory Multiple Myeloma