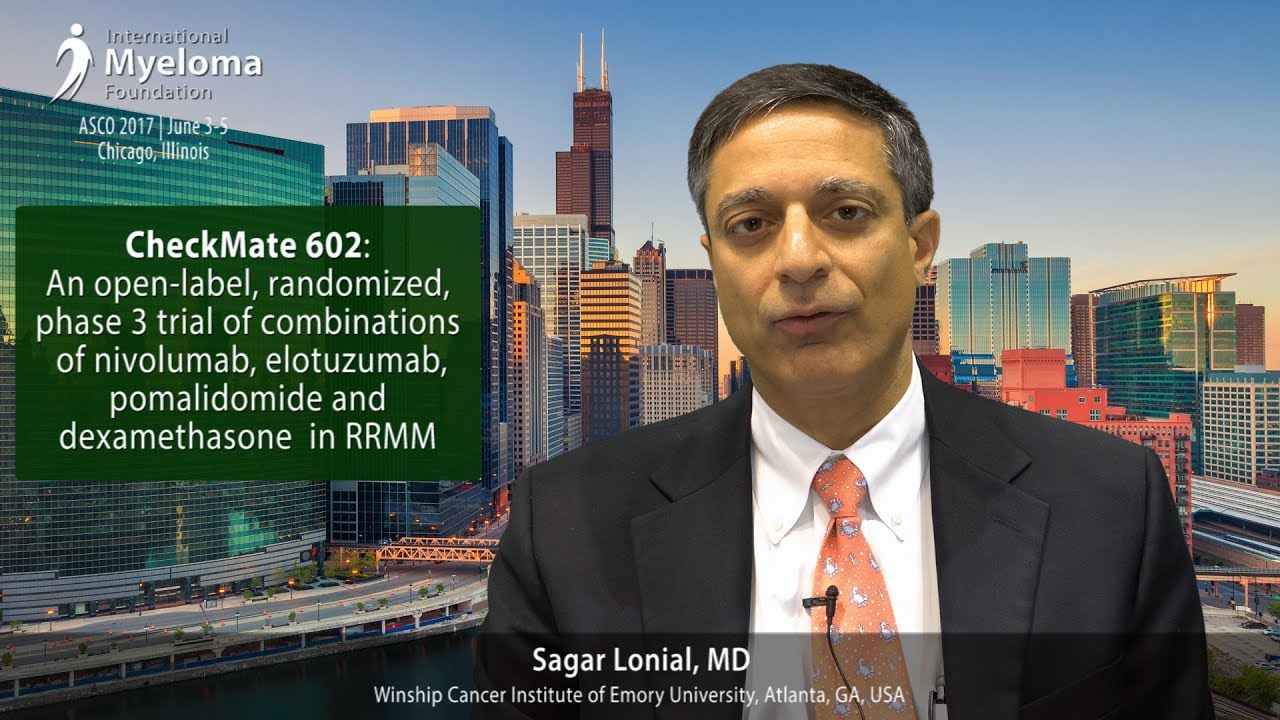 CheckMate 602: A phase 3 trial of combinations of nivo, elo, pom and dex in RRMM
Background: Multiple myeloma (MM) cells may evade immune surveillance by suppressing immune responses through the PD-1 pathway, via upregulation of PD-L1.1Nivolumab (nivo), a PD-1 immune checkpoint inhibitor that blocks PD-L1 interaction and disrupts MM-mediated PD-1 signaling, demonstrated modest activity as monotherapy in patients (pts) with relapsed/refractory multiple myeloma (RRMM) in a phase 1b study.2 Pomalidomide, an immunomodulatory drug (IMiD), may sensitize MM cells to PD-1 blockade, and has shown efficacy with dexamethasone (Pd) for RRMM. Elotuzumab (elo), an anti-SLAMF7 monoclonal antibody, directly activates natural killer cells and facilitates antibody-dependent cell-mediated cytotoxicity. Preclinical work suggests PD-1 blockade may enhance elo efficacy3; thus nivo + Pd + elo may increase clinical benefit.
Author(s): Sagar Lonial, Paul G. Richardson, Donna Ellen Reece, Hesham Mohamed, Suresh Shelat, Jesus San Miguel; Winship Cancer Institute, Atlanta, GA; Dana-Farber Cancer Institute, Boston, MA; Princess Margaret Hospital, Toronto, ON, Canada; Bristol-Myers Squibb, Lawrenceville, NJ; Bristol-Myers Squibb, Princeton, NJ; Clinica Universidad de Navarra, Centro de Investigación Médica Aplicada, IDISNA, CIBERONC, Pamplona, Spain
Clinical trial information: NCT02726581
---
ABOUT SAGAR LONIAL, MD, FACP
Dr. Sagar Lonial is Chief Medical Officer at the Winship Cancer Institute at Emory University in Atlanta. He is board certified in hematology and medical oncology.  His research focus is "with combinations of novel agents as therapy for myeloma and lymphoma, particularly evaluating combinations that may result in synergistic inhibition of the PI3-K/Akt pathway." Visit Dr. Sagar Lonial's full biography. 
Previous Post
ASCO 2017: Multiple Myeloma Overview -- Dr. Saad Usmani
Next Post
A phase 1/2 study of durvalumab in combination with len with or without dex in patients with newly diagnosed multiple myeloma