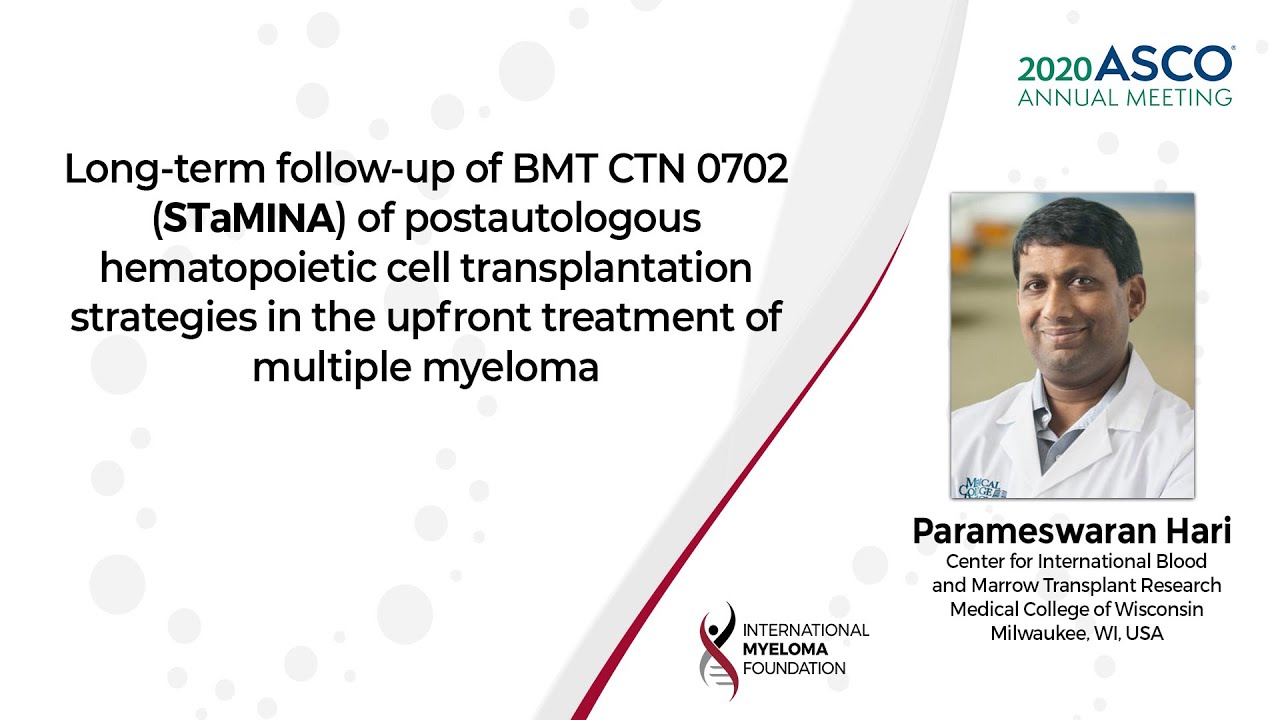 Long-term follow-up of BMT CTN 0702 (STaMINA) of postautologous hematopoietic cell transplantation strategies in the upfront treatment of multiple myeloma
Dr. Parameswaran Hari on the STaMINA Study
Dr. Parameswaran Hari Discusses Long-Term Follow-Up of the STaMINA Study
What is the STaMINA study?
STaMINA was a phase III trial comparing the long-term outcomes among 758 myeloma patients undergoing single autologous transplant with or without consolidation therapy versus tandem autologous transplant with lenalidomide maintenance.
In this video:
Dr. Parameswaran Hari, Professor of Hematology at the Medical College of Wisconsin, discusses the long-term follow-up of the STaMINA study.
Conclusion:
Long-term outcomes are similar using intention to treat (ITT), but as treated analysis suggested a progression-free survival benefit for patients who had undergone tandem autologous hematopoietic cell transplant, driven mainly by patients with high-risk multiple myeloma. Lenalidomide discontinuation even at 38 mo was associated with inferior progression-free survival.
Clinical trial information: NCT02322320
---
PARAMESWARAN HARI, MD
Parameswaran Hari, MD, MRCP, MS, is the Armand J. Quick/William F. Stapp Professor of Hematology at the Medical College of Wisconsin. He serves as Chief in the Division of Hematology and Oncology in the Department of Medicine. His main areas of focus include allogeneic hematopoietic stem cell transplantation, plasma cell disorders, multiple myeloma, amyloidosis, and other monoclonal gammopathies.
Previous Post
Idecabtagene vicleucel (ide-cel; bb2121), a BCMA-targeted CAR T-cell therapy, in patients with relapsed and refractory multiple myeloma (RRMM): Initial KarMMa results
Next Post
Primary analysis of the randomized phase II trial of RVd with/without elotuzumab for newly diagnosed, high-risk multiple myeloma: SWOG-1211