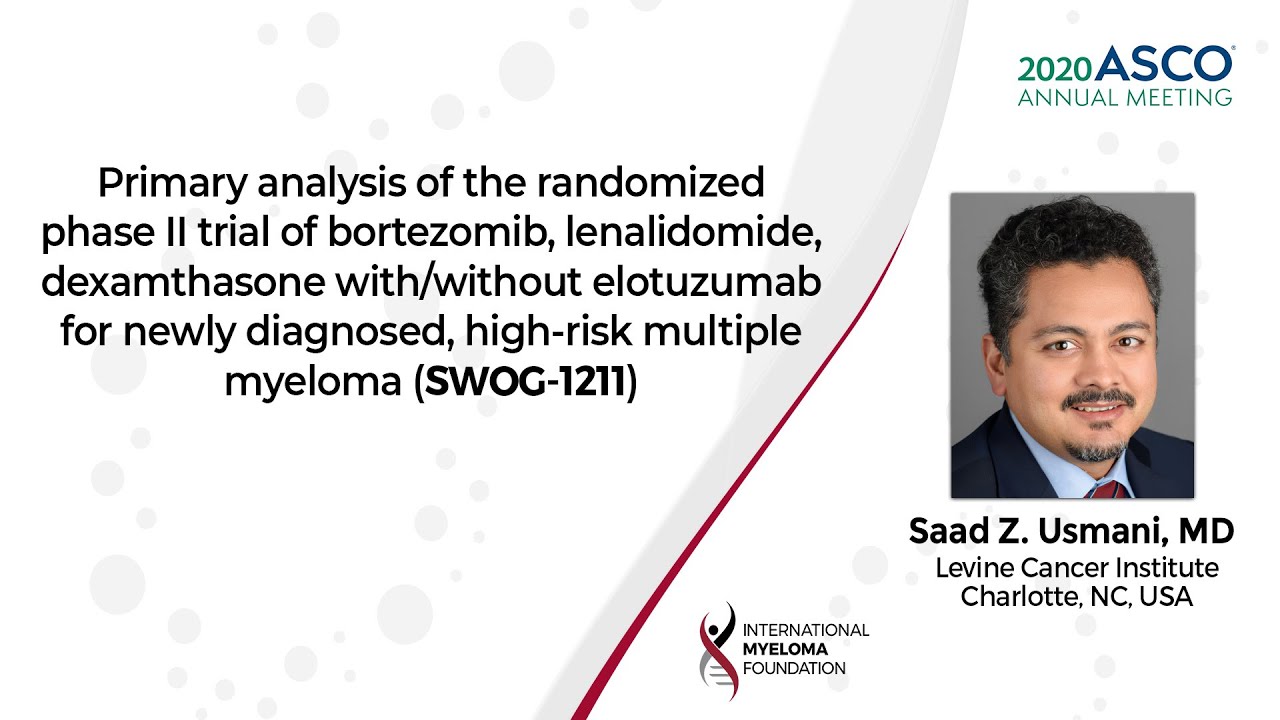 Primary analysis of the randomized phase II trial of RVd with/without elotuzumab for newly diagnosed, high-risk multiple myeloma: SWOG-1211
Discussing the SWOG-1211 Study Presented at ASCO 2020
Myeloma Expert Dr. Saad Usmani Discusses the SWOG-1211 Study Presented at ASCO 2020
What is the purpose of this trial?
This partially randomized phase I/II trial studies the side effects and best dose of the drug elotuzumab. The trial also evaluates how well elotuzumab works when given together with lenalidomide, bortezomib, and dexamethasone (RVd) in treating patients with newly diagnosed multiple myeloma.
In this video:
Dr. Saad Usmani discusses the first randomized high-risk multiple myeloma study reported to date, evaluating the addition of elotuzumab to RVd induction and maintenance.
Results:
While the trial shows no improved patient outcomes, the progression-free survival and overall survival seen in both arms of the study exceeded the original statistical assumptions and support the role for PI/IMiD combination maintenance therapy for this patient population.
Conclusion:
The S1211 data will serve as an important benchmark for future high-risk multiple myeloma clinical trials.
Clinical trial information: NCT01668719
---
SAAD USMANI, MD
Dr. Saad Usmani is Chief of Plasma Cell Disorders and Director of Clinical Research in Hematologic Malignancies at the Levine Cancer Institute Hematologic Oncology and Blood Disorders and Carolinas HealthCare System.
Previous Post
Long-term follow-up of BMT CTN 0702 (STaMINA) of postautologous hematopoietic cell transplantation strategies in the upfront treatment of multiple myeloma
Next Post
COVID-19 FAQ #15: Is dexamethasone helpful against the COVID-19 infection?