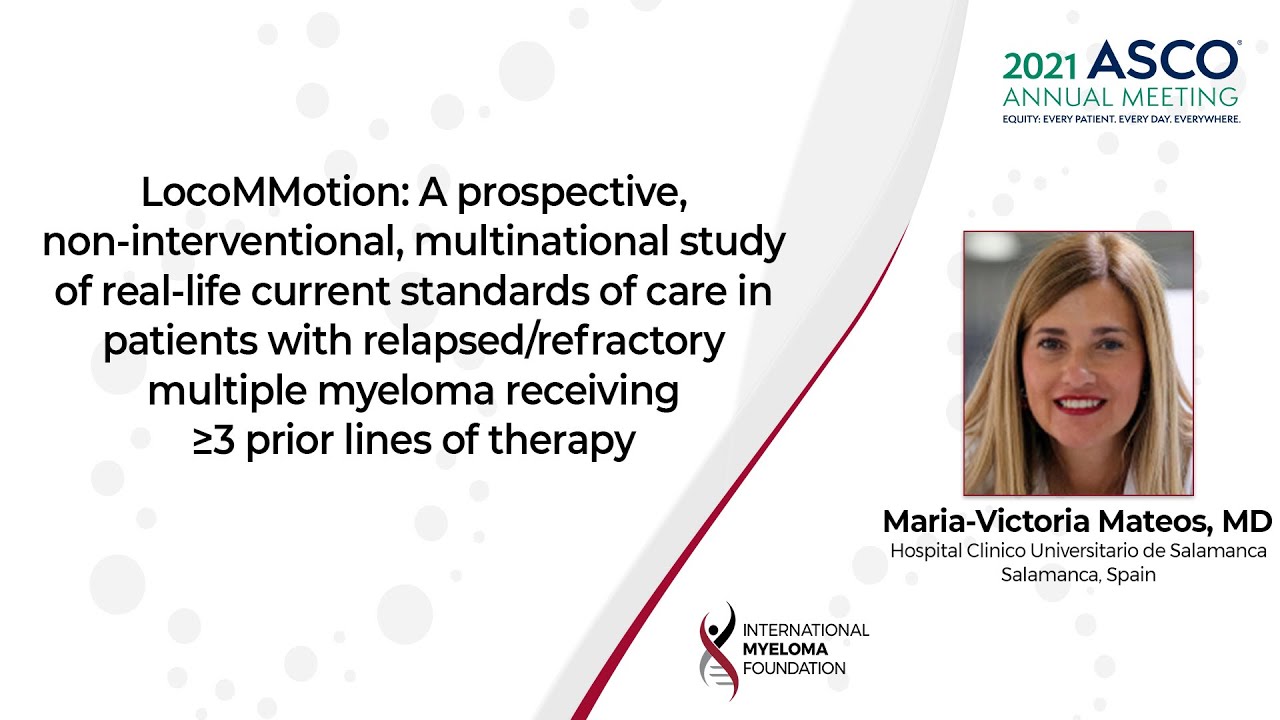 LocoMMotion: A prospective, non-interventional, multinational study of real-life current standards of care in patients with relapsed refractory multiple myeloma receiving ≥3 prior lines of therapy
Dr. Maria-Victoria Mateos Reports on Interim Results of the LocoMMotion Study
What is the background of this study?
Despite improvements in myeloma care, the disease remains incurable. most patients with myeloma eventually progress through standard drug classes of proteasome inhibitors (PIs), immunomodulatory drugs (IMiDs), anti-CD38 monoclonal antibodies (mAbs), and others. There are currently no prospective data on real-world standard-of-care in patients who progress after PIs, IMiDs, and anti-CD38 mAbs.
In this video:
Dr. Maria-Victoria Mateos (Hospital Clinico Universitario de Salamanca, Salamanca, Spain) presents the interim results from LocoMMotion (NCT04035226), the first prospective efficacy and safety study of real-life standard-of-care in patients with relapsed refractory multiple myeloma.
Conclusions:
"The interim results of this first, prospective study of real-life SOC treatment in heavily pretreated, triple-class exposed patients with RRMM demonstrate that patients continue to progress after multiple lines of therapy and have poor outcomes. Therefore, there is a need for new treatments with novel mechanisms of action for this patient population."
Clinical trial information: NCT04035226
Previous Post
Anakinra prophylaxis in patients with relapsed refractory multiple myeloma receiving orvacabtagene autoleucel
Next Post
Cilta-cel versus conventional treatment in patients with relapse/refractory multiple myeloma