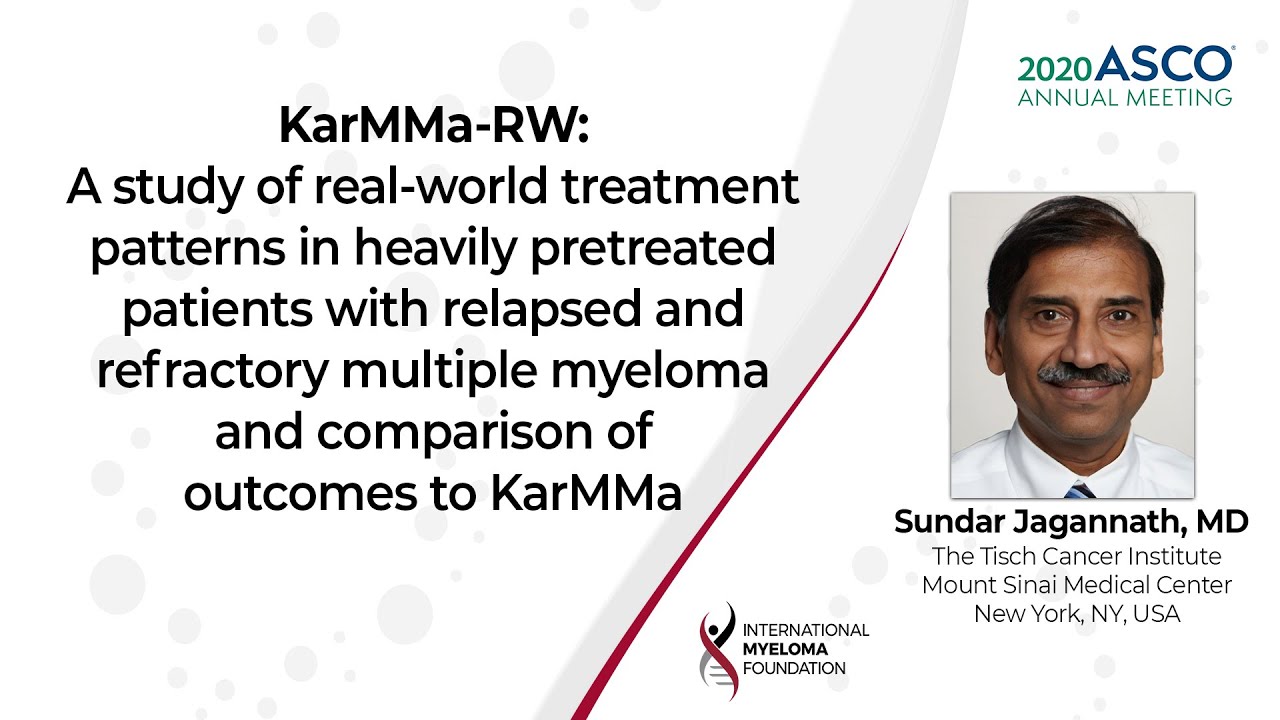 KarMMa-RW: A study of real-world treatment patterns in heavily pretreated patients with relapsed and refractory multiple myeloma
Dr. Sundar Jagannath on the KarMMa Study
What is the KarMMa study?
KarMMa is a pivotal, open-label, single-arm, multicenter, multinational, phase II study evaluating the efficacy and safety of ide-cel in adult patients with relapsed and refractory multiple myeloma (RRMM) in North America and Europe. The primary endpoint of the study is overall response rate as assessed by an independent review committee (IRC) according to the International Myeloma Working Group (IMWG) criteria.
What is the ide-cel?
Ide-cel is a BCMA-directed genetically modified autologous CAR T cell immunotherapy. The ide-cel CAR is comprised of a murine extracellular single-chain variable fragment (scFv) specific for recognizing BCMA, attached to a human CD8 α hinge and transmembrane domain fused to the T cell cytoplasmic signaling domains of CD137 4-1BB and CD3-ζ chain, in tandem. Ide-cel recognizes and binds to BCMA on the surface of multiple myeloma cells leading to CAR T cell proliferation, cytokine secretion, and subsequent cytolytic killing of BCMA-expressing cells.
In this video:
Dr. Sundar Jagannath (Mount Sinai Medical Center - New York) explains the ongoing phase II KarMMa study which examines idecabtagene vicleucel (ide-cel; bb2121), a BCMA-targeted CAR T-cell therapy, in relapsed refractory multiple myeloma patients with three or more prior regimens. These regimens must have included an immunomodulatory agent (IMiD), a proteasome inhibitor (PI), and a CD38 monoclonal antibody. Patients studied must have been refractory to their last treatments per IMWG criteria. This study aimed to 1) assess treatment patterns and outcomes in real world (RW) relapsed refractory multiple myeloma patients, similar to the KarMMa population; and 2) to compare outcomes with standard of care in a synthetic cohort vs ide-cel in KarMMa. 
Results:
The KarMMa-RW study confirms that there is no clear standard of care for heavily pretreated real-world, relapsed refractory multiple myeloma patients, and responses are suboptimal with currently available therapies.
Conclusions:
Ide-cel showed deep, durable responses and significantly improved progression free survival in relapsed refractory multiple myeloma (RRMM) patients, representing a potential new treatment for RRMM patients.
Clinical trial identifier: NCT03361748
---
SUNDAR JAGANNATH, MD
Dr. Jagannath is Professor of Medicine (Hematology and Medical Oncology) at The Tisch Cancer Institute. He is a renowned expert in the research and treatment of multiple myeloma. Before joining Mount Sinai, Dr. Jagannath served as chief of the multiple myeloma and transplant program at St. Vincent's Hospital Comprehensive Cancer Center from 1998 until the hospital closed. He has published more than 180 peer-reviewed articles in top publications, including the New England Journal of Medicine, Blood, and the Journal of Clinical Oncology and Cancer. He has presented more than 150 abstracts and authored nearly 30 book chapters.
Previous Post
DREAMM-2: Single-Agent Belantamab Mafodotin in Patients with Relapsed Refractory Multiple Myeloma and Renal Impairment
Next Post
Depth of response to isatuximab, carfilzomib, lenalidomide, and dexamethasone (Isa-KRd) in front-line treatment of high-risk multiple myeloma: Interim analysis of the GMMG-CONCEPT trial