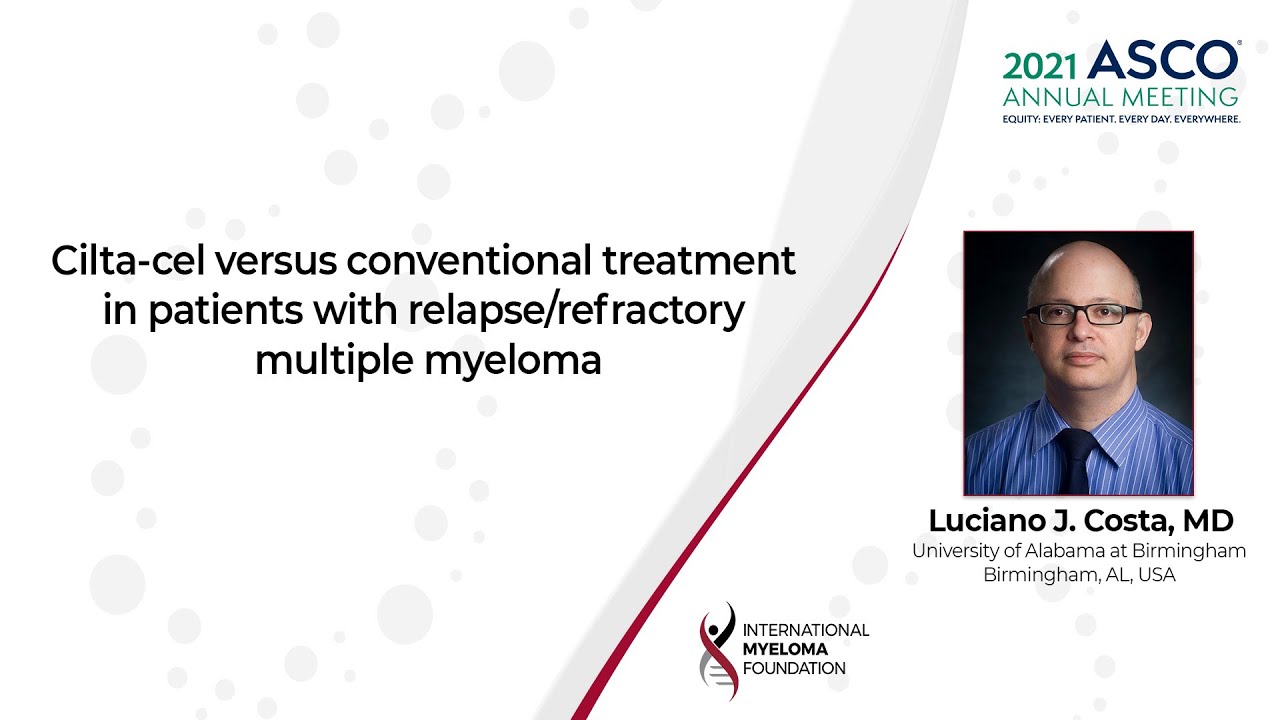 Cilta-cel versus conventional treatment in patients with relapse/refractory multiple myeloma
Dr. Luciano Costa on a Cilta-Cel Study
What is the background of this study?
CARTITUDE-1 is "a single arm study of ciltacabtagene autoleucel (cilta-cel; JNJ-68284528) anti-BCMA CAR-T cell therapy in US patients with relapsed multiple myeloma (RRMM) refractory to both IMiD and proteasome inhibitor (PI) or with at least three prior lines of therapy and previously exposed to anti-CD38 monoclonal antibody (MoAb). While recently reported efficacy results of cilta-cel were encouraging, it is unknown how they compare with similar patients receiving conventional (non CAR-T) treatment."
In this video:
Dr. Luciano Costa (University of Alabama at Birmingham, Birmingham, AL, USA) explains that this study used a contemporary U.S.-based dataset of patients with multiple myeloma refractory to anti-CD38 MoAb (MAMMOTH) to identify patients who would meet eligibility for CARTITUDE-1 and who received conventional therapy.
Conclusions:
The study found that in patients with RRMM beyond therapy with IMiD, PI, and anti-CD38 MoAb, treatment with cilta-cel is associated with higher response rates and superior progression-free survival and overall survival when compared to conventional treatment.
Previous Post
LocoMMotion: A prospective, non-interventional, multinational study of real-life current standards of care in patients with relapsed refractory multiple myeloma receiving ≥3 prior lines of therapy
Next Post
LIGHTHOUSE (OP-108): A phase 3 study of melflufen in combination with dexamethasone and daratumumab versus dara in relapsed refractory multiple myeloma patients