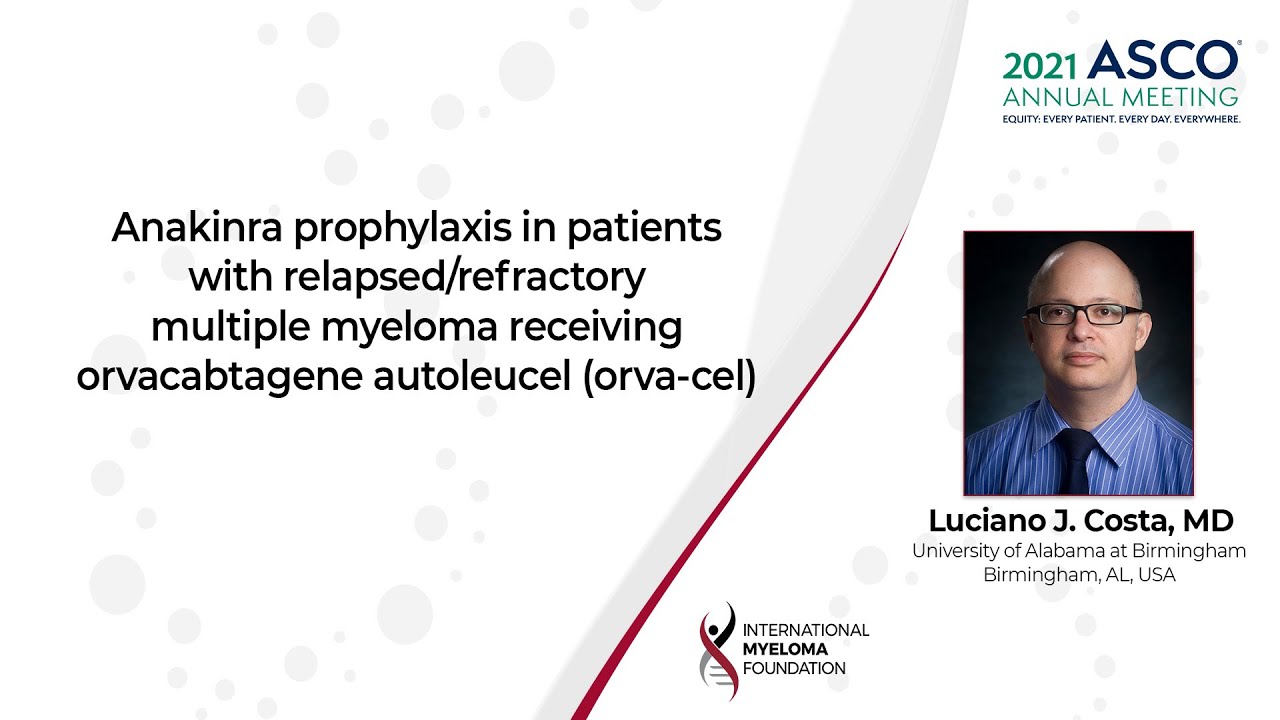 Anakinra prophylaxis in patients with relapsed refractory multiple myeloma receiving orvacabtagene autoleucel
What is the background of this study?
Orva-cel is a B-cell maturation antigen–targeted chimeric antigen receptor (CAR) T cell therapy being evaluated in the phase I/II EVOLVE study (NCT03430011) in pateints with relapsed refractory multiple myeloma who had at least three prior lines of therapy.
In this video:
Dr. Luciano Costa (University of Alabama at Birmingham, Birmingham, AL, USA) explains that this study explores the role prophylaxis with Anakinra, an IL-1 signaling inhibitor, on reducing the incidence of grade (G) ≥2 Cytokine Release Syndrome (CRS) after orva-cel treatment at the recommended dose.
Conclusions:
In this nonrandomized evaluation of with orva-cel treatment, the incidence of G ≥2 CRS was lower Anakinra prophylaxis (AKR ppx) in patients receiving AKR ppx. The use of AKR ppx produced no adverse effect on the incidence of neurological events, infection, or macrophage activation syndrome/hemophagocytic lymphohistiocytosis, nor on orva-cel expansion or disease response. These results warrant further study of AKR ppx in CAR T-cell therapy.
Clinical trial information: NCT03430011
Previous Post
Comparison of outcomes with ciltacabtagene autoleucel in CARTITUDE-1 versus real-world standard of care for patients with triple-class exposed RRMM
Next Post
LocoMMotion: A prospective, non-interventional, multinational study of real-life current standards of care in patients with relapsed refractory multiple myeloma receiving ≥3 prior lines of therapy