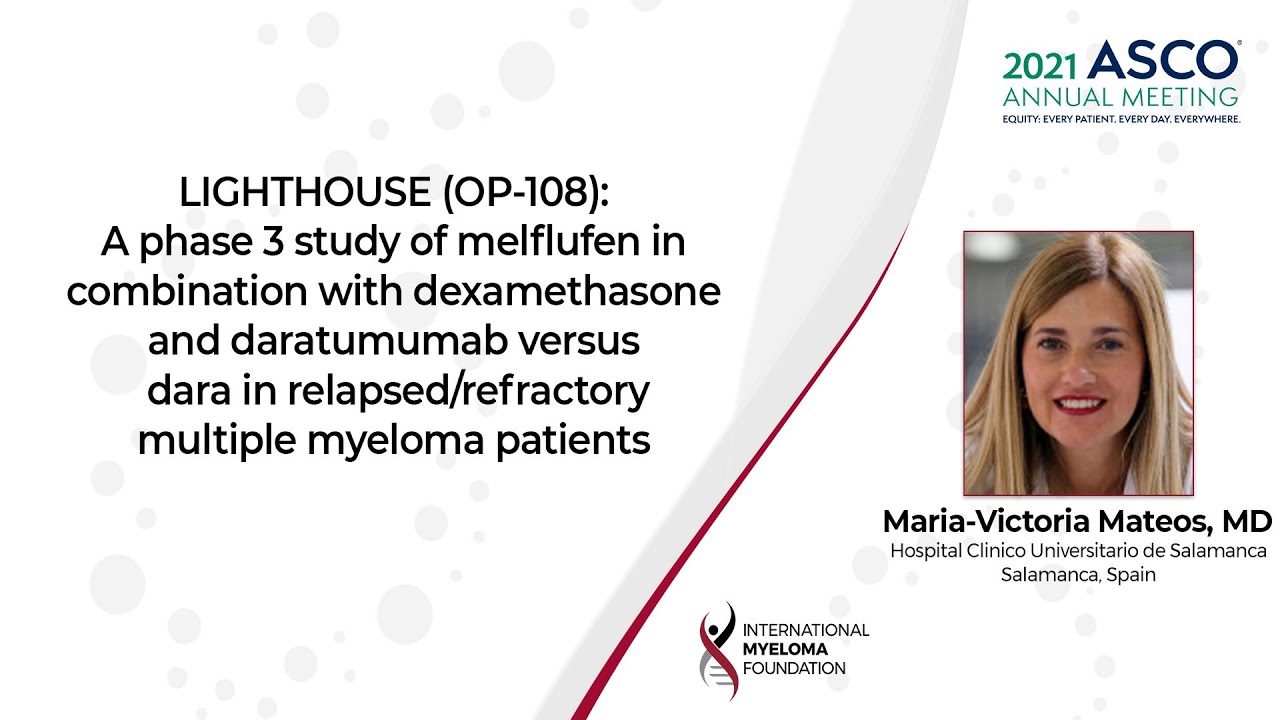 LIGHTHOUSE (OP-108): A phase 3 study of melflufen in combination with dexamethasone and daratumumab versus dara in relapsed refractory multiple myeloma patients
What is the background of this study?
Melphalan flufenamide (melflufen) is a first-in-class peptide-drug conjugate (PDC) that leverages aminopeptidases and rapidly releases alkylating agents inside tumor cells. Melflufen and dexamethasone (dex) showed clinical efficacy and was well tolerated in patients with heavily pretreated relapsed refractory multiple myeloma (RRMM) (HORIZON; Richardson et al. J Clin Oncol. 2020 Dec 9 [Epub]). The ongoing phase I/II ANCHOR study (OP-104) established the optimal dose for melflufen plus dex and daratumumab (dara), showing meaningful clinical activity and manageable safety at both melflufen doses tested in patients with RRMM (Ocio et al. ASH 2020. Oral 417).

In this video:
Dr. Maria-Victoria Mateos (Hospital Clínico Universitario de Salamanca/IBSAL/CIC, Salamanca, Spain) explains that this study (OP-108; NCT04649060) evaluates the efficacy and safety of melflufen plus dex and daratumumab versus daratumumab in patients with RRMM previously treated with an immunomodulatory drug (IMiD)and a proteasome inhibitor (PI), a similar indication for daratumumab monotherapy.
Conclusions:
This study is in progress.
Clinical trial information: NCT04649060
Previous Post
Cilta-cel versus conventional treatment in patients with relapse/refractory multiple myeloma
Next Post
Characteristics of neurotoxicity associated with idecabtagene vicleucel in patients with relapsed and refractory multiple myeloma in the pivotal phase II KarMMa study