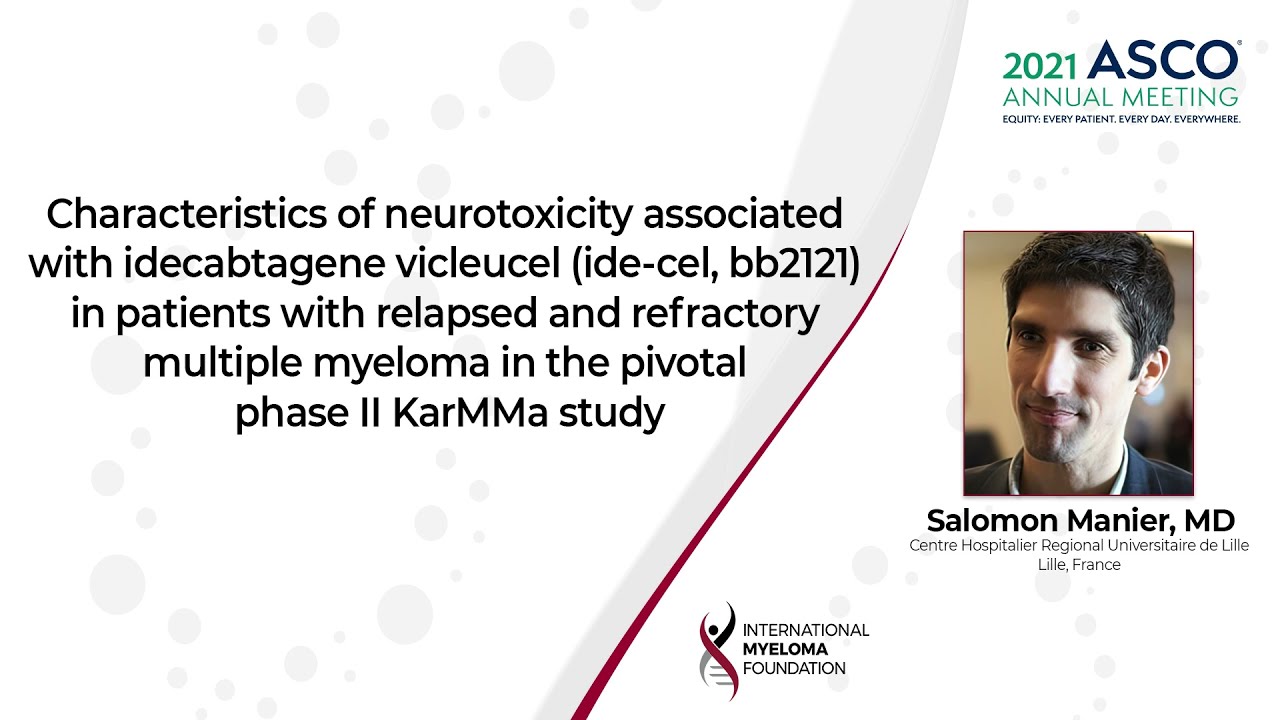 Characteristics of neurotoxicity associated with idecabtagene vicleucel in patients with relapsed and refractory multiple myeloma in the pivotal phase II KarMMa study
What is the background of this study?
In the KarMMa study, ide-cel, a BCMA-directed CAR T cell therapy, showed promising efficacy in patients with relapsed refractory multiple myeloma. It had an overall response rate of 73% and a complete response of 33% across target doses of 150–450 × 10-6 CAR+ T cells (Munshi NC, et al. J ClinOncol 2020;38[suppl 15]. Abstract 8503).
In this video:
Dr. Salomon Manier (Centre Hospitalier Regional Universitaire de Lille, Lille, France) explains that this study reports on associations of neurotoxicity (NT) with patient and disease characteristics, patient management, and impact on outcomes.
Conclusions:
Neurotoxicities (NT) occurred early in the KarMMa study, were generally of short duration, and were mostly gr 1/2 with no gr ≥4 events. All NT was proximal to cytokine release syndrome. Patients with NT had a favorable overall response rate after ide-cel treatment. These results continue to demonstrate the durable efficacy and tolerability of ide-cel in patients with relapsed refractory multiple myeloma.
Clinical trial information: NCT03361748
Previous Post
LIGHTHOUSE (OP-108): A phase 3 study of melflufen in combination with dexamethasone and daratumumab versus dara in relapsed refractory multiple myeloma patients
Next Post
Incidence, mitigation, and management of neurologic adverse events in patients with multiple myeloma treated with cilta-cel in CARTITUDE-2