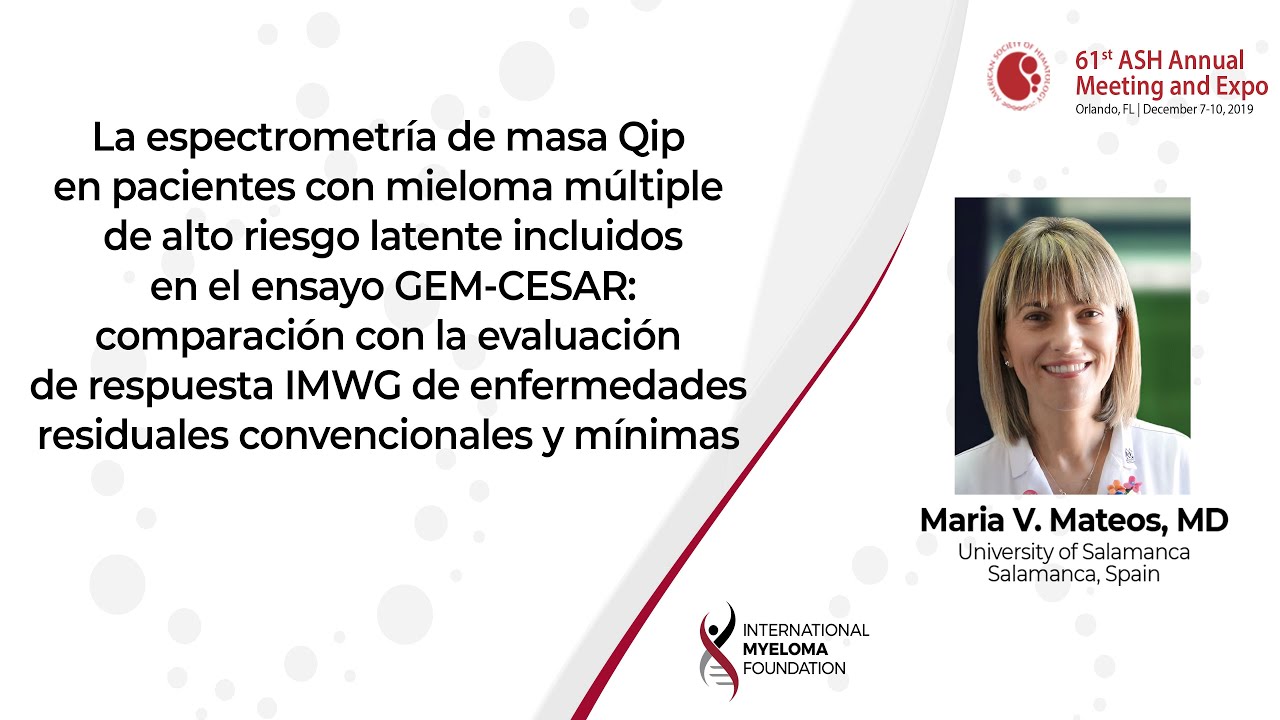 La espectrometría de masa Qip en pts con MM de alto riesgo latente incluidos en el ensayo GEM-CESAR
Introduction: The GEM-CESAR trial is a potentially curative strategy for high-risk smoldering multiple myeloma (HRsMM) patients in which the primary endpoint is the assessment of bone marrow minimal residual disease negativity by next generation flow (NGF). However, alternative methods of tumor burden evaluation in serum, like Quantitative Immunoprecipitation Mass Spectrometry (QIP-MS), a polyclonal antibody-based technology to identify intact immunoglobulins, have been also evaluated.
Conclusions: M-spike monitoring by QIP-MS shows a moderate concordance with the MRD assessment by NGF in this group of HRsMM homogeneously treated. Longer follow-up will allow us to unravel the outcome of discordant cases and to define the specificity of QIP-MS and its complementary value to NGF.
---
ABOUT MARIA V. MATEOS, MD, PhD
Dr. María-Victoria Mateos is an Associate Professor of Hematology and Consultant Physician in the Haematology Department at the University of Salamanca and Director of the Myeloma Unit, where she is responsible for coordinating the Clinical Trials Unit in Salamanca University Hospital's Hematology Department. She currently serves on the European Hematology Association (EHA) as the Chair of the Scientific Program Committee for the 2019 Congress
Previous Post
4-Year Follow-up of the Phase 3 Pollux Study of Daratumumab Plus Lenalidomide and Dexamethasone
Next Post
Qip-Mass Spectrometry in High Risk Smoldering Multiple Myeloma Patients Included in the GEM-CESAR Trial