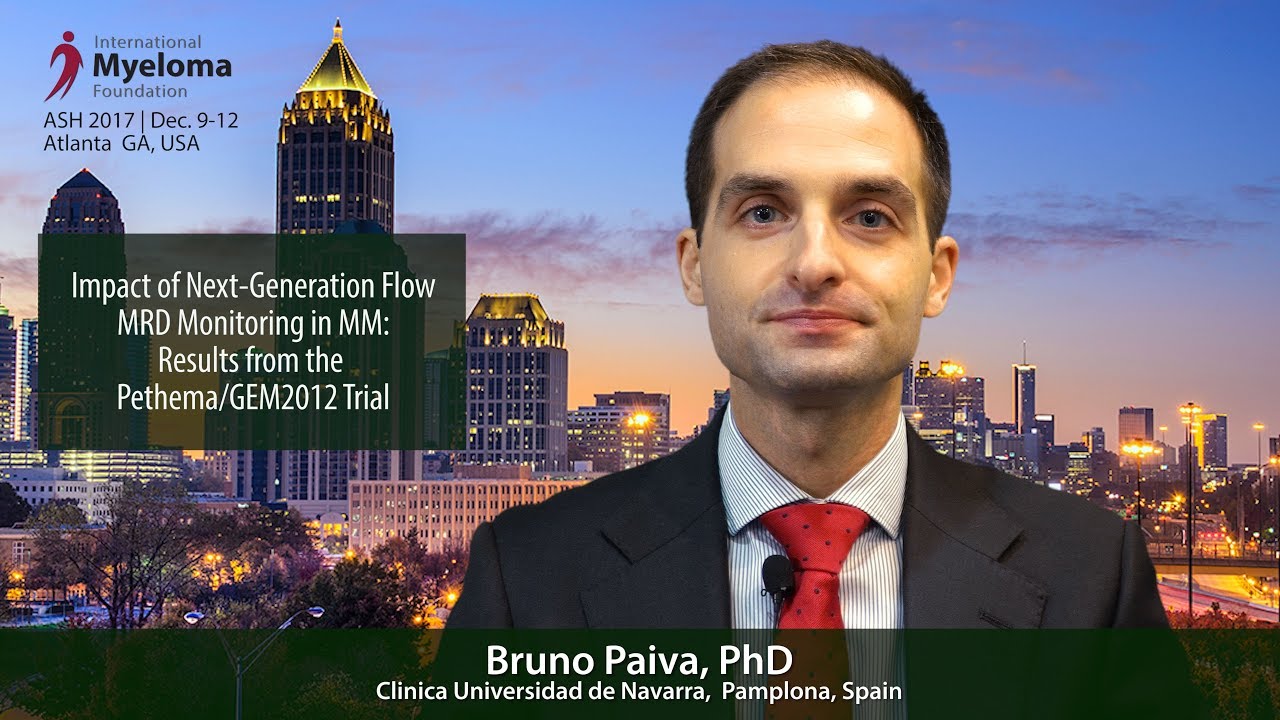 Impact of Next-Generation Flow MRD Monitoring in Multiple Myeloma: Results from the Pethema/GEM2012 Trial
Bruno Paiva, PhD
University of Navarra
Clínica Universidad de Navarra
Pamplona, Spain
Background: MRD is an established biomarker to evaluate treatment efficacy, define patients at risk based on persistent MRD, and eventually, act as surrogate for prolonged survival based on sensitive MRD-negative definitions. Accordingly, the IMWG has developed criteria for MRD-negativity defined by next-generation sequencing, NGF or PET/CT, and has recommended their inclusion in clinical trials. Notwithstanding, most flow cytometry results have been obtained using less sensitive methods and in fact, there is no data about the impact of NGF-based MRD assessment in clinical trials.
Conclusions: This is the largest study of MRD monitoring in MM based on the total number of samples analyzed (n=1,134). Our results show that NGF-based MRD assessment is feasible in large multicenter clinical trials, is highly-sensitive, and allows the identification of hemodiluted BM samples inadequate for MRD assessment. Risk of relapse among MRD-negative patients was remarkably reduced (3%), and was particularly related to the reappearance of extramedullary plasmacytomas, which urges the need for combined cellular and imaging MRD monitoring in these patients; by contrast, even MRD levels as low as 10-5 and 10-6 conferred significantly inferior PFS. Overall, this study defines MRD-negativity as the most relevant clinical endpoint for both standard- and high-risk transplant-eligible MM patients.
Authors:  Bruno Paiva, PhD, Noemi Puig, MD, PhD, Maria Teresa Teresa Cedena Romero, Lourdes Cordon, Maria-Belen Vidriales, Leire Burgos, Juan Flores-Montero, Lucía Lopez-Anglada, Norma Gutierrez, MD, PhD, Maria Jose Calasanz, BSc, PhD, Maria Luisa Martin-Ramos, Ramon Garcia-Sanz, MD, PhD, Joaquin Martinez-Lopez, MD, PhD, Albert Oriol, MD, M Jesús Blanchard, Rafael Rios, Jesús Martín, Rafael Martínez, Josep Sarra, Miguel T Hernández, Javier de la Rubia, MD, Isabel Krsnik, Jose M Moraleda, Luis Palomera, Juan Bargay, Alberto Orfao, MD, PhD, Laura Rosinol, MD, PhD, Maria-Victoria Mateos, MD, PhD, Juan-José Lahuerta, Joan Bladé, MD, PhD and Jesus F. San Miguel, MD
---
ABOUT BRUNO PAIVA, PhD
Dr. Bruno Paiva is a research fellow of the departments of Hematology and Immunology at the Clinica Universidad de Navarra (CUN) and Centro de Investigaciones Medicas Aplicadas (CIMA), Pamplona, Spain. Dr. Paiva is also the director of the Flow Cytometry Core and scientific coordinator of CIMA LAB Diagnostics, the laboratory diagnostic core of the University of Navarra. During the 2015 International Myeloma Workshop (IMW), he received the prestigious Bart Barlogie Young Investigator Award, honoring investigators under 40-years-old who have made significant scientific contributions in terms of publications, funding received and prior awards or recognition. Dr. Paiva is an author or co-author of several publications in peer-reviewed journals. Visit Dr. Bruno Paiva's full biography.
Next Post
Differential Effect of t(11;14) Abnormality on Survival and Depth of Response in African American (AA) and Non-AA Patients with NDMM in the Connect® MM Registry