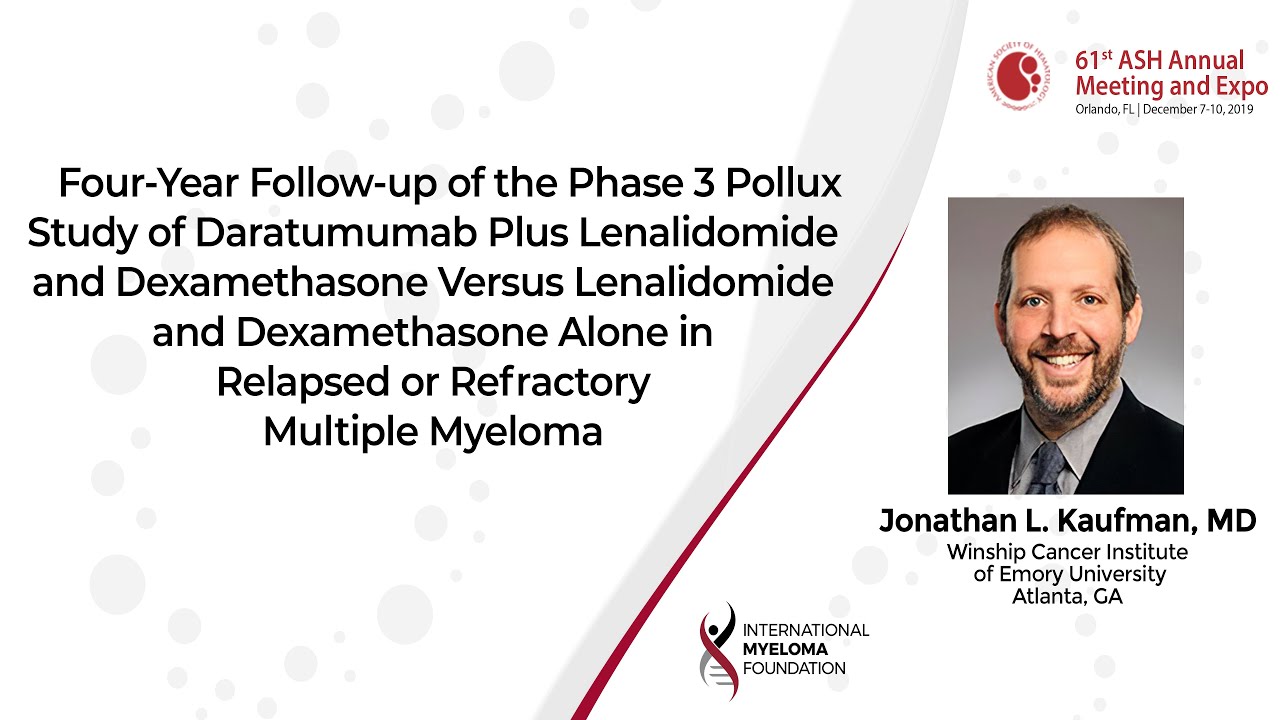 4-Year Follow-up of the Phase 3 Pollux Study of Daratumumab Plus Lenalidomide and Dexamethasone
Introduction: Daratumumab, a human IgGκ monoclonal antibody targeting CD38 with a direct on-tumor and immunomodulatory mechanism of action, is approved in combination with standard-of-care regimens for the treatment of newly diagnosed multiple myeloma (NDMM) and RRMM. 
Conclusion: After 4 years of median follow-up, D-Rd continues to demonstrate a significant PFS benefit and higher rates of deeper responses versus Rd alone in pts with RRMM. Although significant PFS benefit was observed with D-Rd in RRMM pts regardless of prior lines of therapy or cytogenetic risk status, the greatest benefit was observed when used in patients treated earlier with D-Rd. The significant improvement in PFS2 suggests a potential survival benefit, but OS data is still immature. No new safety concerns were identified with this additional follow-up.
---
ABOUT JONATHAN L. KAUFMAN, MD
Jonathan L. Kaufman, MD, is Associate Professor and Associate Vice-Chair for Quality and Safety of the Department of Hematology and Medical Oncology at Emory University School of Medicine. Board-certified in hematology and medical oncology, Dr. Kaufman's practice includes treating multiple myeloma and amyloidosis patients at Emory University Hospital. He is also an active clinical and translational researcher in the fields of multiple myeloma, amyloidosis, and bone marrow transplant. Dr. Kaufman is a member of the Discovery and Developmental Therapeutics Research Program at Winship Cancer Institute. He also holds memberships with the American Society of Clinical Oncology and American Society of Hematology. Visit Dr. Jonathan Kaufman's full biography.
Previous Post
Dara-KRd Induction, Autologous Transplantation and Post-Transplant, Response-Adapted, MRD-Based Dara-Krd Consolidation in Patients with Newly Diagnosed Multiple Myeloma
Next Post
La espectrometría de masa Qip en pts con MM de alto riesgo latente incluidos en el ensayo GEM-CESAR