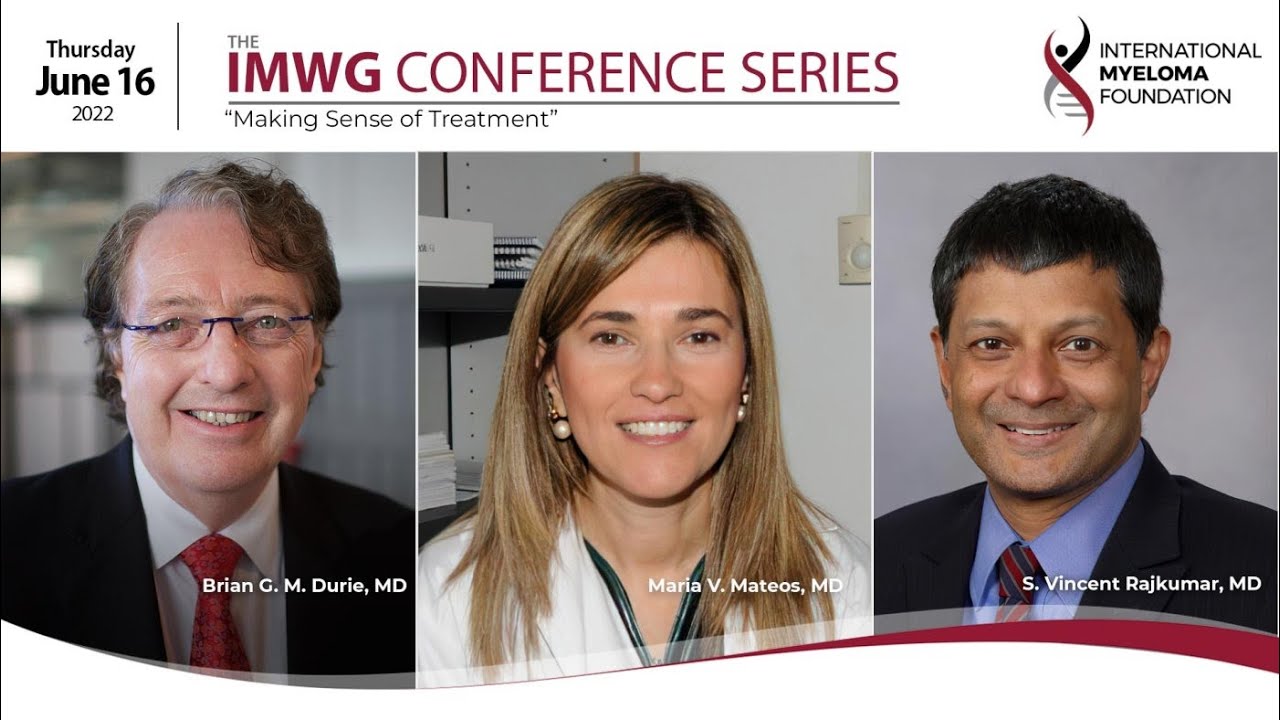 IMWG Conference Series: ASCO & EHA 2022
At the IMWG Conference Series, "Making Sense of Treatment," leading myeloma experts discussed the latest drug therapy news from the June 2022 American Society of Clinical Oncology (ASCO) Annual Conference, IMF IMWG Summit, and the European Hematology Association (EHA) Annual Conference.
Moderated by IMF Chairman of the Board Dr. Brian G.M. Durie, panelists included Drs. Vincent Rajkumar (Mayo Clinic—Rochester, MN) and María V. Mateos (University of Salamanca—Salamanca, Spain). 
Dr. Durie opened the session by discussing the large number of myeloma abstracts at both Congress meetings this year and then share highlights from our IMF IMWG Summit.

The panel and Dr. Durie focused on the following topics: 
The latest data and advances with immunotherapies, both in CAR T-cell and bispecific therapies
Minimal Residual Disease in Myeloma: How to manage both MRD-negative and MRD-positive patients?

Managing early and later relapse in patients

The future use of Mass Spectrometry in the assessment of patient outcomes 

Recommendations for myeloma patients for COVID-19 safety, and much more! 
---
With Support from:
Janssen, Takeda
Previous Post
CARTITUDE-2: Updated Analyses of Ciltacabtagene Autoleucel in Patients with Multiple Myeloma and Early Relapse
Next Post
ATLAS: A Phase 3 Randomized Trial of KRd Versus Lenalidomide Alone After Stem-Cell Transplant for Multiple Myeloma