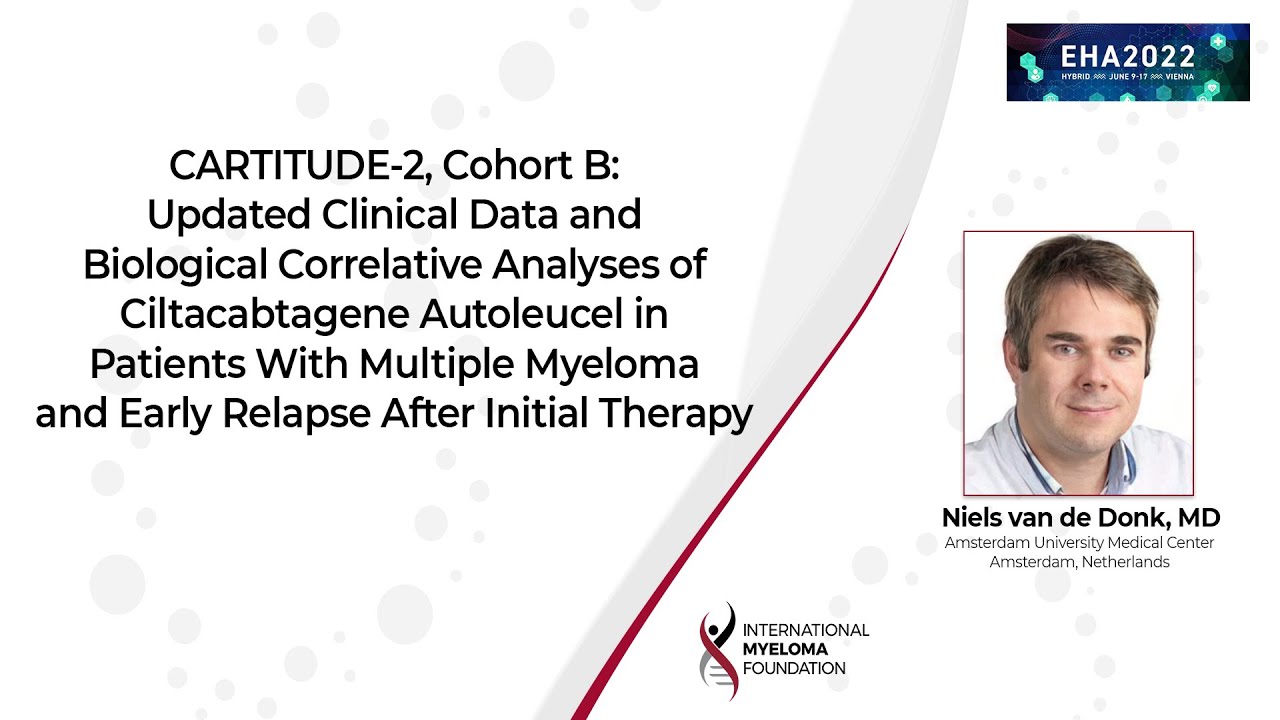 CARTITUDE-2: Updated Analyses of Ciltacabtagene Autoleucel in Patients with Multiple Myeloma and Early Relapse
CARTITUDE-2 Cohort B: Updated Clinical Data and Biological Correlative Analyses of Ciltacabtagene Autoleucel in Patients with Multiple Myeloma and Early Relapse After Initial Therapy
What is the purpose of this trial?
CARTITUDE-2 is a phase 2, multicohort study evaluating the efficacy and safety of the chimeric antigen receptor (CAR) T-cell therapy ciltacabtagene autoleucel (cilta-cel) in patients with multiple myeloma (MM). Cohort B enrolled patients who had early relapse after initial therapy. These patients have functionally high-risk disease, as early relapse following autologous stem cell transplantation (ASCT) is associated with poor prognosis, representing an unmet medical need. Updated results from CARTITUDE-2 cohort B to be presented.
In this video:
Dr. Niels Van de Donk (Amsterdam University Medical Center, Amsterdam, Netherlands) discusses CARTITUDE-2 Cohort B updates evaluating CAR T therapy Cilta-Cel in multiple myeloma patients who had early relapse after initial therapy.
Conclusion:
This functionally high-risk patient population with early relapse after initial therapy experienced deep and durable responses with manageable safety following a single cilta-cel infusion. Cilta-cel led to responses in patients with ineffective or insufficient response to ASCT. Follow-up is ongoing and responses continue to deepen. We will present updated and detailed pharmacokinetics (PK), cytokine, and CAR-T subset analyses as well as clinical correlation to provide insight into biological correlates of efficacy and safety in these patients.
Clinical trial information: NCT04133636
---
Doctor Bio:
Niels van de Donk MD, PhD is a Hematologist and Professor of Hematology at VU University Medical Center in Amsterdam, Netherlands. Prof. van de Donk is a reviewer for several top journals, including Blood, Leukemia, and Haematologica, as well as associate editor of the Netherlands Journal of Hematology and secretary of the HOVON multiple myeloma working party. In 2017, Prof. van de Donk was awarded the prestigious Swammerdam prize by the Dutch Society of Hematology for his contributions to hematology/oncology as a young researcher.

with support from:
Bristol Myers Squibb, Janssen, and Takeda Oncology
Previous Post
Health-related Quality of Life in RRMM Patients Treated with Ide-Cel vs Belantamab Mafodotin
Next Post
IMWG Conference Series: ASCO & EHA 2022