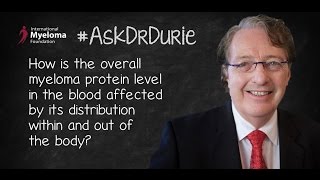 How is the overall myeloma protein level in the blood affected by its distribution?
Post date
October 04, 2016
In this video, Dr. Durie discusses if myeloma proteins that leak out into the tissues impact the protein level in the blood.

BOTTOM LINE:

Be patient when considering myeloma protein levels.


IMF Chairman and Co-Founder Brian G.M. Durie, MD welcomes your questions about the latest myeloma treatments, research, controversies and quality of life issues. If you have a question you think might be of interest to the myeloma community, please send to askdrdurie@myeloma.org! For questions of a specific personal nature, please call the IMF InfoLine coordinators at 800.452.2873 or email them at infoline@myeloma.org.
Next Post
Is it true that the NCCN has approved MRD testing for myeloma?