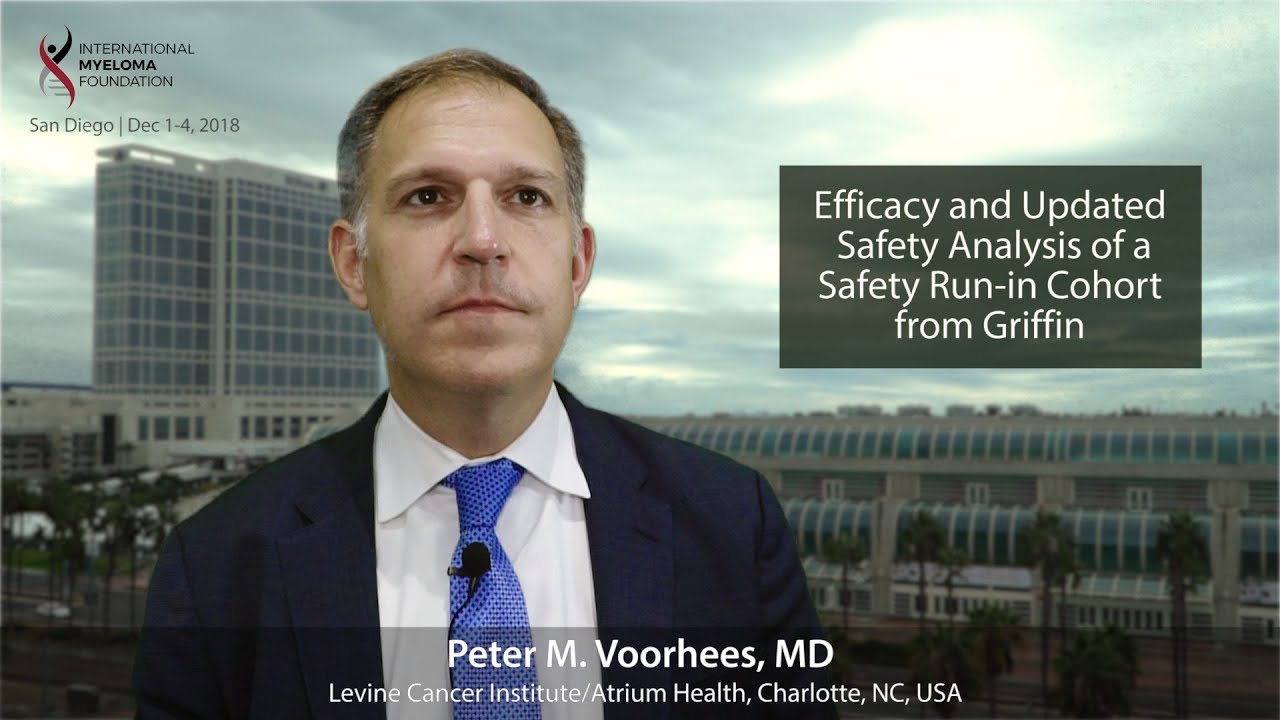 Phase 2 Randomized Study of Daratumumab, Bortezomib, Lenalidomide, and Dex Vs. Vrd in Patients with Newly Diagnosed Multiple Myeloma
Dara, a human IgGκ monoclonal antibody that targets CD38, is approved as monotherapy and in combination with Vd, Rd, and pomalidomide-d for the treatment of relapsed MM and in combination with V, melphalan, and prednisone (VMP) for treatment of ASCT-ineligible ND MM. Addition of dara to these regimens improved the depth of response including complete response (CR), stringent CR (sCR), and minimal residual disease (MRD) negativity rates. VRd followed by HDT, ASCT, and consolidation VRd has yielded high response rates in ND MM. Therefore, a safety run-in was first conducted to determine the tolerability of dara-VRd before proceeding with a larger randomized phase 2 study of dara-VRd vs. VRd in ASCT-eligible ND MM pts. 
The overall safety profile of dara-VRd was consistent with those previously reported for dara and VRd, with manageable toxicity and no new safety findings with longer therapy. Dara-VRd was active with an investigator-assessed VGPR+ rate of 100% and an sCR+CR rate of 63% after consolidation therapy. MRD negativity was seen in a subset of patients, and further analysis is underway and will be presented. SC mobilization proved successful in all pts. In aggregate, these data suggest that dara-VRd may be a very effective regimen in ASCT-eligible ND MM and that dara induction does not negatively impact SC mobilization. Enrollment to the 200-pt main phase of the randomized study is now complete, and primary endpoint (sCR after consolidation) will be available next year. 
Authors:
Peter M. Voorhees, MD, Cesar Rodriguez, MD, Brandi Reeves, MD, Nitya Nathwani, MD, Luciano J Costa, MD, PhD, Yana Lutska, PharmD, Daniela Hoehn, MD, PhD, Huiling Pei, PhD, Jon Ukropec, PhD, Ming Qi, MD, PhD, Thomas Lin, MD, PhD and Paul Richardson
---
ASH 2018 Abstract 151 "Efficacy and Updated Safety Analysis of a Safety Run-in Cohort from Griffin, a Phase 2 Randomized Study of Daratumumab ﴾Dara﴿, Bortezomib ﴾V﴿, Lenalidomide ﴾R﴿, and Dexamethasone ﴾D; Dara‐Vrd﴿ Vs. Vrd in Patients (Pts) with Newly Diagnosed (ND) Multiple Myeloma ﴾MM﴿ Eligible for High‐Dose Therapy ﴾HDT﴿ and Autologous Stem Cell Transplantation ﴾ASCT﴿"
---
ABOUT PETER M. VOORHEES, MD
Dr. Peter Voorhees is a board certified Hematologist and the Director of Outreach for Hematologic Malignancies, Plasma Cells Disorder Program in the Department of Hematologic Oncology and Blood Disorders at Levine Cancer Institute, Charlotte, North Carolina. His research focuses on the development of novel therapeutic strategies for the treatment of multiple myeloma. Visit Dr. Peter Voorhees' full biography.
Previous Post
Tandem Autologous Transplantation and Combined Infusion of CD19 and Bcma-Specific CAR T-Cells for High Risk MM
Next Post
Maintenance Therapy with Ixazomib Significantly Prolongs Progression-Free Survival Following ASCT in Patients with NDMM: Phase 3 Tourmaline-MM3 Trial