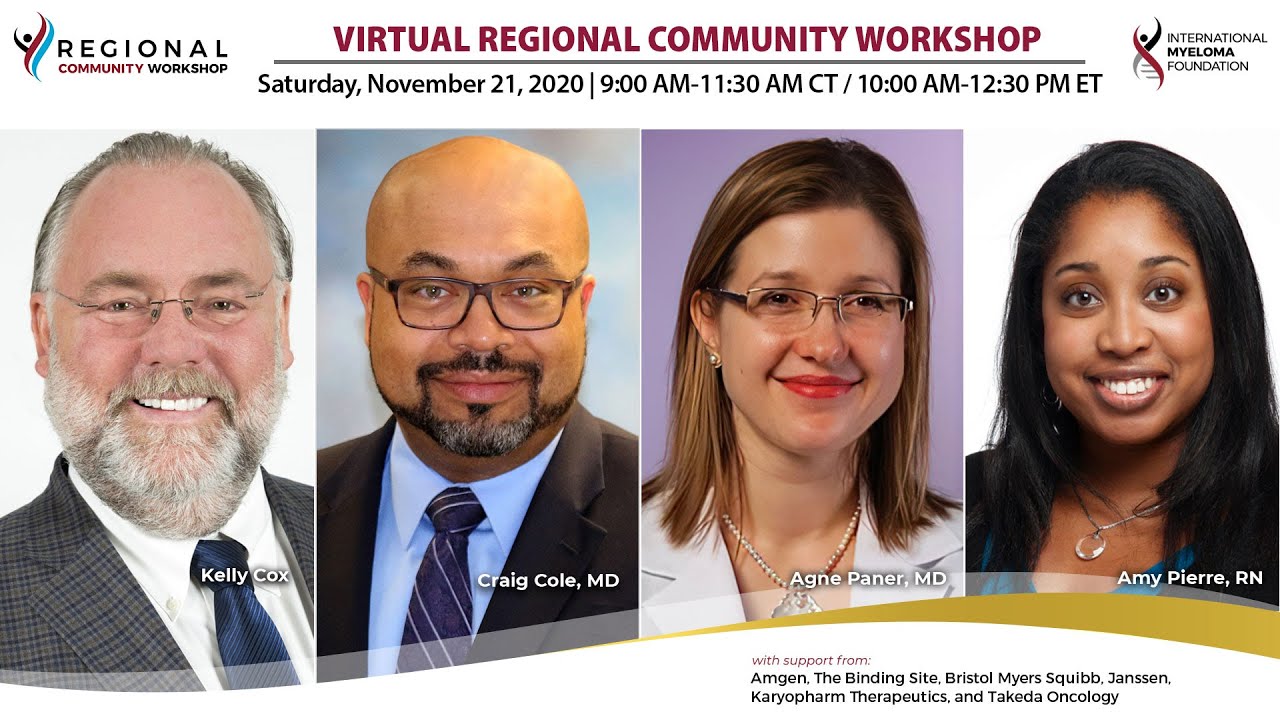 Great Lakes Region Virtual Myeloma Workshop
click on the image above to view the video
Virtual Myeloma Workshop Focusing on Communities in the Great Lakes Region of the United States
What Is Included in This Virtual Myeloma Workshop?
This IMF Virtual Regional Community Workshop brings together top myeloma professionals to review multiple myeloma basics, go over therapy options in the treatment and management of myeloma, describe the purpose of clinical trials, and address how to advocate for your health in the COVID-19 era.
Addressing the Needs of Communities in the Great Lakes Region
The panelists address specific questions posed by multiple myeloma patients and caregivers from support groups in the following areas: Michigan, Illinois, Wisconsin, Minnesota, and Ohio.
Speakers and Topics:
Craig Cole, MD
Michigan State University Breslin Cancer

Myeloma 101
Frontline Therapy

Agne Paner, MD
Rush University Medical Center

Relapsed Therapy
Clinical Trials

Amy Pierre, RN, MSN, ANP-BC
IMF Nurse Leadership Board
Health in the COVID Era
Workshop Topic Details:
Myeloma 101 and Frontline Therapy
Dr. Craig Cole (Michigan State University, Breslin Cancer Center) reviews multiple myeloma basics in his myeloma 101 overview which includes: The diagnosis of multiple myeloma, the spectrum of plasma cell disorders, staging and risk stratification.
Also included in this segment, Dr. Cole discusses the latest frontline therapy options, treatment sequence and regimens, and upfront therapy strategies including induction, transplant, and maintenance therapies. He also shares his perspective on the advancement of myeloma science and patient survival.
Relapsed Therapy and Clinical Trials
Dr. Agne Paner (Rush University Medical Center) introduces the basics in understanding how clinical trials work, the importance of clinical trials, and how advances in drug development from trials have improved patient survival.
Dr. Paner also breaks down the treatment of relapsed and refractory multiple myeloma, the classifications of available therapies, and new therapies on the horizon.
Health in the COVID-19 Era
Amy E. Pierre, RN, MSN, ANP-BC (Memorial Sloan Kettering Cancer Center) discusses how to be your best healthcare advocate during the COVID-19 pandemic, how to prepare for your doctor visits, and what actions to take while at home.
Workshop Resources:
Additional Resources:
Download the IMF's Multiple Myeloma Informational Booklets:
Workshop Sponsors:

with support from:
Amgen Oncology; The Binding Site; Bristol Myers Squibb; Janssen; Karyopharm Therapeutics; Takeda Oncology
Please check out these multiple myeloma resources from our sponsors:
Next Post
What does the approval of Darzalex Faspro mean for myeloma patients?