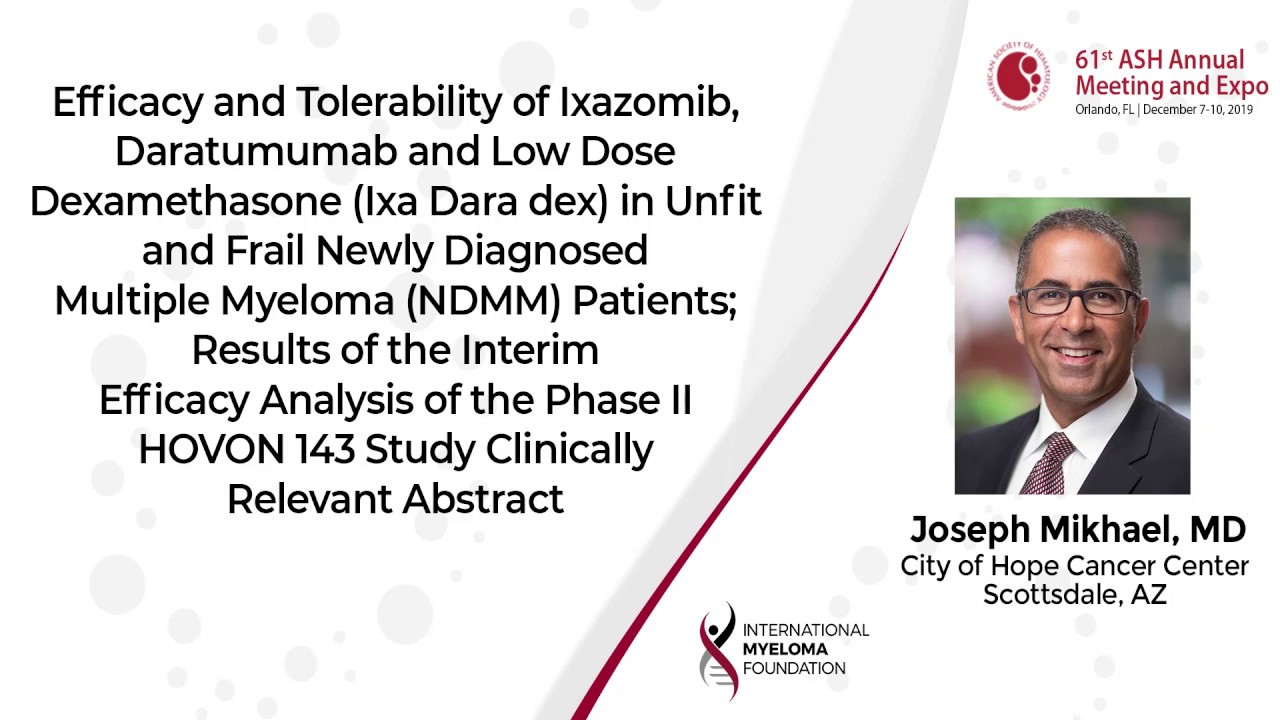 Efficacy and Tolerability of Ixazomib, Daratumumab and Low Dose Dex in Unfit and Frail NDMM Patients
Elderly non-transplant eligible newly diagnosed multiple myeloma (nte-NDMM) patients also benefit from novel therapies, however, overall survival (OS) is inferior in unfit and frail compared to fit patients as defined by the International Myeloma Working Group (IMWG) frailty index. This is caused by a high discontinuation rate due to toxicity. Therefore, a less toxic effective treatment for unfit and frail patients is needed. In view of the favorable safety profile of ixazomib (Ixa) and daratumumab (Dara), we investigated the efficacy and feasibility of treatment with Ixa and Dara plus low dose dexamethasone (Ixa-Dara-dex) in unfit and frail patients. This trial was registered at www.trialregister.nl as NTR6297.
Ixa-Dara-dex is an effective therapeutic regimen in unfit patients with limited toxicity, not giving rise to (early) mortality. Additionally, in the majority of frail patients this regimen is active and feasible. However, better identification and support of those patients is warranted, as we observed early mortality due to vulnerability and infections.
---
ABOUT JOSEPH MIKHAEL, MD
JOSEPH MIKHAEL, MD Dr. Joseph Mikhael is a world-renowned multiple myeloma expert. In his position with the IMF, he works closely with the Board Chairman, Dr. Brian G.M. Durie, to advance the mission of the organization in research, education, advocacy, and patient care to improve the lives of patients with myeloma. Dr. Mikhael has conducted dozens of clinical trials in the field of multiple myeloma and has contributed to the development of many novel drugs. He has served as a Professor of Medicine at the Mayo Clinic, an Associate Dean at the Mayo Clinic School of Graduate Medical Education, and as the Deputy Director of Education at the Mayo Clinic Cancer Center. Dr. Mikhael also serves as a councilor on the American Society of Hematology (ASH) Executive Committee and is involved in mentoring the next generation of hematologists. He did his medical training in Canada, having completed medical school at the University of Ottawa, his hematology training at the University of Toronto, and a Multiple Myeloma Fellowship at Princess Margaret Hospital. He also has a master's degree in education from the University of Toronto. Dr. Mikhael remains in clinical and academic medicine with the City of Hope Cancer Center in California. Visit Dr. Joseph Mikhael's full biography.
Previous Post
Smoldering Myeloma: IMWG Conference Series ASH 2019
Next Post
How will BMS's acquisition of Celgene impact the availability of drugs and services for myeloma patients?