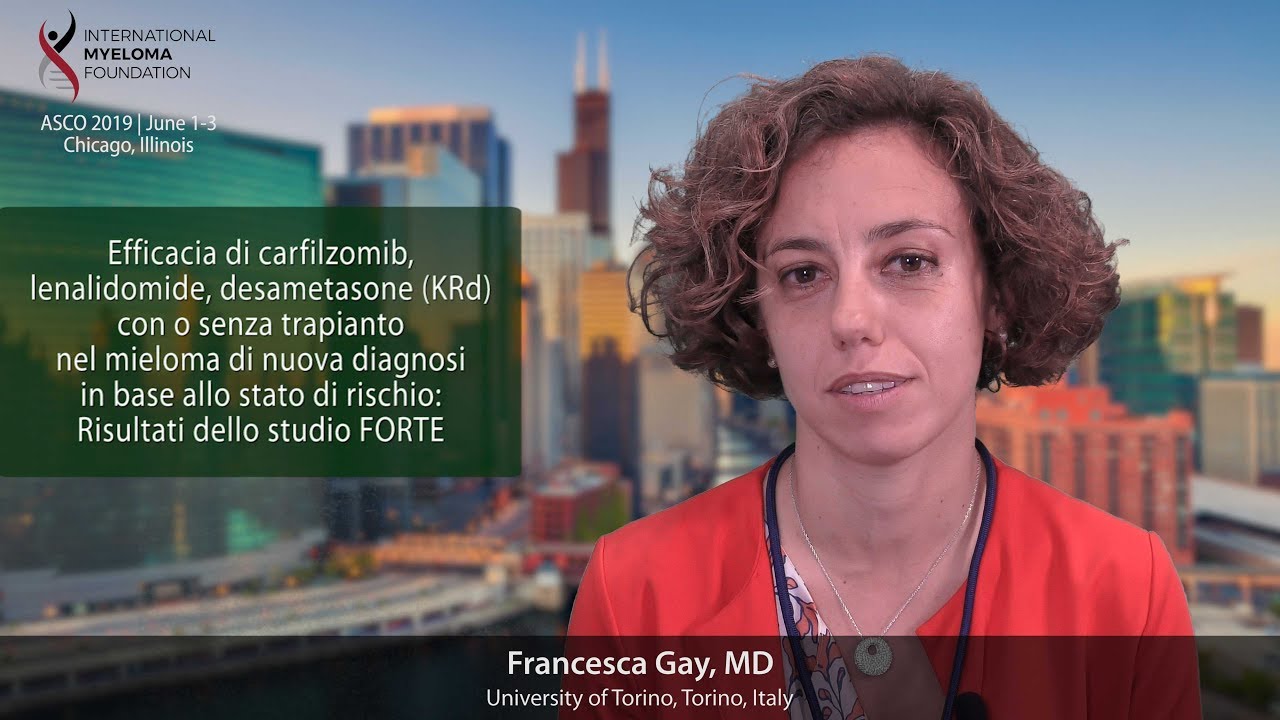 Efficacia della KRD con o senza trapianto nel mieloma di nuova diagnosi: FORTE
Alti e comparabili tassi di negatività MRD sono stati osservati nei pazienti NDMM dopo 4 cicli di induzione a 28 giorni con KRd seguiti da ASCT e 4 KRd consolidamento (KRd_ASCT_KRd) e dopo 12 cicli KRd (KRd12), mostrando la superiorità di entrambi i regimi rispetto all'induzione di KCd- Consolidamento ASCC-KCd (KCd-ASCT-KCd) (Gay F ASH 2018). Qui abbiamo valutato il beneficio di KRd_ASCT_KRd rispetto a KRd12 in sottogruppi specifici di pts.
---
ABOUT FRANCESCA GAY, MD, PhD
Dr. Francesca Gay is a hematologist at the Myeloma Unit, Division of Hematology, Azienda Ospedaliero Università Città della Salute e della Scienza, in Torino, Italy. She completed her medical degree in 2004 and her fellowship in hematology in 2008 at the University of Torino, Italy. She obtained her PhD in Medicine and Experimental Therapy in 2014. She focuses on multiple myeloma and associated disorders, as well as helps the design and development of myeloma clinical trials. Her papers have been published in peer-reviewed journals, and she has been a reviewer for medical journals including Leukemia and Hematologica.
Previous Post
Efficacy and safety of the randomized phase 3 study of subcutaneous versus intravenous daratumumab administration in patients with relapsed or refractory multiple myeloma: COLUMBA
Next Post
Key Multiple Myeloma Abstracts Presented at ASCO 2019