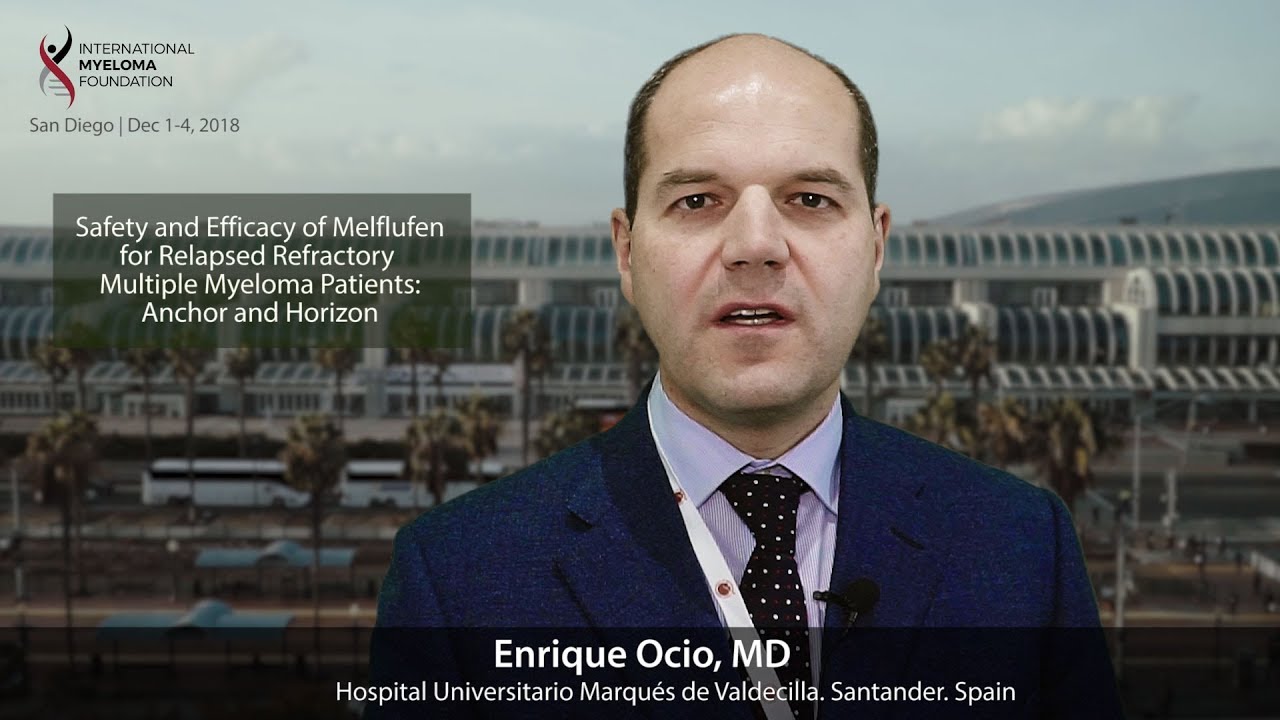 Safety and Efficacy of Melflufen for Relapsed Refractory Multiple Myeloma Patients
Dr. Enrique Ocio presents an overview of Melflufen, an alkylating peptide belonging to Peptidase Enhanced Compounds (PEnCs) targeting the multiple myeloma (MM) transformation process through aminopeptidase potentiation of the compound. Melflufen in combination with dexamethasone (dex) has shown promising activity with an acceptable safety profile.
The OP-104 ANCHOR phase 1/2 study was designed to evaluate melflufen and dex in triplet-combination, with either bortezomib or daratumumab in RRMM patients.
The Phase 2 HORIZON-study further evaluates the benefit of melflufen in highly refractory pts who have progressed on treatment with IMiDs and PIs and are refractory to pomalidomide (pom) and/or daratumumab (dara), with few remaining treatment options.
---
ASH 2018 Abstract on "The OP-104 Anchor Study: A Phase 1/2 Study of Safety and Efficacy of Melflufen and Dexamethasone in Combination with Either Bortezomib or Daratumumab in Patients with Rrmm; First Report on Phase 1 Data"
ASH 2018 Abstract on "OP-106 Horizon - Melflufen Therapy for RRMM Patients Refractory to Daratumumab and/or Pomalidomide; Updated Results and First Report on PFS"
---
ABOUT ENRIQUE M. OCIO, MD
Dr. Enrique M. Ocio is the Head of the Hematology Department at the Hospital Universitario Marqués de Valdecilla, Universidad de Cantabria, Spain. His fields of expertise are clinical trials, new drugs development and, particularly, multiple myeloma.
Previous Post
NKG2D-CAR Transduced Primary Natural Killer Cells Efficiently Target Multiple Myeloma Cells
Next Post
Deep and Durable Responses with Selinexor, Daratumumab, and Dexamethasome (SDd) in Patients with Multiple Myeloma (MM) Previously Exposed to Proteasome Inhibitors and Immunomodulatory Drugs